Updated at 3:24 p.m. PT:  Sources confirm exclusively that along with Adam Lambert, "Idol's" big bosses are also considering some other notable names to join the cast, including: Miley Cyrus, Nicki Minaj, Fergie, Katy Perry and (frequent "A.I." mentor) will.i.am.
So how many new judges will there be? And who's most likely to get the gig?
"No one has signed any contracts yet and producers are currently putting out feelers and setting up meetings to see who they can get," one "Idol" insider tells E! Online's Kristin Dos Santos. "We won't know if Randy [Jackson] and Steven [Tyler] are returning until they see who else is on board."
Original story: What the next season of "American Idol" will look like is anybody's guess right now. The latest name to be floated around at Fox as a possible new judge is -- get ready for it -- "Idol" alum Adam Lambert!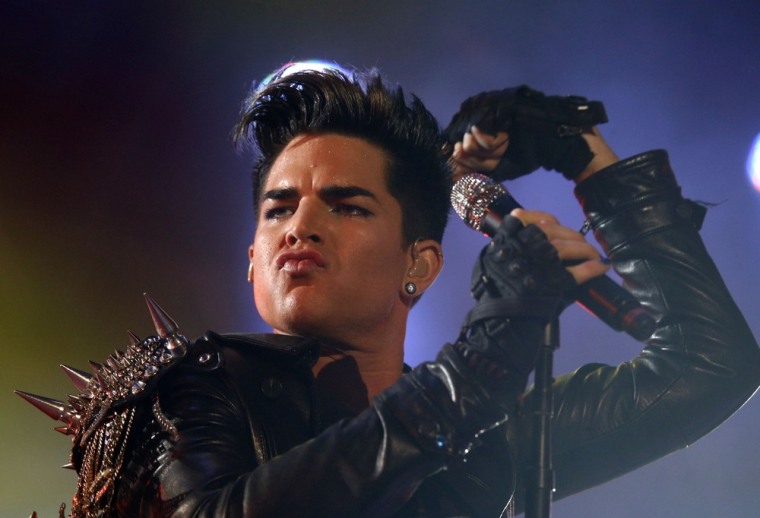 "They have been talking about Adam for over a month," a source exclusively tells E! News. "He personifies the show, and will be a popular choice right from the start. He knows what it's like to be on the receiving end of the judges' comments, he has a human touch, and they know they can't go wrong if they bring him on. He would be able to bring a unique perspective to the show. People love him."
As E! News first told you, Jennifer Lopez has no plans to return for a third time at the judges' table.
As for Randy Jackson and Steven Tyler ...
READ: Who Should Replace Jennifer Lopez on American Idol?
A source tells us that they are not necessarily going to be back either.
"Randy is great, but he's part of the old 'Idol,'" the source said. "They want to keep the soul of the show but have a new look, and for that reason he may well not be part of the new line up."
A Tyler source confirms the Aerosmith frontman isn't sure of his future. "All up in the air," the source said. "We shall see."
Fox will, multiple sources confirm, try to change Lopez's mind. "I don't know if they can afford Jennifer, but they have let it be known that she has a guaranteed spot if she wants it," one of the sources said. "She appeals to everyone so the big bosses are in favor of keeping her on."
READ: Paris Hilton Gets New Job, Follows in Jennifer Lopez's Footsteps
Producer Nigel Lythgoe says he'd love to be there for season 12, but "as of this moment in time, we are still in negotiations as we are with everybody. Everything is up in the air."
Lythgoe, whose new reality series "Opening Act" premieres tonight on E!, also said, "There will be changes for sure, but nothing that stops it from what it is, which is an out and out talent show."
A rep for Fox declined to comment for this story.
PHOTOS: 2012 American Idol Finale
Critics have complained that Lopez, Tyler and Jackson haven't been as harsh as past judging panels. "People are saying they're too sweet and too nice, but once you've put somebody that you love in the top 10 and they're coming every week and being good, it's hard to critique," Lythgoe said. "It's not like dancing, where you can say point your toes, spread your legs. It's more like, 'When you hit that top note, just smile.'"
Would Adam Lambert make a good "Idol" judge? Would you miss Randy and/or Steven? Tell us on Facebook.
'American Idol' slideshows:
More in The Clicker: