Get ready to deck the halls with former "American Idol" stars Clay Aiken and Ruben Studdard. The one-time rivals are joining forces for a new holiday-themed Broadway show.
The singers, who went head-to-head 15 years ago as finalists on season two of "American Idol," will co-headline "Ruben & Clay's First Annual Christmas Carol Family Fun Pageant Spectacular Reunion Show,"a three-week limited engagement holiday spectacular chock-full of traditional carols and family-friendly sketches.
"Christmas is about family, friends and fun," Studdard, 40, said in a statement. "Clay and I can't wait to bring all those things together on Broadway this December!"
"There are really only two things that could get me back in stage after taking a break for over five years: my buddy, Ruben, and Christmas!" Aiken, 39, added. "It's been 15 years since he beat me on 'Idol,' and it's taken an entire decade and a half for me to lick my wounds. But the holidays are about togetherness, so now that he is older and I am wiser, I can think of no better way to celebrate 15 years of friendship than by spending this holiday season together on Broadway."
The show will be an exciting return to Broadway for Aiken, who appeared in the Tony-winning 2008 musical "Spamalot." It marks Studdard's Broadway debut.
It's also the first time the pair will share the stage since Studdard beat out Aiken for the "American Idol" title. The singers previously reunited in 2016 for a special duet on "The View."
Though the duo's rivalry excited music lovers across the nation back in 2003, they've remained pals over the years.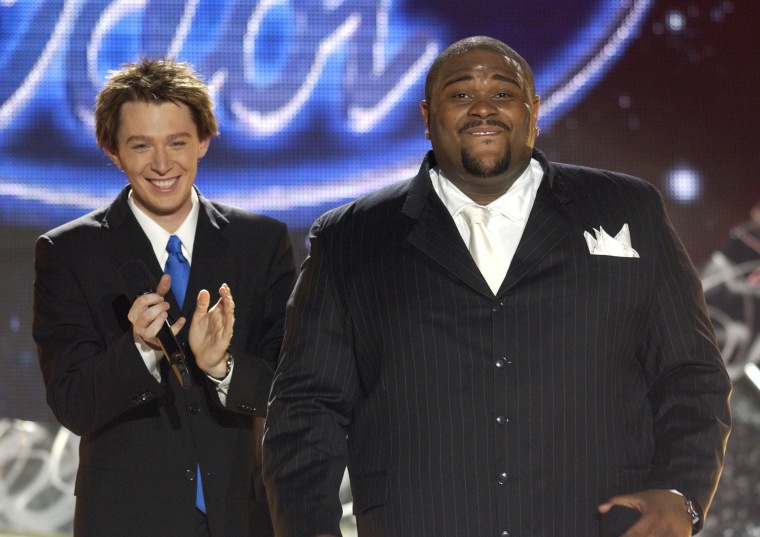 "People always seem so surprised when they hear that we are still such good friends," Aiken wrote earlier this month on Instagram in a special birthday tribute to Studdard. "Easily the best thing to come directly out of 'American Idol' for me was this friendship turned kinship."
"Ruben & Clay's First Annual Christmas Carol Family Fun Pageant Spectacular Reunion Show" begins performances Dec. 7 at Broadway's Imperial Theatre, with an official opening set for Dec. 11 and a closing night on Dec. 30. Proceeds will benefit the National Inclusion Project, a nonprofit advocacy group for children with disabilities. Tickets are on sale now.