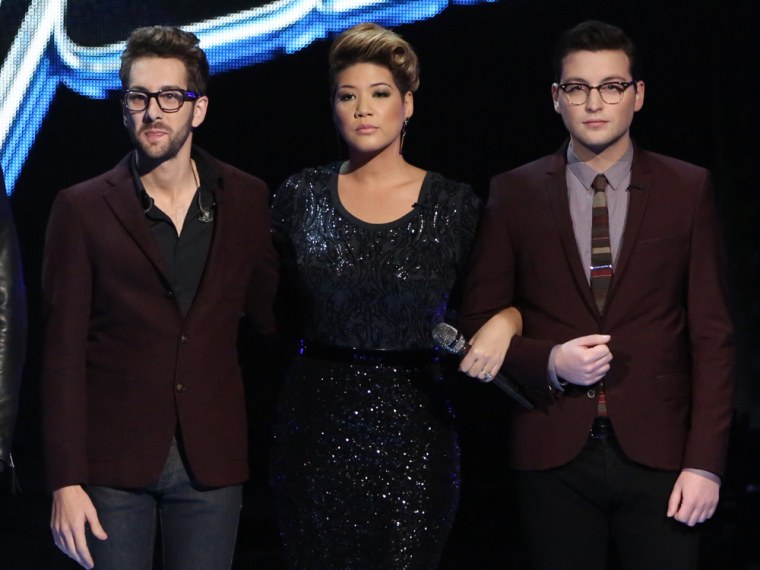 Things were looking grim for Adam Levine on Tuesday's "Voice" eliminations. With three artists remaining among the six contestants, odds were good that one of his crew was going home. And when the first two singers saved were Jacquie Lee and Cole Vosbury, it seemed he'd finally lose an artist for the first time since the Top 12 were named.
But then Tessanne Chin was declared safe. Will Champlin followed. So it came down to a Twitter war between James Wolpert and Matthew Schuler.
Adam appealed to the "Twittersphere" to save James because the coach had a plan for him and, you know, he was sick yesterday. Christina reminded everyone that Matthew was really good singing "Hallelujah" a few weeks ago.
The Twittersphere went Adam's way. Matthew went home and Adam now has a 60 percent chance of winning — though if recent history is any indication, James won't be sticking around much longer. Each of the three previous singers saved by the tweets has gone home the following week.
If James is eliminated, he could pursue a career in art: In his "Voice" confessional, he said that's what he studied in college before dropping out to pursue singing.
Christina Aguilera, on the other hand, said she'd apply her teaching skills in a classroom.
"I think Christina would be one of those teachers who likes to slap you in the back of the hand with her ruler — and I hope, my bare bottom," Blake said. 
He did not get top marks for that comment.
"Adam would get a gold star," Christina said. "CeeLo would get an A for his English and his grammar. And Blake might get sent to the principal's office this year." 
But Blake, as usual, delivered the best lines — like "sitting next to Christina makes me look like a Sasquatch." And if he could go back in time, he said he'd learn "how to invest my money wisely — so I wouldn't have had to take this job."
Can't be too bad a gig though. He's signed up for next season, and he does get those special lattes from Starbucks.
That coffee will taste a lot better with victory — and Blake still has a chance with Cole. As he reminded Carson, "It only takes one to win."