In a powerful op-ed published by The New York Times this weekend, actress Amber Tamblyn addresses her experience with harassment in Hollywood, and why she's "done" with others not believing her.
The essay was written in the wake of a recent Twitter exchange between Tamblyn, 34, and actor James Woods, whom she claimed tried to pick her up when she was 16. He has called the claim a lie.
In the op-ed, headlined "I'm Done with Not Being Believed," Tamblyn details an encounter she says she had with a producer when she was 21 in which she went to him to discuss "a big problem," only for the producer to cast doubt on her story.
"A crew member had kept showing up to my apartment after work unannounced, going into my trailer while I wasn't in it, and staring daggers at me from across the set," she wrote. "I liked him at first. He was very sweet and kind in the beginning. We flirted a bit on set. But I was in a relationship. And liking someone certainly didn't merit the kind of behavior he was exhibiting, which was making me feel unsafe."
Tamblyn explained that she told the producer all of this, only to have him eventually respond, "Well, there are two sides to every story."
It's an example of a problem that many women face, Tamblyn wrote.
"For women in America who come forward with stories of harassment, abuse and sexual assault, there are not two sides to every story, however noble that principle might seem," she wrote. "Women do not get to have a side. They have an interrogation."
The actress added that on a daily basis, women have to perform "risk consideration" in every aspect of their lives, which may affect their willingness to come forward about incidents of sexual harassment or even sexual assault.
"It's no wonder that the federal Bureau of Justice Statistics reported that from 2006 to 2010, 65 percent of sexual assaults went unreported. What's the point, if you won't be believed?" she wrote.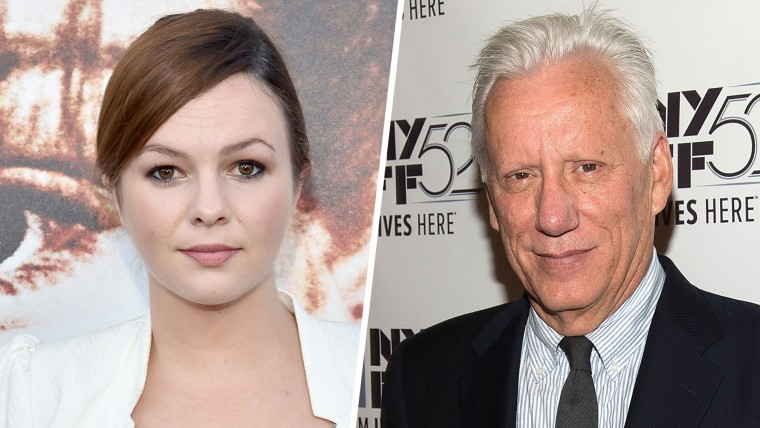 Tamblyn then addressed her Twitter exchange with Woods, 70. Last week, Woods caused a stir on Twitter when he criticized the relationship between Armie Hammer and Timothée Chalamet's characters in their upcoming film "Call Me By Your Name." In the film, Hammer plays a 24-year-old professor who falls in love with his 17-year-old male student.
Hammer responded, "Didn't you date a 19 year old when you were 60....?" Tamblyn chimed in, tweeting, "James Woods tried to pick me and my friend up at a restaurant once. He wanted to take us to Vegas. 'I'm 16' I said. 'Even better' he said."
Woods called Tamblyn's story "a lie," which led the actress to first pen an open letter to the actor that was published by Teen Vogue, before writing the New York Times op-ed.
"What would I get out of accusing this person of such an action, almost 20 years after the fact? Notoriety, power or respect? I am more than confident with my quota of all three," Tamblyn wrote in the op-ed, adding that the "emotional cost alone of bringing up such memories publicly or coming forward with such recollections is pure bankruptcy. It is spiritual foreclosure.
"Mr. Woods's accusation that I was lying sent me back to that day in that producer's office, and back to all the days I've spent in the offices of men; of feeling unsure, uneasy, questioned and disbelieved, no matter the conversation," she wrote.
Tamblyn concluded her essay by declaring that "the women I know, myself included, are done, though, playing the credentials game. We are learning that the more we open our mouths, the more we become a choir. And the more we are a choir, the more the tune is forced to change."