Thursday marks a big television event for fans of classic kids' characters, pirates and theater: "Peter Pan Live!" is coming to NBC. But for leading lady (in the role of leading boy) Allison Williams, it marks another important occasion.

It's the last night she has to fly.
Sure, flying sounds pretty cool to most of us earthbound types, but as it turns out, the harness that makes the magic possible isn't exactly comfortable. It's a point Williams shared with TODAY's Natalie Morales when she gave the anchor flying lessons Monday morning.
"You never stop feeling it," Williams said, following three months of rehearsals in the gear. "That's definitely true. But it stops being something that you're constantly aware of."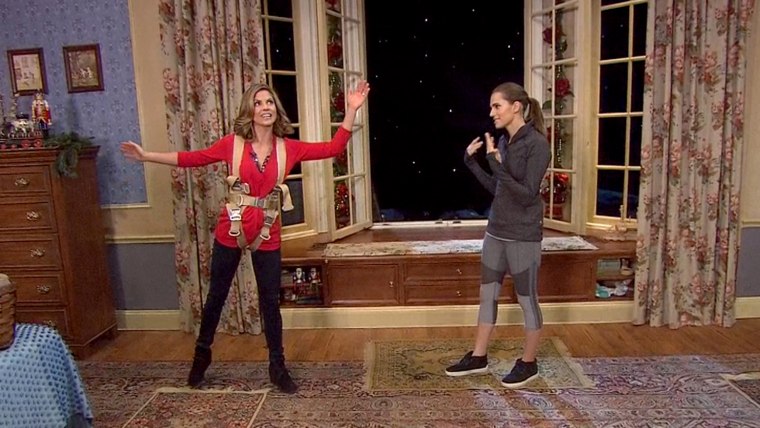 Until she takes it off, that is.
"Every time I get out of it at the end of the day, there are bruises in places you don't expect," she explained. "I'm always tempted to photograph it, but that feels like, if iCloud got hacked, [those photos] would not be OK."
If Morales, who took a turn in the air, finds herself feeling a little sore later, Williams knows the cure.
"Epsom salt baths," she assured.
Despite all of the discomfort, Williams has no worries about the big night. Co-star Christopher Walken, who plans Pan's archenemy Captain Hook, isn't concerned, either. But he admits it's a complicated endeavor.
"The days are long and, you know, there's songs and dances and scenes and lots of costumes; and there's flying — sword fighting while they're flying," he said. "It's pretty complicated."
See all the thrilling action for yourself when "Peter Pan Live!" soars on Dec. 4. The broadcast will air from 8 - 11 p.m. EST on NBC.

Follow Ree Hines on Google+.