Allison Williams has wanted to play Peter Pan since she was "about three years old," and now, the first photo from NBC's upcoming telecast of "Peter Pan Live!" reveals the actress in costume as the boy who won't grow up.
During a visit to TODAY Wednesday, Williams revealed she was ready to go all out to play the role, especially when it came to hair. 
"I sort of very tentatively offered to cut my hair, I was like, 'You know, if it's a thing that would help I could cut my hair,' and they were like, 'You're welcome to do that, we're still gonna put you in a wig.'" 

Perched on the rigging of a old sailing ship against a sunset backdrop, Williams wears a green vest over a short-sleeved fishnet shirt. Her short, tight pants are a different shade of green and her brown leather boots match her wristbands and belt. Her long brown hair is tucked beneath a boyish wig parted to the side.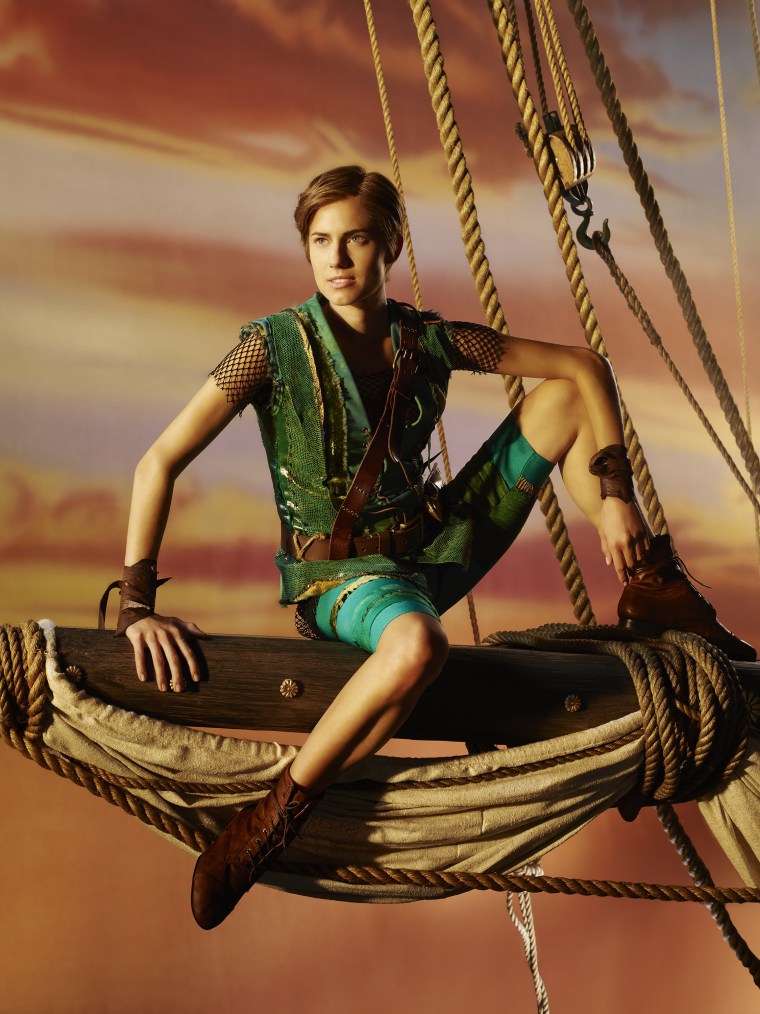 It's not exactly the first time Williams, 26, has dressed as the fabled boy who never grows up. In July, when it was announced that she was cast for the part, Williams shared an image of herself as a young girl on Instagram.

Dressed in green and beaming in that photo, she said in the caption, "I've been rehearsing for a REALLY long time."

Three weeks ago, Williams posted a video of herself out of wardrobe but in character nonetheless as she took her first flying lessons.

Williams, the daughter of "Nightly News" anchor Brian Williams, is best known for her role as Marnie Michaels on the HBO series "Girls." "Peter Pan Live!" executive producers Craig Zadan and Neil Meron called her a "major find" for the special.
"She will reinvent the iconic role of Peter Pan with her wit, her warmth, her dynamic flying and her wonderful musical abilities," Zadan and Meron said last month.
But TODAY's Al Roker had to get the scoop: Has Papa Williams been turning up during rehearsals to play Captain Hook? The younger Williams played along and dispelled the "rumor." "I cannot confirm nor deny, but I can deny that," she said. "No, he's pretty busy. ... I will be doing my own thing."
"Peter Pan Live!" will air Dec. 4 on NBC.