Summer's here! And while many favorite and critically acclaimed shows have ended their seasons (see you next year, Don Draper!), summer blockbusters are starting to show up in theaters and many popular television programs are returning to the airwaves.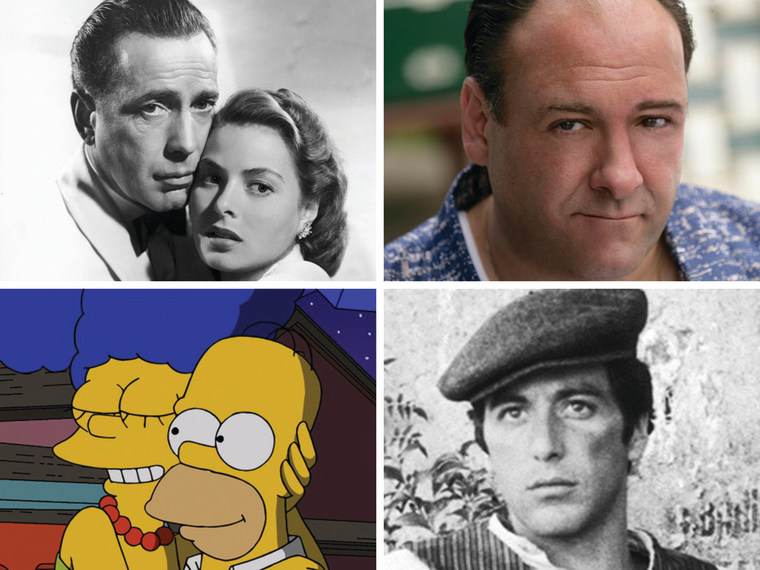 And as the summer entertainment season kicks into gear, Entertainment Weekly has unveiled its list of All Time Greatest TV Shows and Movies.
On Wednesday morning, the top five results for each category were revealed on TODAY.
Gangsters, outlaws, star-crossed lovers and creepy shower killers are among those viewers meet in the magazine's films list -- and not one of the movies that made the top five came along after America's bicentennial.
The No. 1 pick is "Citizen Kane," the 1942 saga of old-school journalism.
The gritty and engrossing tales of mob life in "The Godfather" (1972) and "The Godfather Part 2" (1974) tie for second place in the roundup. In third is 1967's murder and mayhem-filled "Bonnie and Clyde." The classic tale of war-torn love, "Casablanca" (1942), takes the fourth spot. And 1960's legendary "Psycho," dubbed the "granddaddy of all slasher films," rounds out the list.
(Before the EW results were revealed, we put the contenders to a vote and our readers put "The Godfather" films way ahead of the others, with "Casablanca" a distant second and "Citizen Kane," "Psycho," and "Bonnie and Clyde" trailing at the end of the list.)
On the small screen, only one of the magazine's top five picks for All Time Greatest TV Shows is still on the air. (Seriously, "Breaking Bad," "Walking Dead" and "Game of Thrones" didn't crack the summit of the list!)
Topping the list is complex crime drama "The Wire," which wrapped up its run in 2008.
The still-on-the-air show in second place is Fox's very long-running "The Simpsons." "Seinfeld," which aired its last episode in 1998, comes in at third place, followed by "The Mary Tyler Moore Show" (1977) in fourth. "The Sopranos," the HBO antihero drama that ended in 2007, takes fifth.
(In our vote, readers picked "Seinfeld" as No. 1, followed by "The Sopranos," "The Mary Tyler Moore Show" and "The Simpsons." As for EW's top choice? "The Wire" landed in last place.)
See the full Top 100 lists in the new issue of Entertainment Weekly.
Which movies and TV shows would put in your top 5? Click on "Talk about it" below and give us your list!