Alex Trebek is taking a break from hosting "Jeopardy!" following brain surgery over the recent holidays.
As the 77-year-old noted in a short video posted on YouTube, "I had a slight medical problem ― subdural hematoma ― blood clots on his brain caused by a fall I endured about two months ago."
After spending two days in the hospital, he returned home and is recuperating. His prognosis, he said, is "excellent" and he will be back to tape "Jeopardy!" "very, very soon."
Trebek underwent surgery at Cedars-Sinai Medical Center in Los Angeles on Dec. 16.
"He is expected to make a full and complete recovery," Sony Pictures Entertainment, which produces "Jeopardy!" said in a statement to NBC News. "Alex spent Christmas at home with his family, and he will return to the 'Jeopardy!' studio for taping in mid-January."
Trebek's absence isn't expected to affect the show much, since episodes are taped months in advance. The only schedule change will be in moving the annual college championship to April.
Having hosted over 6,800 shows over 34 seasons since "Jeopardy!" was revived in 1984, Trebek set a Guinness World Record and has become something of a television institution.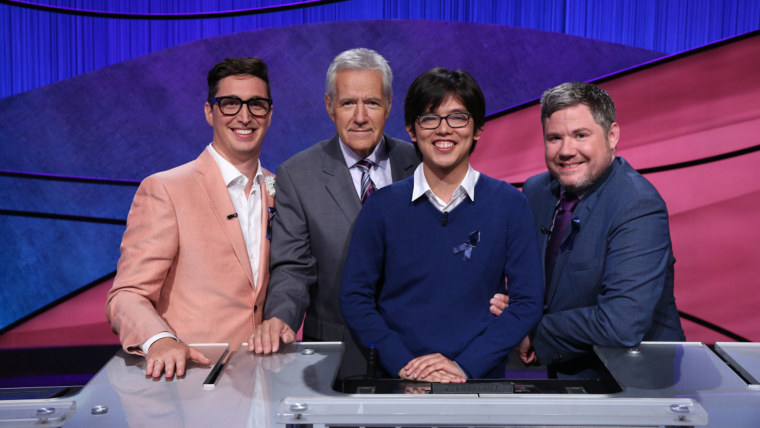 But over the years there have been a few medical scares that have made headlines, including a 2012 heart attack and the time he snapped his Achilles tendon while chasing a burglar in his hotel room in 2011.
Trebek has never missed taping an episode in all these years, and was only replaced once: when he and "Wheel of Fortune" host Pat Sajak switched places on April 1, 1997.
Naturally, fans are wishing him well:
As are we. Come back soon, Alex!
Follow Randee Dawn on Twitter.