We heard there was a secret chord that David played and it pleased the Lord ...
And we heard there was a song that "SNL" played to please a crowd!
Leonard Cohen's "Hallelujah" — which we previously heard on "Saturday Night Live" from Kate McKinnon, in costume as Hillary Clinton after her election loss in November — got a reprise on last night's season finale.
This time, it was performed by Donald Trump ... we mean, Alec Baldwin.
He was joined by the fictional likenesses of Kellyanne Conway (played by McKinnon), Vice President Mike Pence, Melania Trump, Ivanka Trump, Eric Trump, Donald Trump Jr., Sarah Huckabee Sanders and Steve Bannon, who continues to be portrayed as the Grim Reaper.
Scarlett Johansson made a surprise cameo as Ivanka Trump, a role she previously played in a sketch a few months ago.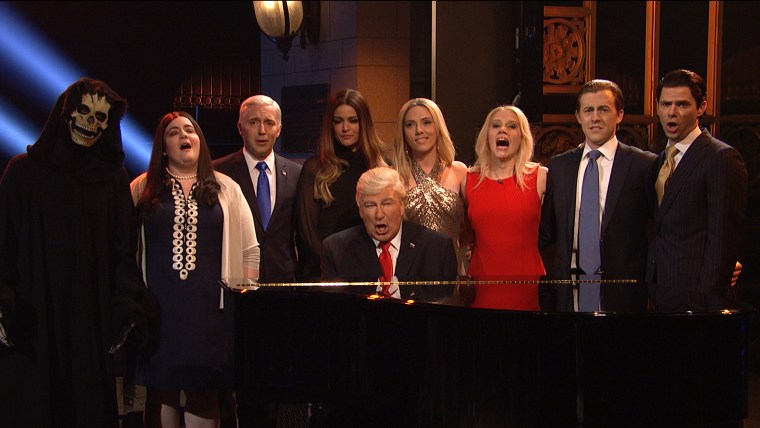 The tone of this "Hallelujah" — which was, for "SNL's" purposes, comedic — was noticeably different than McKinnon's somber rendition last November, which concluded with her turning to the camera and saying, "I'm not giving up and neither should you."
Baldwin's Trump, however, wasn't ready to sing his last note. "I'm not giving up because I didn't do anything wrong, but I can't speak for these people," he deadpanned to the camera at the end of the sketch.
Baldwin himself, however, may feel differently. He has spoken about wanting to leave the role, and tweeted an ominous "One more time ..." in costume before the show.
It was also the last show for cast members Bobby Moynihan and Vanessa Bayer.
With or without Alec Baldwin, we have to say ... we sure hope Melissa McCarthy as Spicey sticks around. We'd love to see her sing "Hallelujah."
RELATED