"Alcatraz" and "The River" have just marked their season finales. The question is: Have they marked their series finales, too?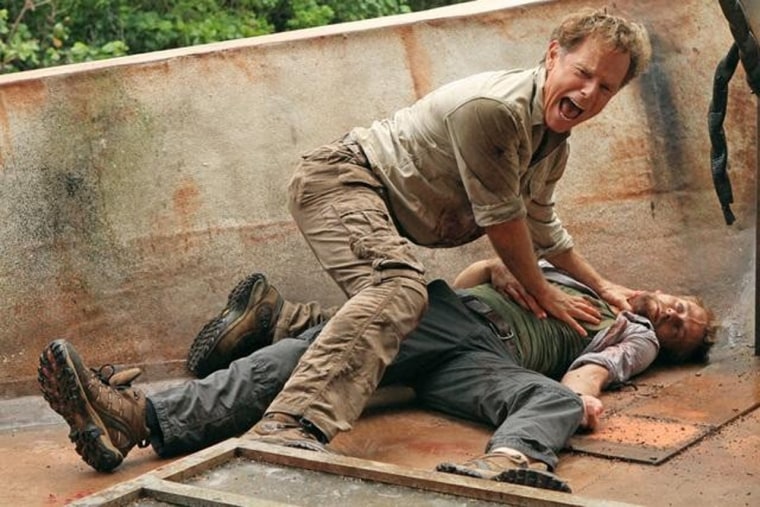 A new look at what the latest Nielsen ratings are saying about the survival chances of some struggling freshman shows (and which ones are doing just fine):
SPOILER CHAT: Once Upon a Time Scoop
"Alcatraz" (4.7 million estimated viewers): Monday night's season-one closer was down from last week, which is not a good sign. The show was down all the way to a 1.5 rating in the 18-to 49-year-old demographic, which is a worse sign. And -- spoiler alert -- a certain main character (Sarah Jones) was killed, which is a either sign of a show going for broke, or going out guns blazing.
"The River" (4.1 million viewers): Its season-one finale ticked upward -- good news! It ticked all the way up to a 1.4 demo rating -- oh, dear.
"Missing" (8.8 million viewers): This is going to be a tough call for ABC. The Ashley Judd thriller continues to draw a crowd, just not the kind coveted by networks. Its demo rating was down to a 1.6.
"Bent" (2.6 million viewers for back-to-back episodes): For the proud and few fans of the NBC sitcom, the good news from the premiere of this Amanda Peet show is that its sub-1.0 demo rating makes "Whitney" (4.2 million viewers) look like a keeper.
"I Hate My Teenage Daughter" (2.9 million viewers): It got beat, and got beat bad in its Wednesday time slot by the generally weak "Cougar Town" (4.4 million viewers). And with the recent news that "Teenage Daughter" star Jaime Pressley just got cast in an NBC comedy pilot called "Bad Girls," well, we're assuming the "Hate" is over.
"Fashion Star" (4.7 million viewers): One to keep an eye on. It was up from its premiere, and its demo rating (1.8) was on the high side for NBC.
"Terra Nova": With its season and run on Fox already over, it doesn't have any new numbers -- only some new bad news. Netflix won't be saving the dinosaur drama from extinction.
Here's a look at the TV week's other ratings winners and losers:
"Touch" (11.8 million viewers): Kiefer Sutherland's new series is doing anything but struggling. It finished in the top 10 with a 3.3 demo rating.
"Community" (3.9 million viewers): With "The Office" getting the night off, and "30 Rock" continuing to flatline, this was NBC's top-rated Thursday show.
Sandra Bullock: An ABC Family airing of "The Blind Side" was cable's most-watched show (4.7 million viewers) -- take that, "Mad Men" (3.5 million viewers).
"Pretty Little Liars" (3.7 million viewers): Its much-tweeted season-two closer was cable's second-most watched drama series after "In Plain Sight" (3.8 million viewers).
Here's a complete look at the top 10 most-watched broadcast shows, per the latest Nielsen rankings: "NCIS," 19.1 million viewers; "Dancing With the Stars," 18.8 million viewers; "American Idol" (Wednesday), 17.2 million viewers; "NCIS: Los Angeles," 16.2 million viewers; "American Idol" (Thursday), 15.6 million viewers; "Criminal Minds," 12.1 million viewers; "The Voice," 12 million viewers: "Touch," 11.8 million viewers; "Castle," 11.5 million viewers; "Two and a Half Men," 11.5 million viewers.
Are there any shows here you would miss if they didn't survive? Discuss the good and bad over on Facebook.
Related content: