Al Pacino is a dad again.
The 83-year-old actor and his girlfriend, Noor Alfallah, have welcomed their first child together, Pacino's rep told NBC News June 15.
Alfallah, 29, gave birth to a son, whom they named Roman Pacino. Roman is "The Godfather" star's fourth child.
In May, a representative for Pacino confirmed that Alfallah was pregnant. Earlier this year, Alfallah — who has been romantically linked to the iconic actor since April 2022 — uploaded a picture to Instagram of her supporting a friend's art exhibit in New York City with Pacino by her side.
The "Scarface" actor opened up about his duties as a father in an interview with The New Yorker in 2014, reflecting on his relationship with his own dad. Pacino's father left his family when he was only 2 years old.
"I consciously knew that I didn't want to be like my dad," he said at the time. "I wanted to be there. 
He continued, "I'm responsible to them. I'm a part of their life. When I'm not, it's upsetting to me and to them. So that's part of the gestalt."
Read on to learn more about Pacino's four children, including the three adult kids he shares with two former partners.
Julie Pacino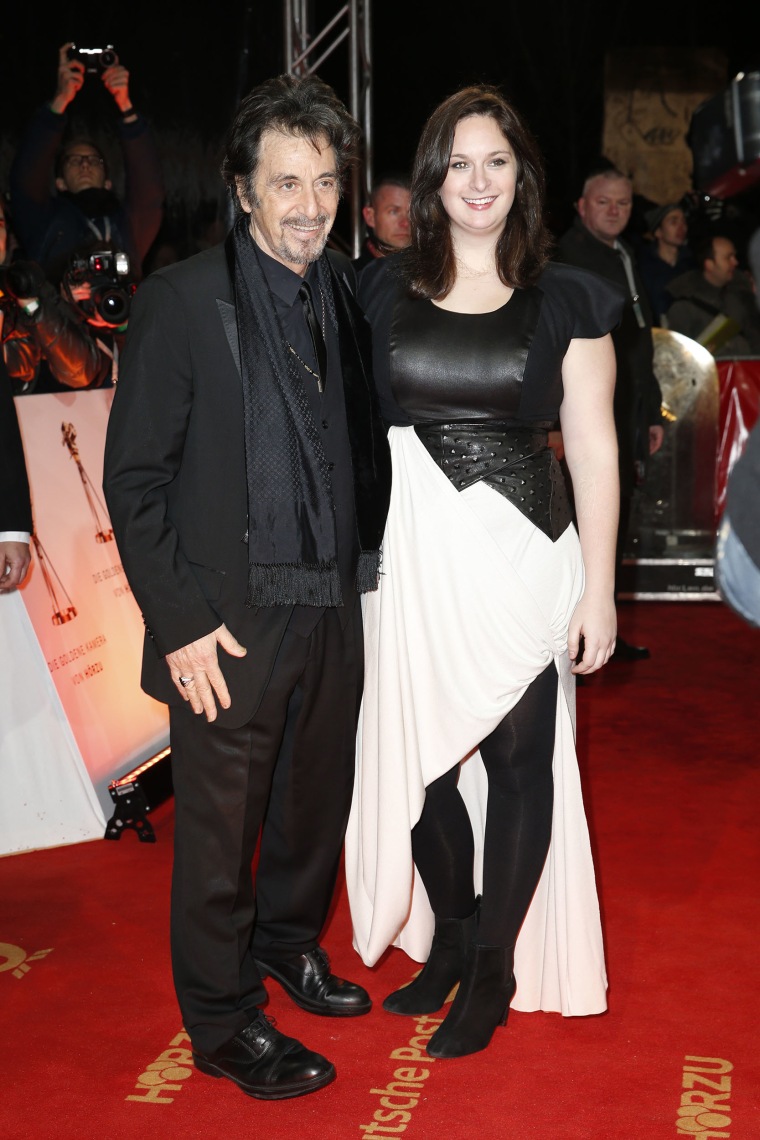 Pacino's first child, Julie Pacino, was born in 1989. Her mother, Jan Tarrant, is an acting coach.
"I was always raised with perspective, and my mom always kept me in check and made sure that I never felt entitled or that I deserved anything because of something that my father did," Julie told The New York Post in an interview.
Julie Pacino told The New York Post she was drawn to filmmaking at a young age. She said her parents gave her a camcorder at a young age, which she would use to direct her friends in "fake Snapple commercials" and spoofs of her dad's movies. She said for a birthday, she gave him a movie called, "Not Another Al Pacino Movie."
After graduating high school, Julie went to UCLA to play softball, per the UCLA Bruins' website, then studied film. She met the co-founder of her production company, Poverty Row Entertainment, at the New York Film Academy, and started the production company Tiny Apples in 2020.
She earned the award for best female director at the 2020 Venice Shorts Film Festival.
Anton and Olivia Pacino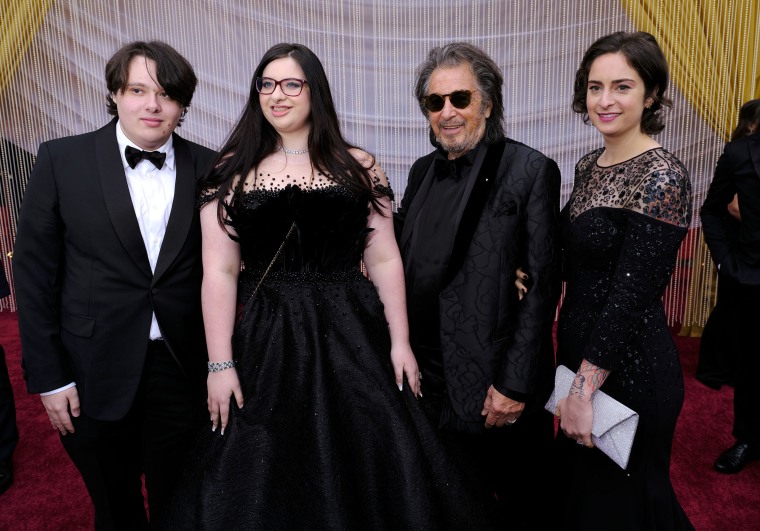 In January 2001, Pacino welcomed his twins Anton and Olivia Pacino with his then-girlfriend Beverly D'Angelo.
In a 2014 interview with The New Yorker, Pacino showed off a painting of his son's.
"My son painted this when he was 4. 'New York in the Fall,'" he told the interviewer.
In 2020, Olivia Pacino wished her dad a happy Father's Day on Instagram, sharing photos of them together over the years.
"Happy Father's Day to the most amazing father ever! You are my best friend," she captioned the post.
Roman Pacino
Pacino shares son Roman, who was born in 2023, with Alfallah, his girlfriend.
On Aug. 26, Alfallah shared a little snap of her son on her Instagram, captioning it: "My whole heart and the greatest blessing in my life. Roman." She also added a red heart emoji.
Rumors about Pacino and Alfallah's romance began in April 2022 after they were photographed getting dinner together in Venice, California, E! News reported at the time.
Before she started dating Pacino, Alfallah was previously linked to Mick Jagger from 2017 to 2018, per E! News.
On May 30, Pacino's rep confirmed that Alfallah was eight months pregnant.