Surely we can't be serious that it's been 35 years since "Airplane!" arrived in theaters!
(We are serious. And don't call us Shirley.)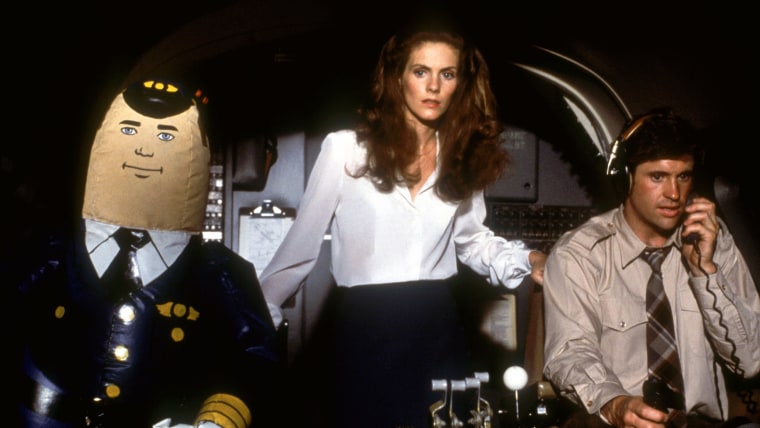 It's true: On July 2, 1980, movie audiences were introduced to Jim Abraham, David Zucker and Jerry Zucker's pun-tastic comedy that may have more funny jokes per minute than any other in the history of cinema. (Not just jokes, but funny jokes. There's a huge difference.)
And while any line from the endlessly quotable movie could be the focus of an anniversary post, let's take a look at five of the movie's greatest (and most standards-friendly) running gags, which are as funny today as they were 35 years ago.
1. Celebrities who may or may not be playing themselves
Los Angeles Lakers star Kareem Abdul-Jabbar is just trying to play pilot Roger Murdock, but young Joey swears it's the basketball player.
Meanwhile, Lt. Hurwitz is having such severe shell shock, he believes he's Ethel Merman (perhaps because he's played by Ethel Merman).
2. Roger, Victor and Clarence's increasingly confusing conversation
What starts as a joke about Roger's confusion over the radioed affirmation "Roger" becomes an aeronautic take on Abbott and Costello's "Who's on First?" Once colleague Victor Basta hears about vectors, and Clarence Oveur seeks clearance, it's all "over." (Although this bit is not technically recurring, it's included on this list because it takes a single joke and aggressively heightens the premise over and Oveur again. In other words, we have clearance, Clarence.)
3. The wrong week for Steve McCrosky to quit some unhealthy habits
I hate to be contrarian, but if jumping out of an air-traffic control tower is any indication, I'd gather it's always a good week to stop sniffing glue. (Now if only Ted Striker could get a handle on his drinking problem….)
4. Dr. Rumack's insistence on wishing good luck, counting on our heroes
In a precursor to his days starring as the inept-yet-successful Lt. Frank Drebin on TV's "Police Squad!" and in the "Naked Gun" movie trilogy, the late, great Leslie Nielsen played a doctor who felt the need to wish Ted and Elaine good luck — perhaps twice more than necessary.
5. A thing that's not important right now
You may be thinking, "There's a problem with what you left off this list!" And I might reply, "What is it?" To which you'd say, "It's a number of connected items or names written or printed consecutively, but that's not important right now."
In 2008, Nielsen and the rest of the "Airplane!" cast reunited on TODAY — see what they said about the movie in the video below.
Follow TODAY.com writer Chris Serico on Twitter.