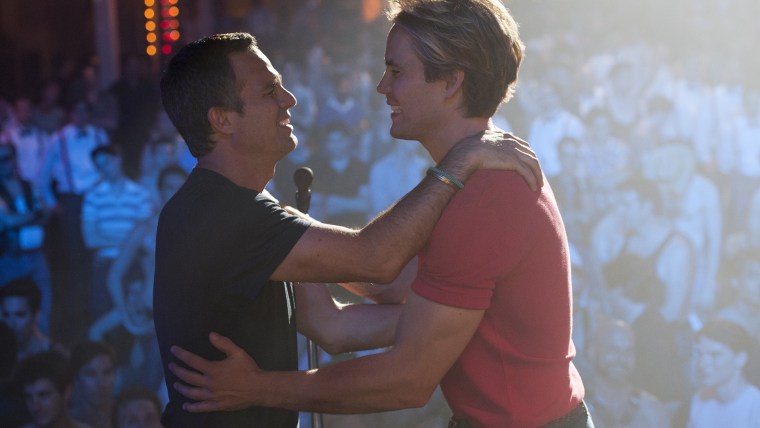 Actor Matt Bomer remembers being 14 and reading "The Normal Heart" while hiding in the closet of his drama room at school. 
"The irony of that is not lost on me. I grew up in the Bible Belt, and there was no talk of this," Bomer said during a Television Critics Association news conference about HBO's upcoming adaption of the play in Pasadena, Calif., on Thursday.
Based on the autobiographical play by HIV/AIDS activist Larry Kramer, the story focuses on the rise of the AIDS crisis in New York between 1981 and 1984, as seen through the eyes of writer Ned Weeks (Mark Ruffalo), an activist who had a closeted lover who was ravaged by the virus. Bomer, who plays the love interest, lost 40 pounds while filming to reflect the illness.

The rest of the cast includes Julia Roberts, Jim Parsons, Alfred Molina and Taylor Kitsch. Parsons, 40, who was in the 2011 Broadway revival that helped stir interest in the film adaptation after decades of false starts, said he was about 10 years old when he first recalled hearing about the AIDS epidemic on "frightening" editions of "20/20."

"As much as (the play is) specific to the topic, the AIDS crisis, the humanity that overreaches all of it is what really kind of hurts your heart at the end of it," Parsons said. "It feels like something horrible that happened that has happened before in different ways, and it feels like, humans being humans, may happen again. And maybe that's why a story like this is so important to tell in the hope that maybe that can be course corrected, and that it not happen again."
"Glee" and "American Horror Story" co-creator Ryan Murphy bought the rights from Kramer in 2010 and approached Ruffalo about taking the lead role and being his creative partner on the project. Murphy said that about 45 percent of the movie is new material.

"The thing that Larry writes about, he wrote that play in the idea of silence does equal death, and when people weren't writing about it and there were no solutions he was writing about his community's experience," Murphy said. "And the thing that I was very drawn to with the material was it ends in 1984, but what it's about feels very sort of modern to me right now with gay marriage in the news and people sort of just fighting to be loved for who they are and to be accepted for who they are. I feel like it's still very sort of modern and very applicable to the way we're living today, and I think that, you know, history has proven Larry Kramer to be right."
Roberts, who starred in Murphy's "Eat, Pray, Love," said she was drawn to the role of Dr. Emma Brookner, a wheelchair-bound physician who in the 1980s knew more about AIDS than most other doctors, out of her need to choose roles that help her to become a better person.
"I think one of the great elements of any good conversation is to find a commonality with people that you don't know and to find a oneness that really does travel from each of us to the next of us no matter what you believe is your higher purpose or calling and that the thread really does connect us all," Roberts said. "And if we are connected by a true thread, it's impossible physically to turn your back on somebody, and so that's the real point of storytelling is to nurture that idea. And this movie does it in such a profound way because it's dealing with a moment that's so desperate and mysterious, and we as a humanity failed each other in that time, and that's always a great reminder to do better and to stay together."
Ruffalo spent time with Kramer, who is now 78, as he prepared for his role. 
"I did spend quite a bit of time with him and came to really love him, and I've spent hours and hours and hours with him begging him to tell me stories about what they went through and about this time," Ruffalo said.
The film premieres on HBO in May.