Magician Léa Kyle blew away the judges on "America's Got Talent" Tuesday with her magical quick-change act.
Kyle, 25, started off her performance in a black dress and leggings, but when the music kicked off, she somehow changed instantly into a turquoise minidress.
Then, without hiding behind any curtains or appearing to rip off any items of clothing, she magically switched outfits again and again, changing into several different dresses. Her act was set to the soundtrack of "Swish Swish" and "Part of Me" by Katy Perry.
At one point, she donned a metallic minidress with panels that magically fell away to reveal a black dress underneath.
Her incredible act earned glowing praise from all the judges, even Simon Cowell.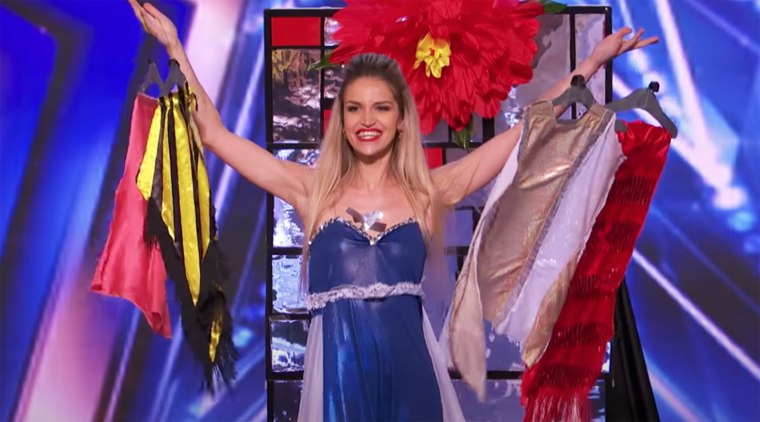 "I think normally when you see this kind of act, there's always two people normally in the act, and the music's terrible," he said. "This was very, very cool and you have amazing showmanship. It was world class."
Sofia Vergara said the act left her "in shock," and Howie Mandel couldn't get over Kyle's reality-defying tricks.
"We've seen quick-change artists on this show. I've never seen one better than you," he said. "To see the outfit fly in thin air from the hanger to you, it's magic."
Kyle was especially excited to hear feedback from her fashion idol, Heidi Klum, who was also amazed by her quick-change techniques.
"It was absolutely incredible and flawless," Klum said. "I mean, you know how much I love fashion and I feel like we've never really had anyone that is as good as you."
Then she pressed her Golden Buzzer with both hands, sending Kyle straight to the live shows. Kyle broke down in happy tears on stage, and Klum went up to congratulate her and give her a socially distanced hug.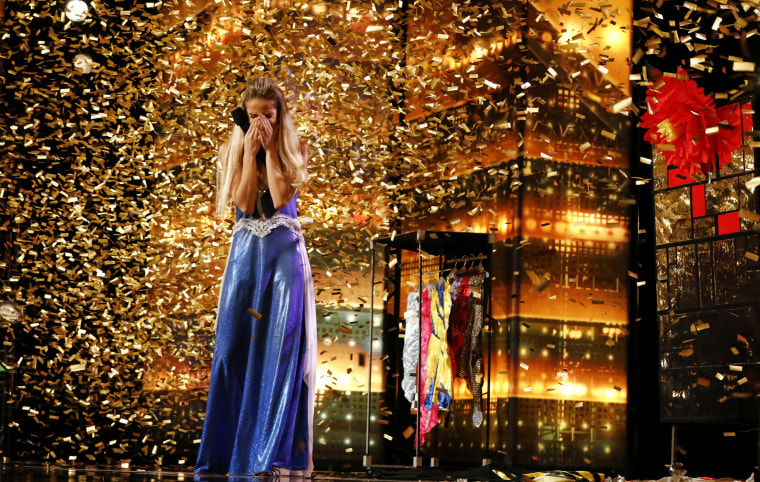 This was the latest inspiring Golden Buzzer moment on "America's Got Talent" this season. Earlier in June, the World Taekwondo Demonstration Team amazed the judges with their high-flying act and scored a Golden Buzzer from host Terry Crews.
Meanwhile, Mandel used his Golden Buzzer for the Northwell Health Nurse Choir, a group of nurses who worked at hospitals during the pandemic.
"One word comes to mind and it's 'heroic,'" Mandel said. "I got to say that you are the most inspiring moment that I have had in the last year, not only for who you are, for what you do."
Related: