Sports agent Leigh Steinberg has represented some of today's greatest athletes, including Troy Aikman, Steve Young and Bruce Smith. While he was the inspiration for the film "Jerry McGuire," Steinberg tells his own story behind his career in "The Agent." Here's an excerpt.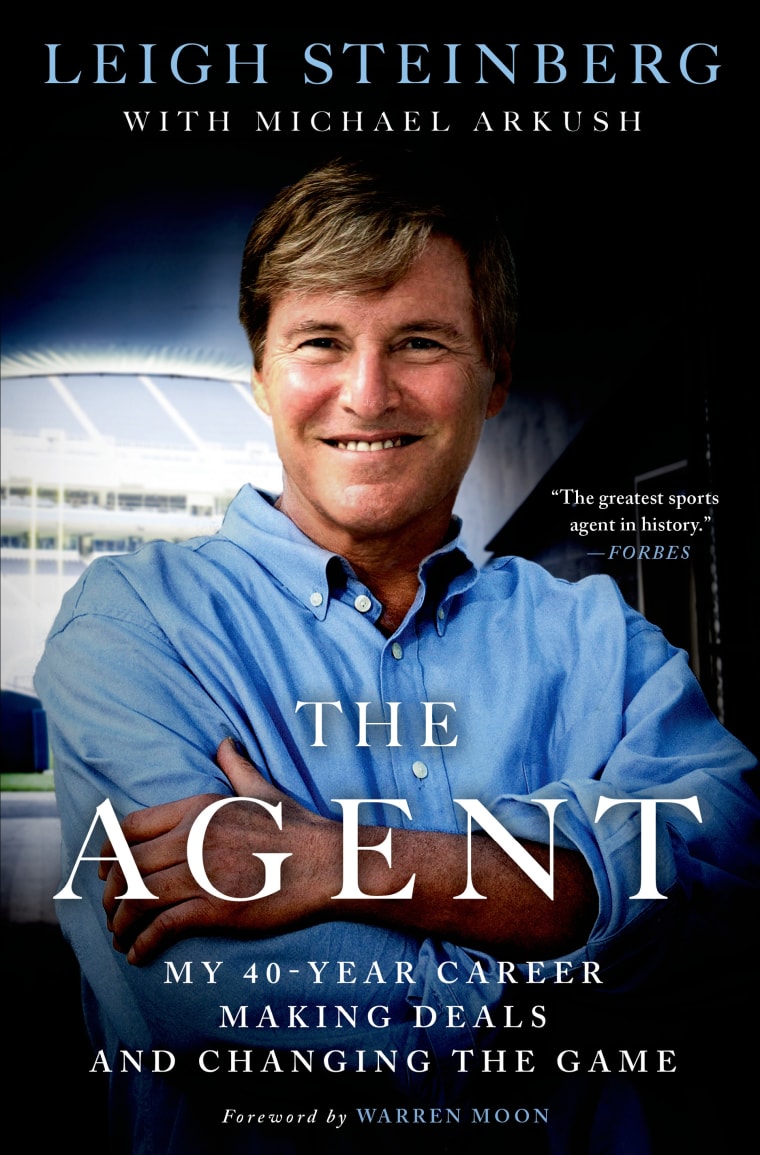 There was not just one wake-up call. There were many. They came until I would need no more. The first was during Troy Aikman's rookie season in 1989. I will never forget it. I was in Phoenix on a Sunday in mid-November to watch the Cowboys play the Cardinals. Troy was on fire that afternoon, setting a passing record for a rookie quarterback with 379 yards. The woeful Cowboys lost again, 24–20, falling to 1-9, but the cavalry was coming, at last.
Troy was hit after throwing a touchdown pass and knocked to the ground. Blood came out of his ear. Hits like that occur in every game, if not every quarter. The dazed player moves one part of his body at a time, slowly regaining his senses. That wasn't the case here. Troy, flat on his back, didn't move one inch. I was terrified, every fear imaginable racing through my brain. It felt as if Troy were on the ground for an hour. It was perhaps five minutes. I never felt so powerless. I realized that from then on, I would need a pass to gain access to the locker room immediately if another of my players was injured.
Troy finally got up, the crowd at Sun Devil Stadium cheering warmly, and the game proceeded, most people, I suspect, not giving the hit a second thought. This is football. Players get hurt. Here comes the next play.
I thought about it, for the rest of the day and longer.
Such a severe blow to the head, I assumed, must cause serious damage to a human being's brain, and what is the damage if there is another blow, and another after that?
As the years went on, the issue of concussions continued to torment me. I would visit physicians treating players who had suffered a concussion and ask a lot of questions. What is the effect of one on the next? How many are too many? What are the long-term effects? They had no answers, most insisting concussions were not a major issue. MRI scans they did to look for brain damage were always negative. Yet since I no longer had complete trust in the medical community due to what happened with my other clients, I did not feel any less troubled.
One night, I visited a client in his darkened hospital room hours after a game. He was alone and looked confused.
"Where am I?" he asked.
"In the hospital," I replied. "You had a concussion." 
"Did I play today?" he asked.
"Yes," I responded. "Did I play well?"
"Yes, you threw three touchdowns," I said.
His face brightened. Five minutes passed as we talked more about the game. He then asked, "Where am I?" and "Did I play today?" and "Did I play well?" I gave the same answers I did the first time. Ten minutes later, it happened once more.
I finally wrote a narrative on a piece of paper so he could glance at it whenever he became confused. It was terrifying to witness how delicate the line was between full consciousness and dementia. This was one of my closest clients. At dinner the night before, he had been his usual witty self. I decided to contact the leading neurologists across the country and ask them to conduct a seminar on concussions for my athletes, though I wasn't sure they would come.
Older players were in denial just like their younger brethren, and if they recognized they were suffering symptoms from head injuries, they certainly were not about to share that information. The way they viewed it, if they were to worry about the risk of long-term consequences to their health, it might impact the mental toughness required to excel in a dangerous game. Most, in fact, wished I would drop the whole matter. I couldn't. An injury to the brain is in a whole different dimension than other injuries. It is one thing to know that every joint of the human body is impacted by football, and that at age forty, an ex-player might have aches and pains that make it difficult to pick up his child. It is another to not be able to recognize that child.
Excerpted from "The Agent" by Leigh Steinberg with Michael Arkush by arrangement with Thomas Dunne Books, all rights reserved.