/ Source: The Associated Press
It was party gridlock, literally, following the 64th annual Golden Globe Awards.
Winners and revelers mingled and sometimes waited for hours Monday night to get into several after-parties spread throughout the Beverly Hilton and next door at the former Robinsons-May building.
Sara Ramirez, who plays feisty Dr. Callie Torres on best TV drama winner "Grey's Anatomy," said inside the packed Instyle Warner Bros. bash that she had waited an hour and a half to get in.
Still, the exuberant actress — dressed in attention-grabbing red — stayed positive.
"I've never been to the Golden Globes. I just want to be a part of the celebration, hang out and listen to the music," she said, noting that the show's writers "are getting the recognition they deserve."
The hallway leading into the party became a schmoozy, if stifling, affair, with a who's who of celebrities and half the cast of NBC's Golden Globe-nominated hit show "Heroes" stuck waiting for an hour while other stars pranced out.
Flanked by security as he left the soiree, Jamie Foxx grunted that "Dreamgirls" winning best musical or comedy was "fabulous." His co-stars in the film, newcomer Jennifer Hudson and veteran Eddie Murphy, both won supporting acting honors.
Paris Hilton, Ivanka Trump and her brother Donald Trump Jr. were lucky enough to be ushered through the pulsing line.
Filled to capacityThe party was held to capacity on several occasions to ensure its 600 person occupancy limit, said John Karns of the Beverly Hills Fire Department.
"We just want everyone to be safe," he said, emphasizing that two more parties added to this year's circuit bumped up the number of attendees.
Inside, guests sipped on Godiva chocolate martinis and danced to a live band pumping out covers of tunes such as Justin Timberlake's "SexyBack." Giant plastic tendrils hung from the ceiling.
Upstairs at the 20th Century Fox shindig, attendees feasted on mushroom and spinach quiche nibbles and looked out onto HBO's party at the Circa 55 restaurant downstairs.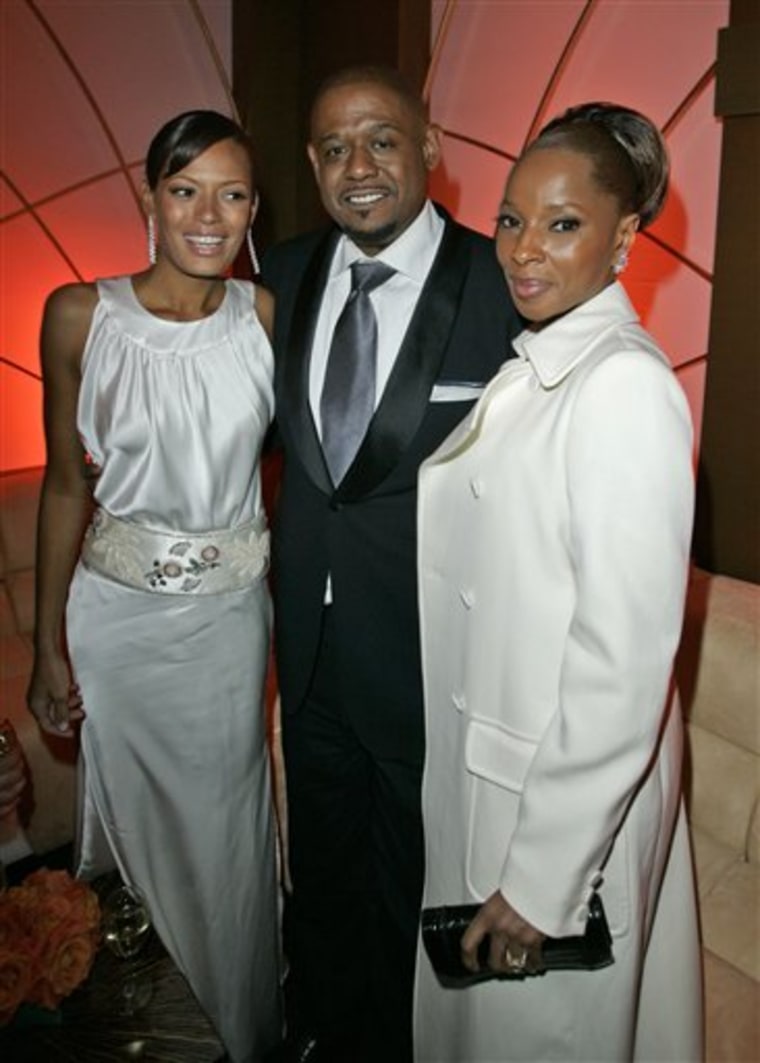 Forest Whitaker breathed a sigh of relief and sat down to a drink after facing photographers greedy to get a shot of the grinning actor clutching his Golden Globe for best actor in a drama.
Whitaker's prize portrayal of Ugandan dictator Idi Amin in "The Last King of Scotland" also places him in the Oscar spotlight.
"It's an amazing night. I was extremely overwhelmed. I'm just starting to get my voice back," Whitaker told The Associated Press.
"I work so hard. I've been doing this for 25 years," he said. "What I can hope to happen is that more people see the film."
"Desperate Housewives" star Felicity Huffman, a nominee in the best actress in a TV series musical or comedy category, looked radiantly contained while hanging out with her husband, William H. Macy.
Last year she let loose singing and shimmying after her best actress win for the drama "Transamerica."
"It's just always great being here," she said, smiling.
At the NBC Universal party on the Hilton's garage rooftop, Ben Affleck chatted happily with members of NBC's "The Office" while others slurped ice cream and boogied to a DJ spinning hip-hop hits.
But was the crowded room, decorated with flowers encased in glass, a tad too warm?
"Yes," said Donald Trump, who exited exactly 10 minutes after arriving.
"No, it was nice, nice for the ladies," said his wife, Melania, following behind.
E!'s eco-friendly partyE! and the Environmental Media Association's ambitiously eco-friendly party adjacent to the Hilton had the opposite issue. Partygoers in the tented space nibbled on organic pizza and used recycled paper products, but were also blasted by the cold night air.
At HBO's orange-themed poolside bash, nominees and winners guzzled drinks and snuggled next to heat lamps or ducked inside for warm ravioli and mashed potatoes.
Jeremy Irons, celebrating his win for best supporting actor for HBO's "Elizabeth I," smoked and chatted up an attractive brunette outside.
Actor nominee Bill Paxton of HBO's "Big Love" was cheerfully upbeat despite his show's loss to ABC's "Grey's Anatomy" and his own loss to Hugh Laurie from Fox's "House."
"This is going to be our year. We were just delighted to get these nominations," he said, calling the Golden Globes "a high holy night meets a prom night."
At the Paramount Pictures party, two big winners passed around their awards and hugged well-wishers.
Director Alejandro Gonzalez Inarritu's wife, Maria, stood next to him cradling his best picture trophy for the international drama "Babel."
"It was a beautiful surprise," he told the AP, adding that "nobody knows nothing" about his Oscar prospects, but "we're just enjoying the moment."
Of Gov. Arnold Schwarzenegger handing him his award onstage, he called the moment "scary."
Soon after Inarritu left, "Grey's Anatomy" creator Shonda Rhimes swept in holding up her best TV drama trophy and then throttled the show's star Ellen Pompeo with a bear hug.
"This was a shock. I've always accepted being popular, but not critically acclaimed," Rhimes said. "I've had more glasses of champagne tonight than I've probably had in my life."