Billy Crystal has been making 'em laugh for decades, but it's been over 30 years since he last starred on a prime-time TV series. And while he's still keeping everyone in stitches all along, he's ended his TV hiatus by signing on to co-star with Josh Gad in FX's "The Comedians."
But who was he making laugh the hardest on TODAY Thursday? Matt Lauer, of course! Here are the four funniest moments from Crystal's deadpan visit:
1. On "The Comedians," he gets to play himself — literally"This is my 40th year in the business. The best part I've had is playing me," he grinned about playing a version of "Billy Crystal" (Josh Gad plays "Josh Gad.") "I'm playing a threatened guy," he added.
2. Crystal doing a famous scene from 'When Harry Met Sally' on 'Comedians'OK, this one's a visual (and you can check out the TODAY clip to see it for yourself), but what could possibly be more hilarious than Crystal playing his character Harry and playing Meg Ryan's character Sally and playing the unnamed Katz's Deli patron (who in the film was played by director Rob Reiner's mother Estelle) in the famous restaurant orgasm scene?
3. He's cautiously accepting of 'the Twitter' but doesn't want to live streamHe hasn't used Meerkat or Periscope streaming services ("it just sounds painful") but noted, "Matt, at this point, my stream is in question. ... Live streaming for me takes hours. Hours. It's like Morse code. Dot dot dash, dash, dot dot, daaaaash."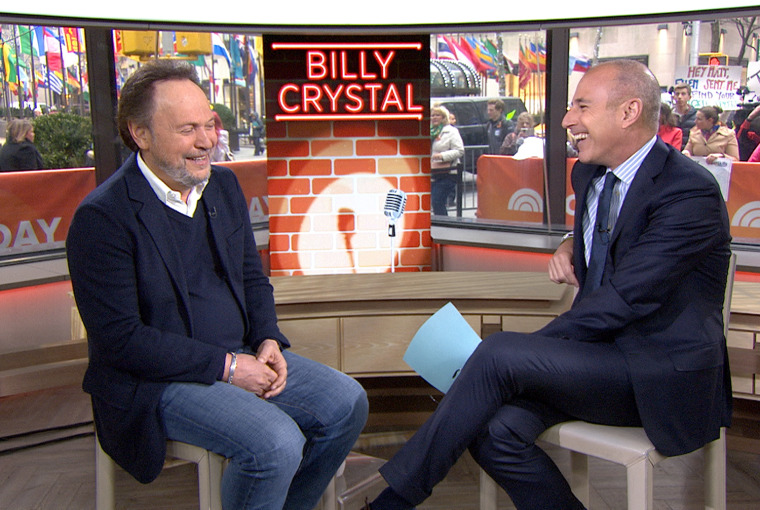 4. The controversial Lucille Ball statue reminds him of someone."That's [U.S. Speaker of the House] John Boehner," he said. "That's the same flesh tones as John Boehner."
Bonus: For those who wondered what Crystal's last prime-time TV series was, here's a clip of him in "Soap," which ran from 1977-81, in which he played a gay character named Jody.
And just for fun, here's him on "Saturday Night Live," where he was a beloved regular from 1984-85.
"The Comedians" premieres tonight, April 9, at 10 p.m. EST.