A lot has changed for Adele since the release of her sophomore album, "21." In addition to being a few of years older and having smashed sales records with her latest album, "25," the beloved singer is now in a very different place in her life — thanks to being a mom.
During a past sit down with TODAY's Matt Lauer, Adele described her life as "uncertain." But in an interview that aired Monday morning, she had another way to describe her life.
"I've never been happier," she told him. "And I've never been healthier. So I'm good."
She's found another way to tell the world about that happiness — with a couple of very visible tattoos on her hands: One reads "Angelo," the name of her 3-year-old son, and the other reads "paradise."
MORE: Adele opens up about her life and music on TODAY Show
"One referring to the other?" Matt asked.
"Yep, exactly," she replied.
She went on to call the toddler her "emotional place," and said that, as such, he's made her a more emotional person "in every single way possible."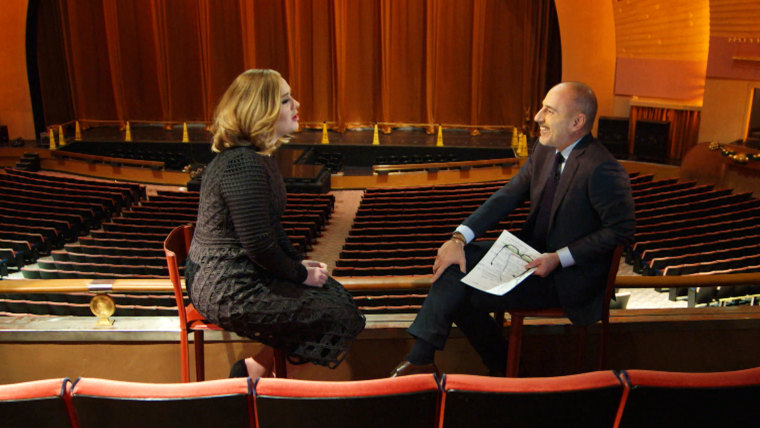 In fact, Angelo has brought so many positive emotions to mom that it even caused her problems when she set out to write "25."
MORE: See Adele's priceless reaction to 'SNL' sketch that spoofed 'Hello'
"I found it impossible for a while," Adele recalled. "I didn't know what I wanted to write about. ... What's wrong is I wasn't sad."
In the past, sadness had fueled her music. So this time, she went back to basics and thought about simply saying "hello" to everyone again.
"'Hello' is just about reconnecting with everyone else and myself," she explained. "I couldn't get over my guilt of leaving my kid to go and write a record and stuff like that. So [it's] getting over that — getting on the other side of that. It was just, you know, it's in general, just hello to everyone. "
As for the rest of her writer's block, she confessed that the solution was a simple one. She "chilled out" and stopped overthinking her process.
Of course, no one could blame her for overthinking it. After all, following up the huge success of "21" had to seem like a daunting task. Then again, the 27 year old thinks some people overestimate the importance of that record.
For instance, the folks at Billboard magazine, who recently ranked the top 200 albums of all time and put "21" at the top of the list.
"I'm beyond grateful, but it's a bit ridiculous," she said of the honor that put her record ahead of releases from mega-acts, like The Beatles, Michael Jackson and, well, everyone else.
MORE: Adele pranks Adele impersonators disguised as an impersonator, 'Jenny'
If she'd put the list together, Jackson's "Thriller" would top them all. And "21"? "No. 50 or something," she said.
Follow Ree Hines on Twitter.