If you're like most of us, the big Powerball draw has left you high and dry. But we're all winners when we get to watch Adele sing with James Corden in the latest edition of Carpool Karaoke on "The Late, Late Show"!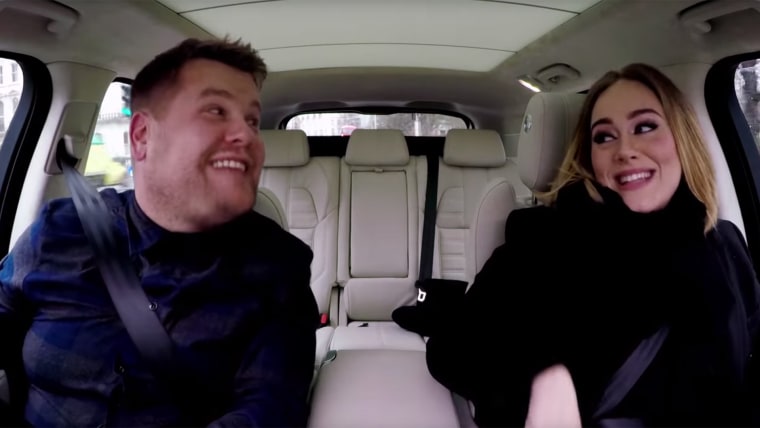 That's what went down on Wednesday night's show, in a 15-minute segment filmed over the Christmas holidays in London. The pair, who have known one another since they met in an airport seven years ago, have a breezy camaraderie that made their journey fun...and full of revelations.
For one thing, Adele is a drummer (that's her on the skins on "Hello")! "You are the female Phil Collins," Corden quipped when she noted her rhythmic prowess.
MORE: Adele talks motherhood, tattoos and more on TODAY show: 'I've never been happier'
She's also a big Spice Girls fan, identifying most closely with Geri "Ginger Spice" Halliwell. "They were a huge moment in my life when they came out," she admitted. "Girl power — five ordinary girls who did so well and got out. And I wanted to get out."
Halliwell was delighted and appreciative on Twitter:
Naturally, Adele ran through many of her own hits, including "Hello" (Corden called her at the start of the segment on his cellphone and amusingly talked through some of the song's lyrics), "Rolling in the Deep" and "Someone Like You."
MORE: Adele pranks Adele impersonators disguised as an impersonator, 'Jenny'
But if there's one highlight of the full segment you don't want to miss, it's Adele rapping Nicki Minaj's "Monster," complete with hand gestures and total sass appeal.
Minaj also responded on Twitter with a big thumbs up!
She also revealed that a tradition is coming to an end. "One of the reasons I named my albums after my age...is they're Polaroids of my life at the time," she said. "I believe in trilogies. The next one will be 'Adele.'"
Whatever she calls it, we will listen!
"The Late, Late Show with James Corden" airs weeknights on CBS at 12:37 a.m. ET.