Who knew Adele was such a big basketball fan?
The 33-year-old singer made a rare public appearance on Saturday, July 17, at Game 5 of the NBA Finals at the Footprint Center in Phoenix.
Adele sat courtside next to LeBron James' agent, Rich Paul, for the matchup between the Phoenix Suns and the Milwaukee Bucks. Many social media users started speculating that she may be dating Paul, so much so that she was trending on Twitter Sunday afternoon.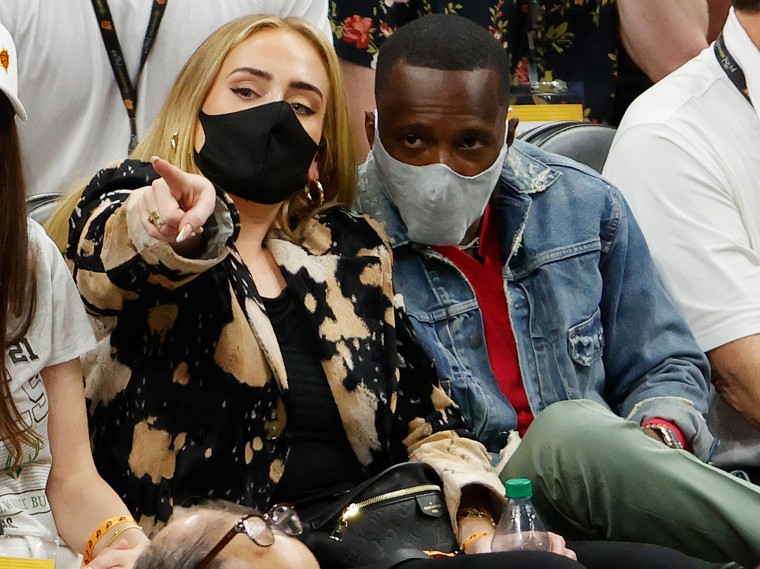 ESPN journalist Brian Windhorst referred to Adele as Paul's "girlfriend" on his "The Lowe Post" podcast.
"Rich Paul, (LeBron's) agent, brings his girlfriend to the game to sit next to LeBron. His girlfriend is Adele," Windhorst revealed. "Rich Paul is at the game with Adele. LeBron is watching with Adele."
Who is Rich Paul?
Born and raised in Cleveland, Ohio, Paul, 39, is a sports agent and founder of Klutch Sports Group. He has represented numerous prominent NBA players, most notably his longtime friend James.
"This is the first time they've come out in public together," Windhorst added of Adele and Paul. "So this will be all over the tabloids, especially in England tomorrow."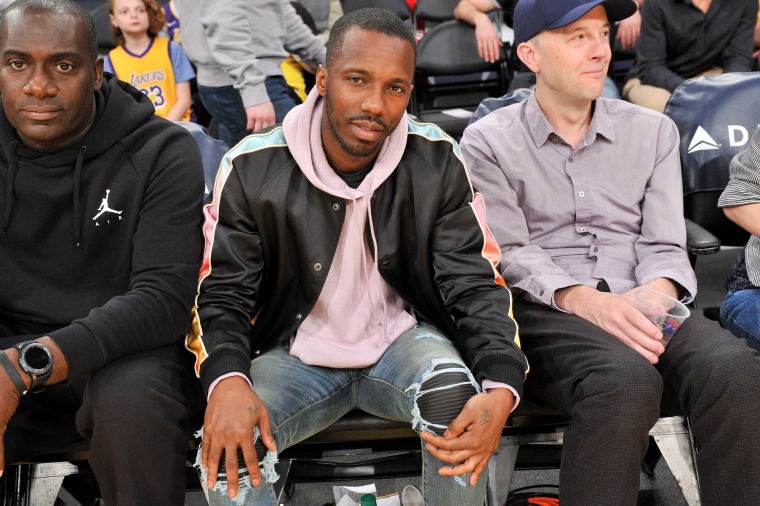 TODAY has reached out to Adele for comment and we will update this post if her team gets back to us.
Adele sported a long neutral patterned jacket over a monochromatic black ensemble, including a simple sleek top and a pair of leggings. To finish off her look, she opted for a pair of black heeled sandals in addition to a matching black mask.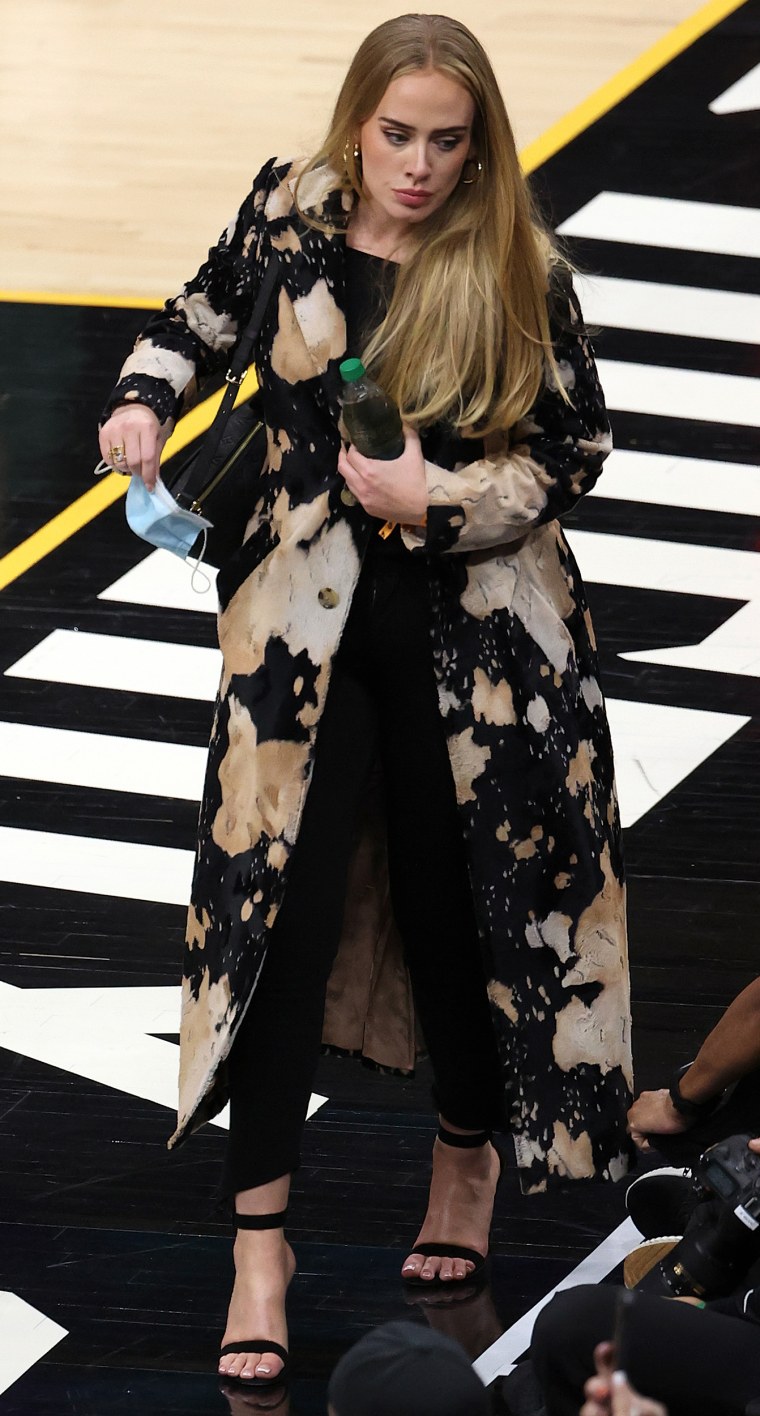 The Grammy Award winning singer appeared to be cheering on the home team despite their loss to the Bucks 123 to 119. Vanessa Hudgens, Lil Wayne and James were also in attendance at the big game.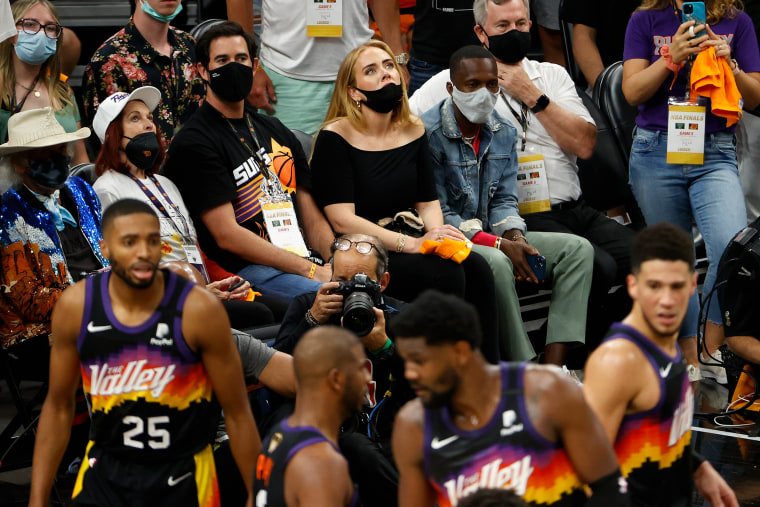 Adele has been showing off her sporty side on social media over the course of the last couple of weeks.
On Tuesday, July 7, she posted a video on Instagram that she took after England defeated Denmark in the semi-finals match during the 2020 UEFA European Football Championship. In the background of the clip, she can be heard cheering loudly as her camera diverted from the TV while she jumped up and down.
"ITS BLOODY COMING HOME," she captioned the video.
After England lost the Euro 2020 Final on Sunday, July 11 to Italy in a penalty shoot out, Adele shared another post on Instagram to continue to share her support for her home country's team. The singer posed in a red England tee, smiling up towards the sky with her eyes shut.
"You did us so proud!" she captioned the post. "You brought our game home and brought us all together."
In recent years, Adele's public appearances have been far and few between. She's remained largely quiet on social media, sharing a handful of posts over the last year, including one for her 33rd birthday on May 5, the 10-year-anniversary of her sophomore album "21," and a series of posts to commemorate her time as the host of "Saturday Night Live" last October.
The singer returned to Studio 8H last year, this time as a first-time host rather than the musical guest. Previously, she served as the musical guest first in 2008 alongside host Josh Brolin, returning in 2015 with host Matthew McConaughey.
During her stint as host, she poked fun at her weight loss in her opening monologue and addressed why she wouldn't be doing double-duty as the host and musical guest of the show.
"I know that that there has been a lot of chatter about me just being the host. I have seen all of it," she said. "Why isn't she the musical guest and stuff like that? There are a couple of reasons. My album is not finished. I also am too scared to do both."
While she may not have performed any new hits at the time, Adele did bust out her singing chops during one of the night's sketches. In a parody of "The Bachelor," Adele portrayed one of the contestants on the spoof of the dating competition and ultimately ended up belting out "Someone Like You," "Hello" and "Rolling in the Deep" at various moments during the sketch.
In a post after the episode aired, Adele celebrated the career milestone in a touching Instagram post, writing in part, "Had the best time on SNL! Thank you to the most wonderful cast, crew, writers and producers. What a sublime bunch of people you are. Lorne thank you for believing in me!"
Later in the caption, she added, "I did it for the joy of it and I hope you got some from it too!"