"Voice" coach, Maroon 5 frontman and actor Adam Levine can now add Sexiest Man Alive to his list of achievements — he's People magazine's 2013 pick.

The Grammy Award-winning Maroon 5 frontman has moves like Jagger, and now, People has named him the Sexiest Man Alive of 2013.
The big reveal came during Tuesday night's episode of "The Voice," and now the 34-year-old joins past Sexiest fellows Channing Tatum (2012), Bradley Cooper (2011), and of course classics, like George Clooney (1997 and 2006).
When host Carson Daly held up the magazine, which hits newsstands Friday, Levine said, "Carson, you just had that made. That's not real."
And when Daly asked Levine how he felt about the news, he quipped, "Sexy."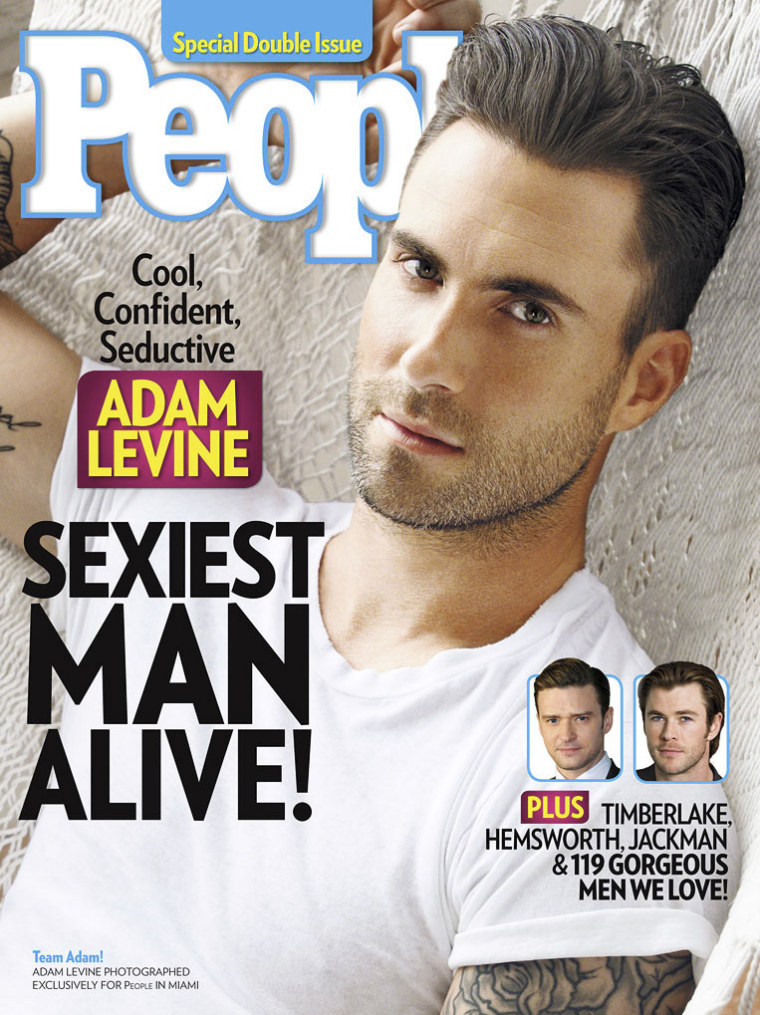 In excerpts from the cover story released by People, Levine credited yoga and spinning for keeping his stamina up as he pursues his busy career. He said he is looking forward to settling down with his fiancee, Victoria's Secret model Behati Prinsloo.

He also said he didn't think the Sexiest Man honor would come his way.
"As a musician, you have fantasies that you want to win Grammys, but I didn't think this was on the table," Levine said, calling the honor "totally surreal, funny and amazing." He also noted that he expected to come in for some teasing from his band thanks to his new title.
When TODAY's Savannah Guthrie quizzed Levine about rumors of the People magazine honor days before the official announcement, he remained coy, teasing, "It's an interesting idea."
Now it's an interesting fact, and one that might just spark a little debate. In our recent Twitter survey, Justin Timberlake topped the list of favorites — but Levine wasn't far behind him in second place. (And he definitely gets bonus points for sighing happily with an adorable puppy in his arms.)
TODAY host Matt Lauer has been recognized by the magazine in the past as well, having been included in People's list of lookers three times.