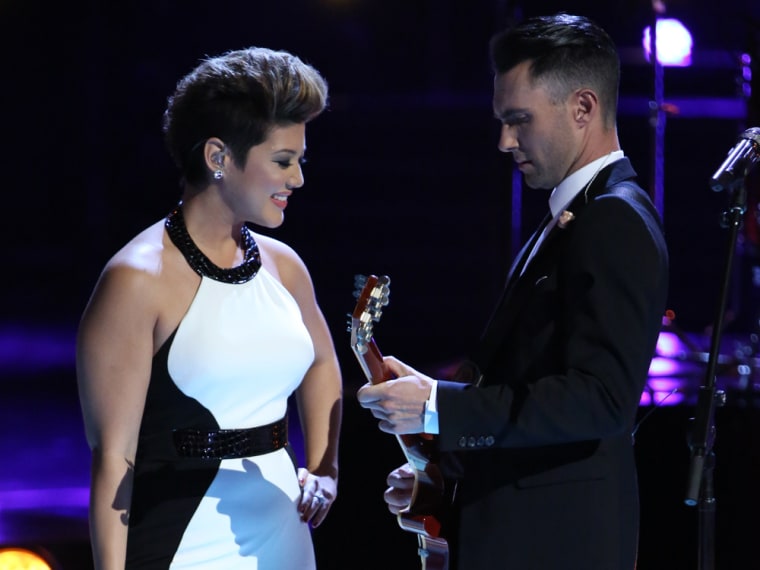 Adam Levine found himself in a tough position going into "The Voice's" last performance show Monday. Two of his singers are in the final three. Both, understandably, are trying to win. What's a coach to do?
In Adam's case, the answer was to throw all his support to Tessanne Chin.
Give the coach credit — he sure wasn't subtle about it. Since only one of his contestants can win, he went all-in for his Jamaican singer with the reggae roots and the big voice. That's a perfectly justifiable strategy, given how well she performed on Monday, and how she's done all season.
But pity poor Will Champlin. Not only did he get the short edge of the praise stick from his own coach, he also had to hear Adam make his intentions known before he even had a chance to answer back.
For example, each finalist sang a duet with their coach. Tessanne went first, and Adam said, "I have never been more excited about any performance in my life — I am so excited."
Hello? What's singing with Will — is it at least moderately thrilling? Better than being stuck in his seat? Anyone?
And if Will thought that was bad, here was Adam right after Tessanne took on Whitney Houston's "I Have Nothing":   
"I'm not vying for the affection of everybody by saying 'Vote for Tessanne, vote for Tessanne.' I'm just so blown away by what you do. I know — I know — in my mind and in my heart that you're the winner of this show."
Note: This was before Will even sang his final number. And though his rendition of "Everything I Do (I Do It For You)" ended with a tear-jerking salute to his wife and child, by far the most emotional moment of the night, Will's coach gave him the equivalent of a Mr. Congeniality sash and some lovely parting gifts.
"You've won already. There have been so many other mini-victories for you that I can't see any negatives in the fact that you are here in the final three," he said. "Regardless of the outcome — I couldn't care less about it. This is a huge, massive victory … I'm just happy. You've won. You're here."
Thanks, coach. Do I get the pizza and orange slices now? 
Of course, Adam was probably smart to pick one contestant to focus on, considering the two were going against Christina Aguilera's powerhouse teenager Jacquie Lee. Jacquie got every opportunity to hit big notes, and by and large she delivered, so any splitting of the votes likely dooms Team Adam's chances.
This is one of those rare seasons where it's anyone's guess who wins. Unlike Danielle Bradbery's coronation last year, both Tessanne and Jacquie have a legitimate shot at being season five's champion.
As for Will? Well, like his coach said, it's apparently a victory just to be there.