Adam Levine is back to being a blond — and it's all for his wife, Behati Prinsloo.
The Maroon 5 frontman and "Voice" coach told late-night host Jimmy Kimmel on Thursday he recently had his hair dyed platinum blond again to please his lady.
"My wife loves it when I do it," said the 38-year-old singer, who arrived with a dark scruffy beard that highlighted his new light locks even more.
Levine explained that, naturally, he first ran the idea by Prinsloo — who's currently pregnant with the couple's second child — because he wants her to like what she sees when she looks at him.
"Why would you do anything that would put you in a less than advantageous position when it came to the person you want to want to sleep with you?!" Levine wondered aloud. "You want that from them."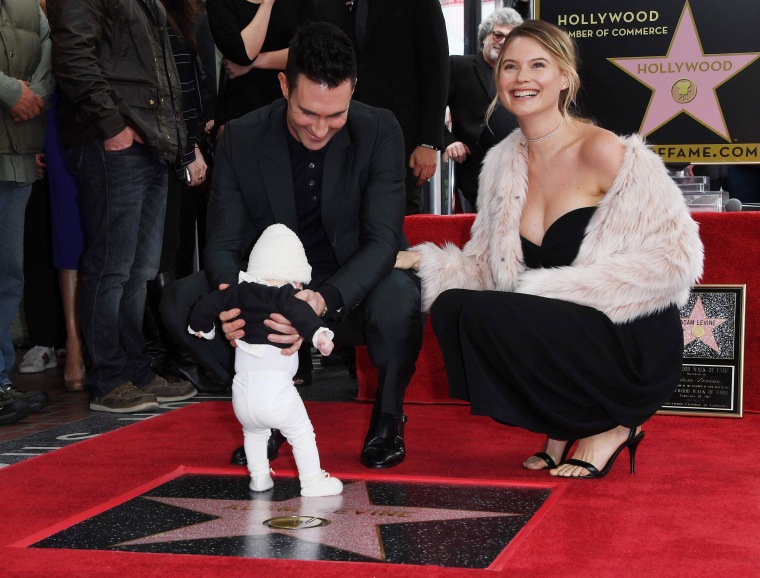 While Levine's "Voice" co-star Blake Shelton may tease him about his hair choices, Prinsloo is clearly crazy about her hubby no matter how he styles his 'do, including shaving it off completely.
In August 2017, the Victoria's Secret model gushed about Levine, whom she called an "incredible dad," to People magazine.
"I love Adam, and when you get married and you fall in love with someone, you think that there's no greater love than that love," said Prinsloo. "And then you have a baby, and it's just next-level love."