/ Source: The Associated Press
Tony Randall, who served as a fussy foil for Rock Hudson and Doris Day, David Letterman and Johnny Carson and, most famously, Jack Klugman on "The Odd Couple," has died at 84 after a long illness.
Randall, who had been hospitalized since December when he developed pneumonia after heart bypass surgery, died in his sleep Monday night at NYU Medical Center. He is survived by his wife, Heather Harlan Randall — who had made him a father for the first time at age 77.
The dedicated theater advocate entered the hospital after starring in a revival of Luigi Pirandello's play "Right You Are," the 20th production of the National Actors Theatre, which Randall founded.
Broadway's marquee lights were being dimmed in his honor Tuesday night.
Day remembered him Tuesday as being "so brilliant, funny, sweet and dear, that it was as if God had given him everything." Randall played the fussbudget pal in Hudson-Day movies such as 1959's "Pillow Talk" and 1961's "Lover Come Back."
"He was the funniest man in movies and on television, and nothing was as much fun as working with him," the 80-year-old actress said from Carmel, Calif. "I'm so glad that his last few years with his wife and children were so happy. I loved him very much and miss him already."
"Tony Randall's passion for live theatre was unmatched," Jed Bernstein, president of the League of American Theatres and Producers, said in a statement. "He was a vociferous advocate for the proposition that serious plays are the lifeblood of our culture."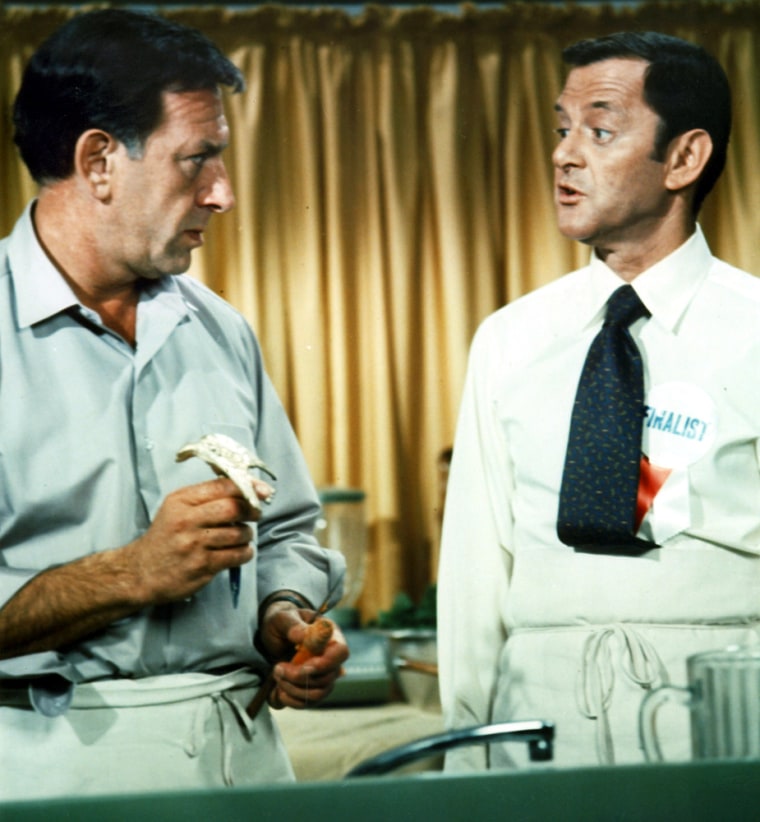 Perfect partners
He was best-known, though, for playing fastidious photographer Felix Unger opposite Klugman's Oscar Madison on "The Odd Couple," the sitcom based on Neil Simon's play and movie.
After Randall's death, Klugman canceled the remaining Milwaukee performances of "An Evening With Jack Klugman," his one-man show scheduled to run through Sunday, and flew to New York.
"A world without Tony Randall is a world that I cannot recognize," Klugman said Tuesday night on CNN's "Larry King Live."
Last year, Randall told AP Radio that, thanks to reruns, it was no surprise most people knew him as Felix Unger.
"It's on all the time," he said. "People on the street say, 'Hello, Felix' to me, except for those who say, 'Hello, Oscar."'
"The Odd Couple" ran from 1970-75, but Randall won an Emmy only after it had been canceled. At the awards ceremony he quipped: "I'm so happy I won. Now if I only had a job."
The show's charm sprang from Felix's chemistry and conflict with Oscar, the sloppy sportswriter he's forced to share an apartment with after both men get divorced.
Klugman told AP Radio in 1993: "We are so apparently different, but in our approach to work, how we feel about acting, we're so close. I'm not afraid to ask him anything and he's not afraid to ask me anything."
"Tony Randall was a great man, a great talent and a great influence on my life," said Garry Marshall, who produced "The Odd Couple" series. "He taught me how to write, he taught my sister, Penny, how to act, and he taught millions of people how to laugh."
A Letterman regular
Randall's other famous television persona was as a fixture on late-night talk shows, appearing on Letterman's "Late Night" and "Late Show" more than 100 times. He also had more appearances than any other actor on Carson's "The Tonight Show," according to his publicist, Gary Springer.
"I was lucky enough to know Tony as an actor and friend," Letterman said Tuesday. "Whenever we needed a big laugh, we would bring in Tony. He always made us better for having worked with him. We will miss him very much."
In 1993, when Conan O'Brien took over the time slot at NBC that Letterman had vacated for a new show at CBS, Randall was a guest on O'Brien's debut episode.
"A lot of people didn't give me much of a chance of making it in this business and he was incredibly supportive and he gave me a pep talk," O'Brien said during the show he taped Tuesday. "I used to watch him with my dad so this is a loss for me personally as well as for all of us here."
After "The Odd Couple," Randall had two short-lived sitcoms, one of which was "The Tony Randall Show," in which he played a stuffy Philadelphia judge, from 1976-78.
From 1981-83, he played the title role in the sitcom "Love, Sidney," as a single, middle-aged commercial artist helping a female friend care for her young daughter. The show was based on a TV movie in which Sidney was gay; in the TV show, the character's sexual orientation was implied, but never specified.
"People have to remember this was 1981? '82? '83?" said Swoosie Kurtz, his "Love, Sidney" co-star. Being gay "was unacceptable on network television."
Kurtz recalled Randall's sense of humor as being "outrageous. He told the dirtiest jokes, the filthiest jokes, which you would not expect from Felix."
Devotion to theaterIn an effort to bring classic theater back to Broadway, Randall founded and was artistic director of the nonprofit National Actors Theatre in 1991, using $1 million of his own money and $2 million from corporations and foundations. The company's first production was a revival of Arthur Miller's "The Crucible," starring Martin Sheen and Michael York, which hadn't been staged on Broadway in 40 years.
Subsequent performances included "Night Must Fall," "The Gin Game" and "The Sunshine Boys," which reunited Randall with Klugman, in 1998. Randall also appeared in the Tony Award-winning staging of "M. Butterfly."
He also was socially active, lobbying against smoking in public places, marching in Washington against apartheid in the '80s, and helping raise money for AIDS research in the '90s.
Born Leonard Rosenberg on Feb. 26, 1920, Randall was drawn as a teenager to roadshows that came through his hometown of Tulsa, Okla.
He attended Northwestern University before heading to New York at 19, where he made his stage debut in 1941 in "The Circle of Chalk."
After Army service during World War II from 1942-46, he returned to New York, where he appeared on radio and early television. He got his start in movies in 1957.
He was married to his college sweetheart, Florence Randall, for 54 years until she died of cancer in 1992.
In 1995, Randall married Heather Harlan, who was 50 years his junior. He met her through his National Actors Theatre, where she was an intern; then-New York Mayor Rudolph Giuliani performed the ceremony.
"Tony had such a beautiful spirit and so much youth and vigor," Heather Randall said on "Larry King Live."
The couple had two children: 7-year-old Julia Laurette and 5-year-old Jefferson Salvini. Randall told AP Radio that he couldn't believe he'd become a father for the first time in his 70s.
"It's amazing. I haven't heard anyone have a life like that," he said last year. "The most amazing, wonderful things in my life have happened since I was 70. I think that's unique."
In September, during a speech to the National Funeral Directors Association, Randall joked about how he envisioned his own ceremony: President Bush and Vice President Cheney would show up to pay their respects, but they'd be turned away because his family knows he didn't like them.
He said funerals should be planned as a celebration of life — and "a touch of humor doesn't hurt a bit."