/ Source: msnbc.com contributor
Dinner at the Wheelers in "Revolutionary Road" It takes a lot to upstage Leonardo DiCaprio and Kate Winslet, but Michael Shannon's turn as Kathy Bates' psychologically defective son is a star-making performance. Shannon, with no filter between his brain and mouth, tells both April (Winslet) and Frank (DiCaprio) what they all-too-well realize but are afraid to hear — that their marriage is in shambles and the fetus inside April's belly is doomed from the start. Shannon only has two scenes in the film and, with the help of director Sam Mendes, makes the most of each. That should translate into a nomination for best supporting actor.
Viola Davis and Meryl Streep debate a young man's future in "Doubt"
As Sister Aloysius at a 1964 Catholic school in the Bronx, Streep has a sickening feeling that priest Father Flynn (Philip Seymour Hoffman) is molesting teenager Donald Miller. Streep relays her suspicions to the boy's mother (Davis), who fully processes the information but tells Streep that the situation will have to remain status quo because this is the best her son has been doing in a long time. He was beat up in other schools and his dad abuses him, but Father Flynn has taken him under his wing, given him encouragement and looked after him. Davis, coolly and calculatedly, decides whether or not Donald has been sexually abused, on the whole he's better off at the school than anywhere else.
Randy works the deli counter in "The Wrestler" Trying to recreate the adrenaline rush of wrestling in front of 20,000 or so screaming fans at Madison Square Garden, Randy "The Ram" Robinson (Mickey Rourke) — 20 years later, broken down and running on fumes and painkillers — finds a job at a supermarket deli counter. He tosses roast beef to customers the way he used to throw opponents around and makes friends with old ladies in the same way he give high fives to fans at ringside. It's sad that he needs to find some sort of appreciation from others to give value to his life, especially when his daughter (Evan Rachel Wood) is yearning for long-lost affection that he can't seem to offer.
Javier Bardem woos the ladies in "Vicky Cristina Barcelona"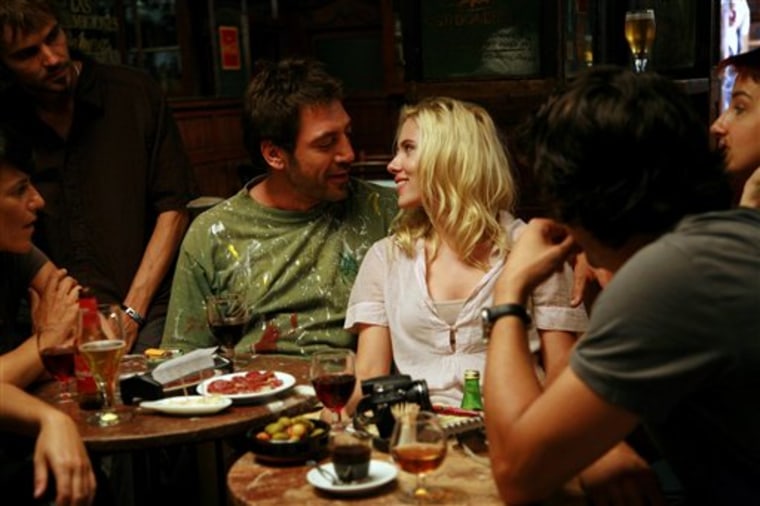 Oh, life is hard for Juan Antonio (Bardem). He has two beautiful American women who've arrived in his native Spain and are exploring some of the local delicacies. To Rebecca Hall, that means the architecture, museums and culture. For Scarlett Johansson, yeah, it's those things, too, but Spanish men are an added treat. In simple seductive terms, Bardem meets the two at an art gallery and talks about how he would take them both to his home for the weekend to drink wine and make love. Hall thinks he's a cad but Johansson immediately falls under his spell, and the rest of this deliciously irresistible Woody Allen film flip-flops from assumptions made here.
Nixon's late-night phone call in "Frost/Nixon" The former president (Frank Langella) has endured four days of scrutiny from English interviewer David Frost (Michael Sheen), but the night before the final chat Nixon calls him in the middle of the night in a somewhat inebriated state. Langella, reviving the inner demons of Tricky Dick, begins to rant to Frost as the two quickly realize that while the talks have been most congenial, "only one of us can win." Without his handlers to temper his words, Nixon's competitiveness comes through and Frost understands that if doesn't bring his A-game, he will be forever known as the inquisitor who wasn't able to pin down the resigned and humiliated president.