Before passing away at age 94, actor Abe Vigoda brought charisma, kindness and plenty of hugs to TODAY, where his self-effacing humor and overall positivity resonated with co-anchors present and past.
In 2009, after a TODAY graphic suggested that Matt Lauer would look like Vigoda after a few more years on the job, the actor — whose seemingly endless credits include "The Godfather" and "Barney Miller" — emerged with feigned anger to protest the comparison. (Vigoda later warmed to the idea, admitting Lauer bore a resemblance to Vigoda's grandson, Paulie.)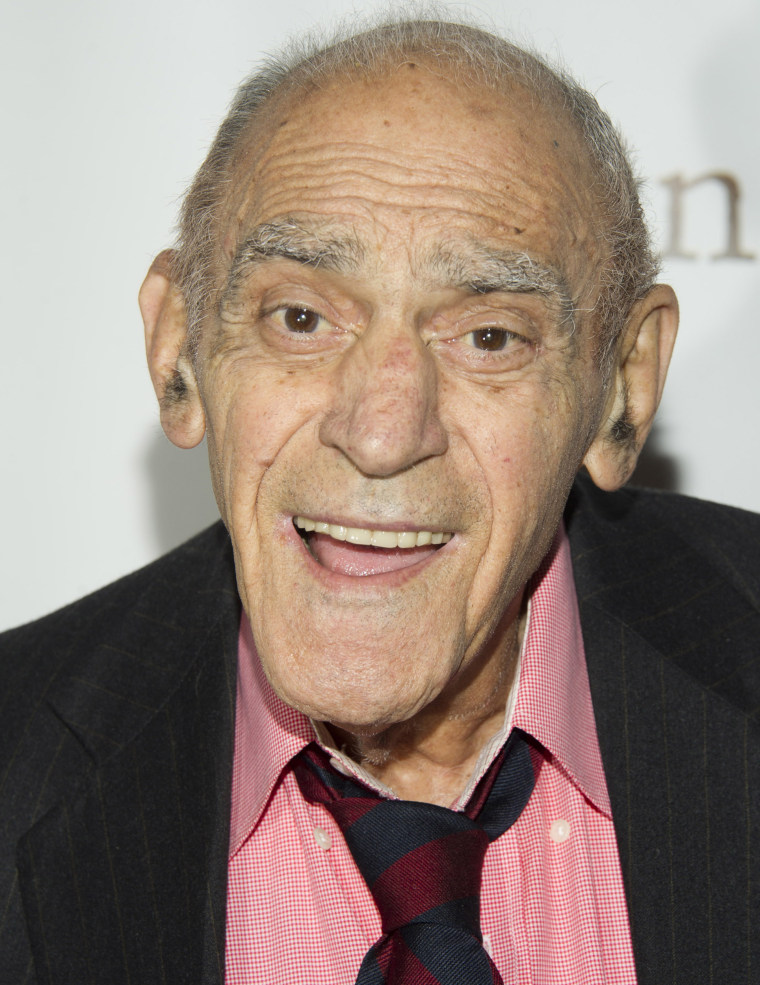 It was the latest in a series of punch lines about Vigoda's status as a living, breathing human being, a joke that had become a running gag after a 1982 article in People magazine incorrectly claimed that he had died.
"I was about to go onstage to do my part in Calgary, Canada," he told the TODAY panel, which laughed throughout his retelling of the story. "The producer says, 'You cannot go on.' I said, 'Why not? I gotta go on.' He said, 'No, you can't, because you're dead. People magazine says you're dead.' That's how that came about, and it's been with me all these years."
During the segment, Lauer credited the three-time Emmy Award nominee for being a great sport. "He has got a great sense of humor, but also knows how to take a joke very, very well." Lauer told his fellow TODAY co-anchors, while Vigoda listened to the mini-tribute. "You're really one of the legends, Abe."
Lauer likely had that moment and others on his mind when he expressed his condolences Tuesday on Twitter. "He made me smile every time he walked into our studio and brightened our day," Lauer tweeted. "Thank you Abe for your grace and humor."
Fellow TODAY co-anchor Al Roker also mourned the loss of Vigoda and praised the actor for his hilarious late-night collaborations with David Letterman.
Meredith Vieira had her own sweet moments with Vigoda, who'd grinned and fashioned a bright-orange "Abe [loves] Meredith" T-shirt as part of her TODAY sendoff in June 2011.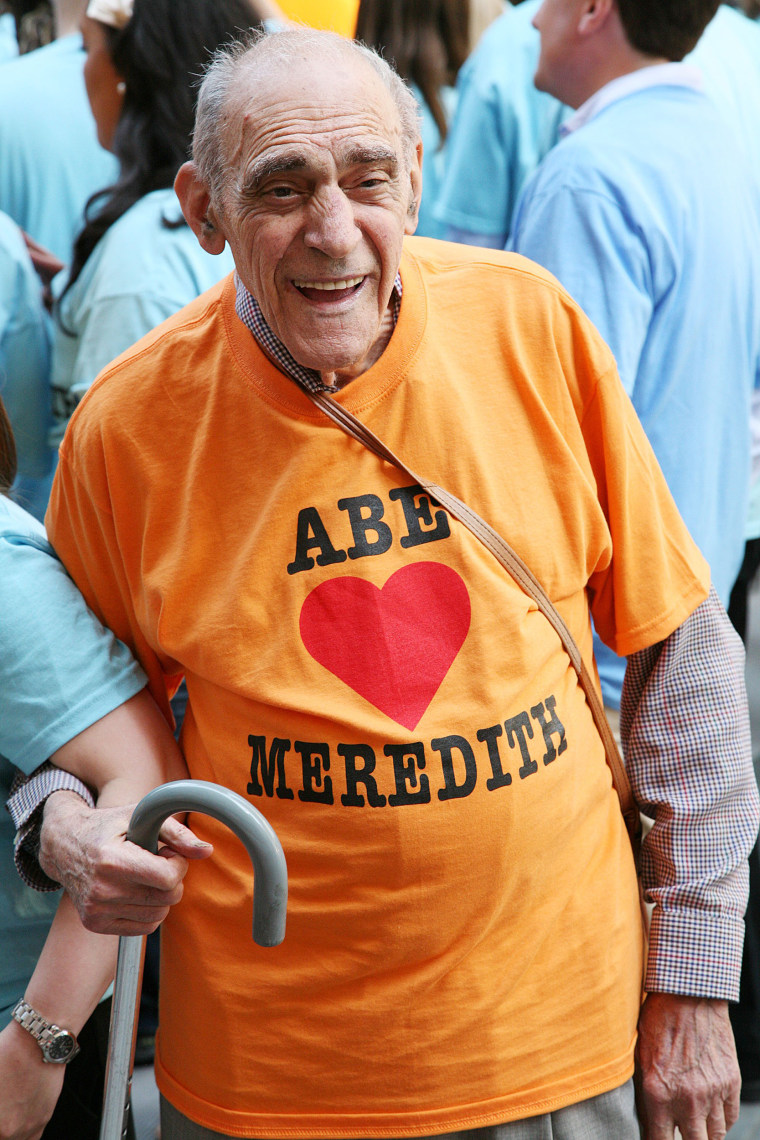 Part of a musical tribute to Vieira's TODAY show run, Vigoda hugged the host while Journey's "Don't Stop Believin'" played in the background.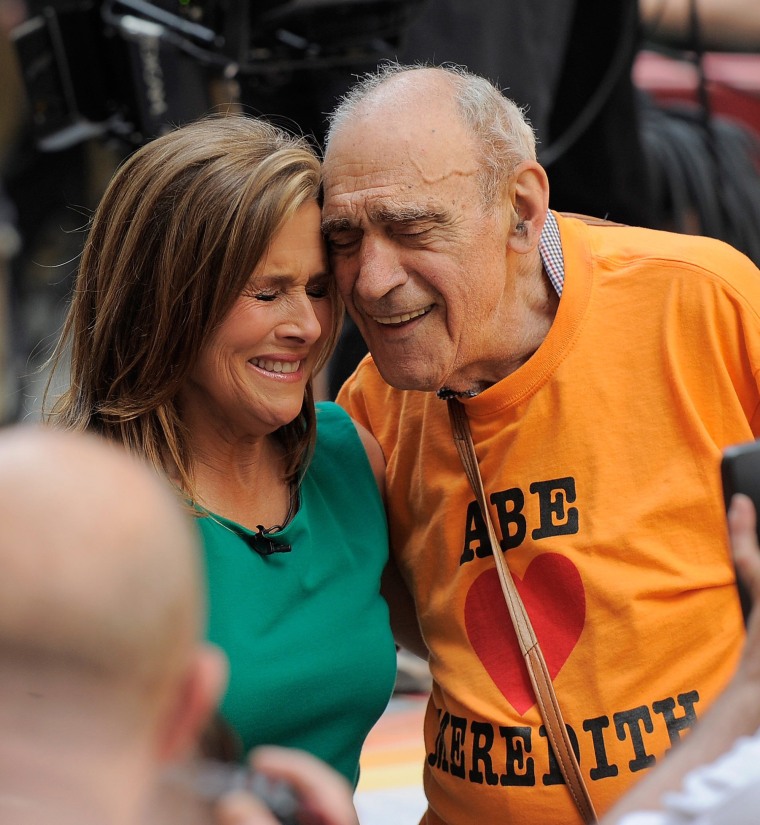 On a day full of emotions, Vieira wasn't shy about sharing them with one of her favorite guests.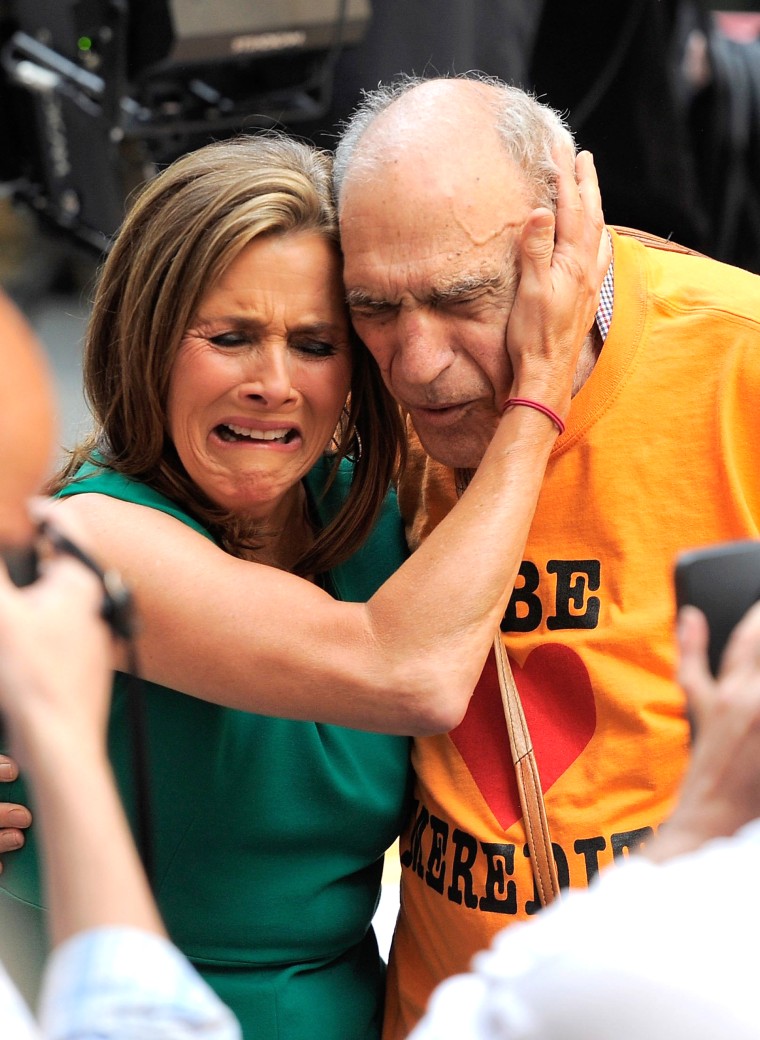 When Vieira returned to Studio 1A in 2014 to discuss her new talk show, Vigoda was there to surprise her — and again welcome her with open arms.
After co-anchors Lauer and Carson Daly built up the suspense leading up to the reveal, Vieira shouted and laughed with joy over her special guest, who joined her, Lauer, Daly and Roker on the big orange couch for a catch-up chat.
When Vieira noted that her talk show premiered in New York that day at 2 p.m., she asked Vigoda what he's normally doing at that time. "At 2 o'clock, I'm going to have a coffee and corn muffin with my daughter," he said. "Oh, yeah, and I want to watch [your show]."
Vigoda took a moment to appreciate his surroundings, too. "It's such a lovely thing to be here, Matt," he said. "It's so good to be with Matt and Meredith and Al and Carson."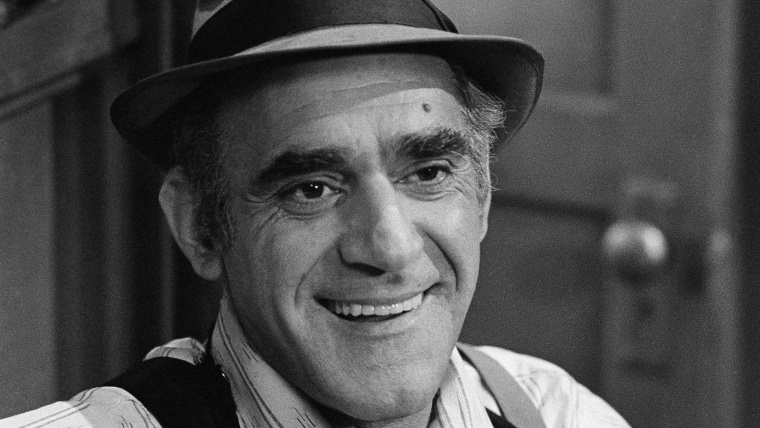 In a statement to TODAY, Meredith Vieira expressed condolences of her own. "Abe Vigoda was one of the nicest guys in the business ...talent with a capital T, self deprecating and so sweet," she said. "I had the privilege of sitting with him on the TODAY couch several times. He always left me with a smile on my face. And just thinking of him now fills me with joy."
Follow TODAY.com writer Chris Serico on Twitter.