Mamma Mia, ABBA reunited!
Well, sort of. The Swedish pop group, comprised of Björn Ulvaeus, Benny Andersson, Agnetha Fältskog and Anni-Frid Lyngstad (the first letters of their names form the band's name), actually sang a song as a group for the first time since 1986 at a private gathering over the weekend.
But "Dancing Queens," don't break out your tiaras quite yet. It was a private gala marking 50 years since songwriting partners Ulvaeus and Andersson originally met. They were joined by the ladies onstage in Stockholm and talked about their careers. But the performance was impromptu, reports The Guardian.
MORE: ABBA reunites (but only for a restaurant opening)
Lyngstad and Fältskog began reciting the 1980 hit "Me and I" as a tribute to the men ... and then the men joined in and made everything official. So far video hasn't appeared on social media, but at least two photos have surfaced.
"It was absolutely amazing. A lot of emotions," Lyngstad told Swedish paper Expressen of the all-too-brief reunion. "We've made this journey throughout our history. Benny and Björn in particular. It's been very nostalgic."
The band has a complicated history: Ulvaeus and Fältskog were married and split in 1979; Andersson and Lyngstad, who were also married, split two years later. The group collapsed in 1982, and in 2000 turned down a $1 billion offer to tour together again, Andersson admitted.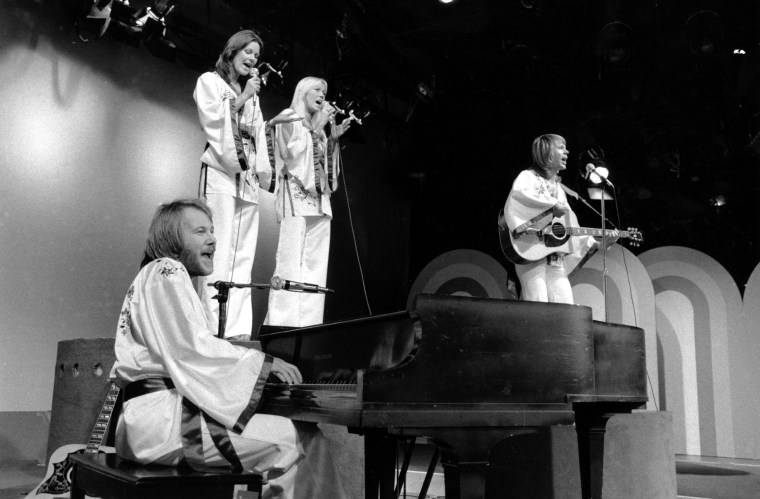 MORE: ABBA's costumes were designed to secure tax break
They do occasionally pop up in public together; most recently in January at the opening of a "Mamma Mia!"-themed restaurant. "Mamma Mia" started out as an ABBA hit in 1975, then became a Broadway jukebox musical sensation in 1999 and movie starring Meryl Streep in 2008.
But performing — that's never been on the set list of things they'll do. Asked if they'd ever perform together again at the restaurant opening, Andersson told USA Today, "I don't think so."
C'mon, guys! "Gimme! Gimme! Gimme!"
Follow Randee Dawn on Twitter.