It's not a comment that's likely to get Aaron Sorkin friended by Mark Zuckerberg, but it'll have to do for now.
On TODAY Thursday, Sorkin said that he's "sorry" for upsetting the founder of Facebook with his Oscar-winning screenplay for "The Social Network."

Earlier this month, Zuckerberg said during a town hall Q&A that his feelings had been hurt by the 2010 film that chronicled the creation and rise of the hugely-popular social media platform. 
"They just kind of made up a bunch of stuff that I found really hurtful," Zuckerberg said. "They made up this whole plotline about how I somehow decided to create Facebook to attract girls."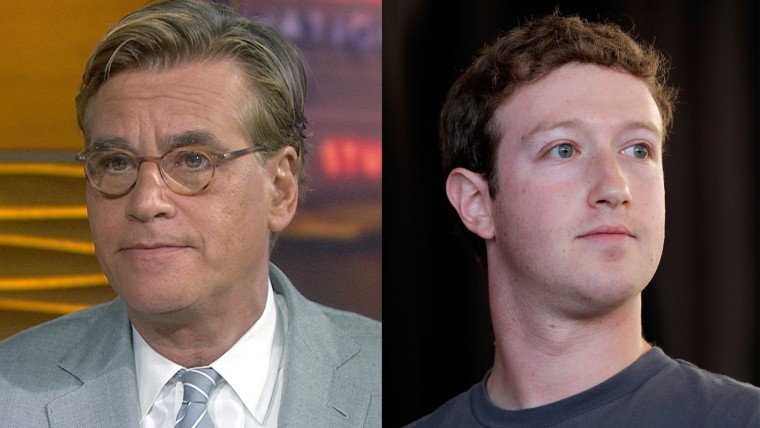 Sorkin, who was also visiting the show to talk about the final season of his HBO series "The Newsroom," didn't offer any regrets, but did sympathize. "I'm sorry that it did [bother him]. I get it completely. I know that I wouldn't want a movie made about the things I did when I was 19 years old, so I get it. Actually, I didn't set out to hurt his feelings."
That said, earlier in the interview Sorkin — a known perfectionist — saw a clip from "Social Network" and cringed a little bit over the matter of a few frames. "There's nothing I've written that I don't wish I could have back and do again," he said.
"The Newsroom" airs on HBO Sundays at 9 p.m. ET.