The sixth and final installment in Syfy's outrageous "Sharknado" series is on the way, and we've got a revealing first look at the cast of characters.
But brace yourselves! Because this time, the made-for-TV film fun is going back in time to the shark storm that started it all. And it's going all the way back to the '90s — sort of.
In "The Last Sharknado: It's About Time," leading man Ian Ziering is reunited on-screen with one of his Peach Pit pals from "Beverly Hills, 90210."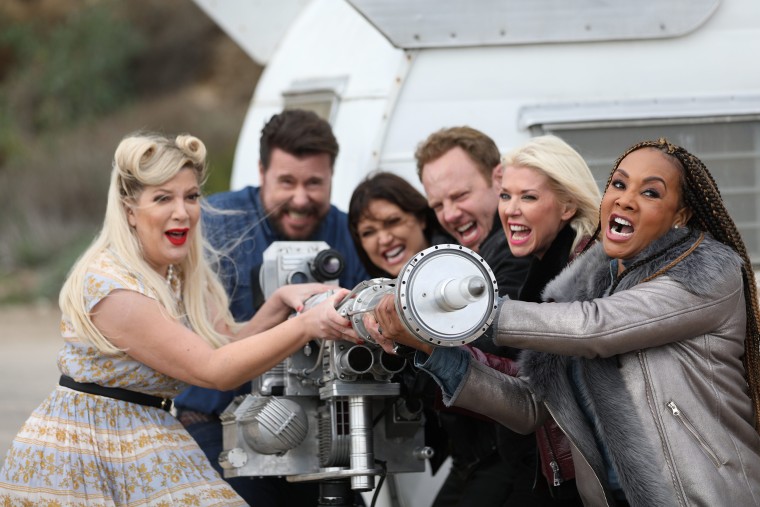 It's Tori Spelling!
Yes, Donna and Steve are getting back together on the small screen.
Only this time, instead of Steve Sanders, Ziering is reprising his beleaguered "Sharknado" character, Fin Shepard. And Spelling? Rather than playing the part of peer Donna Martin, she's playing Fin's mom.
The time-hopping plot makes it possible for the actress — who's actually nine years younger than Ziering at 45 — to both play his family matriarch and to fight those toothy wind-swept beasts side-by-side with her son.
And Spelling's real-life husband, Dean McDermott, is right there, too, playing Fin's dad.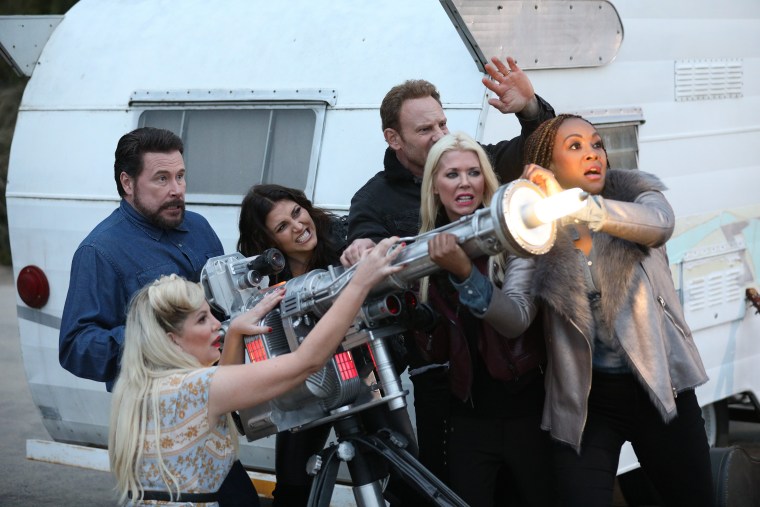 The drama will kick off right where it left off in "Sharknado 5: Global Swarming."
Spoiler alert!
When fans last saw Fin, he was wandering the post-apocalyptic landscape all alone — until he ran into his all-grown-up son, Gil (played by Dolph Lundgren), who vowed to use his still-unexplained time-traveling powers to take dad back to where the world's worst weather menace began.
According to a brief synopsis from Syfy, in order to save humanity, Fin will have "to stop the Sharknado that started it all."
And it looks like Gil's grandma is going to do her part, too.