Well, folks, we've reached the end of the 2016 Rio Olympics. If you're feeling a little #PhelpsFace about it ... we understand.
Nothing brings us all together like watching superhuman athletes transcend what were heretofore the limits of human physiology. (Except a good meme, of course.)
Luckily, the past two weeks brought us plenty of both. Though it was difficult to narrow them down, join us in reliving 7 unforgettable moments from this year's Olympic Games in Rio de Janeiro.
RELATED: Michael Phelps announces retirement on TODAY Show: 'This time I mean it'
1. Simone and Zac, sitting in a tree.
"Stop, you're lying,'' a flustered Simone Biles said when she heard her ultimate celebrity crush, Zac Efron, was coming by for a surprise visit orchestrated by TODAY's Hoda Kotb. "Stop, no way, no way.
"Ahhh, oh my God! Stop, is this real life? Oh my God. Stop."
Spoiler: They did not stop.
And it was a quick vault from that, to this:
Long live Zimone Efriles.
2. Ledecky and Phelps turn the (autograph) tables.
Back in 2006, a 9-year-old Katie Ledecky beamed after getting autograph from Michael Phelps. Ten years later, Phelps wasn't going to leave Rio without an autograph from Ledecky.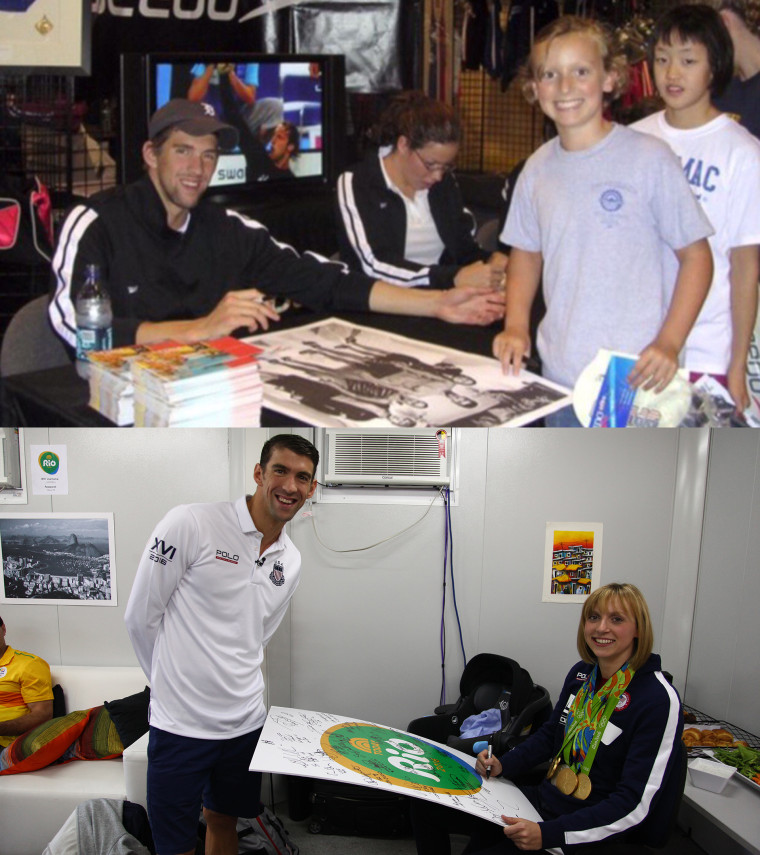 Both were big winners at the Games: Ledecky walked away with five total medals, four of them gold, along with two world records. Phelps finished his career with 23 gold medals and 28 overall, including five gold medals in Rio, making him the most decorated Olympic athlete of all time.
But we'd argue that his biggest win was ...
RELATED: Watch Simone Biles nearly pass out when crush Zac Efron surprises her in Rio
3. #PhelpsFace.
Just be glad he didn't eat you, Chad Le Clos. We know the man can put it away.
4. The Final Five, in general.
These ladies could do no wrong, on or off the mat. We loved watching them kill it in pretty much every event, but we might have enjoyed watching them love on each other even more.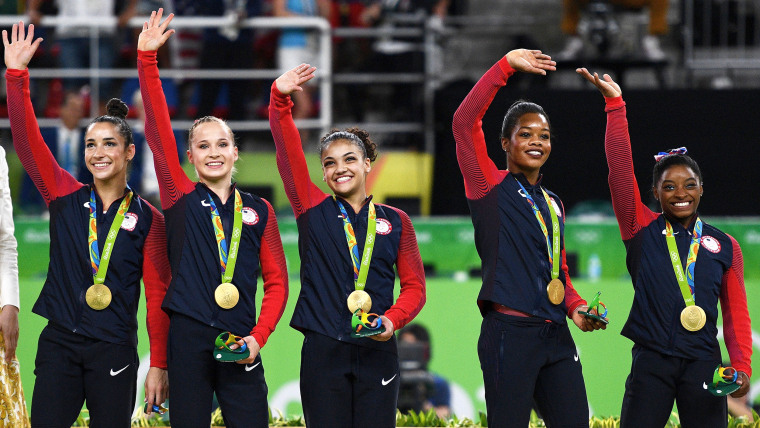 Even Taylor Swift wants to be a part of their squad.
Remember her airborne cheerleader moves in the "Shake It Off" video? We think she can hang.
5. Laurie Hernandez's self-lovin' pep talk.
Though the gymnast had no shortage of support from her teammates and family, she inspired us with her adorable "I got this," a reminder that her most important fan is ... herself.
And then she double-inspired us with the sassy wink she gave the judges.
We don't like to abuse this phrase, but: YAS, GIRL.
6. Usain continues to Bolt.
The Jamaican sprinter's drive-by photo op made for one of the best memes from this year's games.
But our favorite Bolt moment came back in May, when he insisted he wasn't afraid of Zika-carrying mosquitos. Why? "Because I'm fast," he explained. "They can't catch me."
7. The treasure that is Simone Squared.
One of this year's breakout stars, Simone Manuel made history by becoming the first African-American woman to win an Olympic gold medal in swimming.
And despite her jelly legs while meeting Zac Efron, Simone Biles took home five medals in gymnastics, including the team and individual all-arounds.
The two were applauded for being role models, with LeBron James calling them "truly inspiring for so many, especially young black girls."
This little girl agreed. "I got next!" she said.
See you in 2020!