In his 1986 classic "Kiss," Prince sang, "Women, not girls, rule my world." The statement rang true throughout his career.
Though we may first think of the Purple One for his flamboyant fashion and sexuality (along with his extensive discography), the fact is that Prince was an early proponent of female power in an industry that until recently rarely saw women as anything more than window dressing.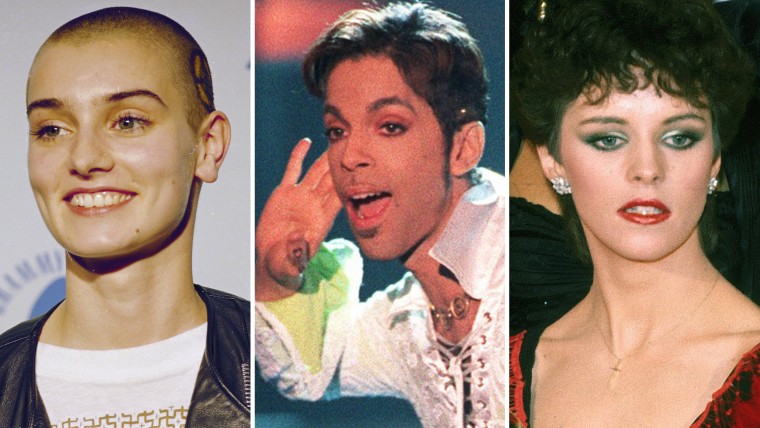 From his earliest days, women were front and center with Prince on stage as Wendy Melvoin and Lisa Coleman played guitar and keyboards, respectively, in his band The Revolution, as well as singing.
MORE: L.A. Reid on Prince's legacy in music, fashion: He was 'the greatest at everything'
Even after Wendy & Lisa left for their own Emmy-winning career as a duo, Prince continued working with women musicians like the 3rdeyegirl trio of Ida Kristine Nielsen, Hannah Welton and Donna Grantis. And throughout his career he championed protégés like Sheila E. (to whom he was once engaged), Vanity and Carmen Electra.
But Prince's most enduring legacy with women might be in the songs he wrote for them to record. In some cases, his compositions helped land them the biggest hits of their careers (Sinead O'Connor); in others, they provided a chance to change their whole persona (Sheena Easton).
Here are just a few of the tunes you might not realize Prince wrote for ladies only. Let's see them do the twirl:
"Nothing Compares 2 U," Sinead O'Connor (1990)
Originally composed for The Family, one of Prince's many side projects, the song appeared on their 1985 album but was not released as a single. O'Connor's spare take and emotional video made it an international hit.
"Manic Monday," The Bangles (1985)
Prince recorded "Manic" as a duet with another side project on the band Apollonia 6's sole album in 1984. He gave the song two years later to The Bangles using his pseudonym from his 1986 film "Under the Cherry Moon," "Christopher."
"Sugar Walls," Sheena Easton (1985)
Prince used another pseudonym to submit this song: "Alexander Nevermind." It was considered sufficiently raunchy to earn criticism from televangelist Jimmy Swaggart.
"Love Song," Madonna (1989)
Prince worked with Madonna on much of her 1989 album "Like a Prayer," on which this song appears; he's uncredited as a guitarist on several songs, and they shared the writing of "Love Song."
"Stand Back," Stevie Nicks (1983)
Full disclosure: Technically, Stevie Nicks wrote this song. However, it was heavily influenced by the melody of Prince's "Little Red Corvette," which inspired Nicks on the day she got married to Kim Anderson in 1983. She got Prince on the phone and told him what she'd done and asked if he would play on her take (she also promised him 50 percent of the royalties). Twenty minutes later, he was in the studio. An hour and a half later, she told MTV, he left. Later, "Prince and I became really good friends."
"I Feel for You," Chaka Khan (1984)
The tune originally appeared on Prince's self-titled 1979 album, but it was picked up five years later by R&B singer Khan and catapulted her to a No. 3 Billboard hit and a Grammy Award for the writer in 1985.
"With This Tear," Celine Dion (1992)
Prince wrote the song as a gift to the Canadian singer and she put it on her self-titled album.
"How Come U Don't Call Me Anymore?" Alicia Keys (2002)
Prince originally recorded the song as a non-album B-side to his 1982 hit "1999" and again on his 2002 live album, "One Nite Alone ... Live!" Keys picked it up that same year and made it a hit.
Follow Randee Dawn on Twitter.