Sandra Bullock may voice supervillain Scarlet Overkill in "Minions," but in reality, the actress is as likable as can be.
In honor of her role in the latest installment of the "Despicable Me" franchise — which hits theaters Friday — here are seven reasons we can't get enough of the 50-year-old movie star.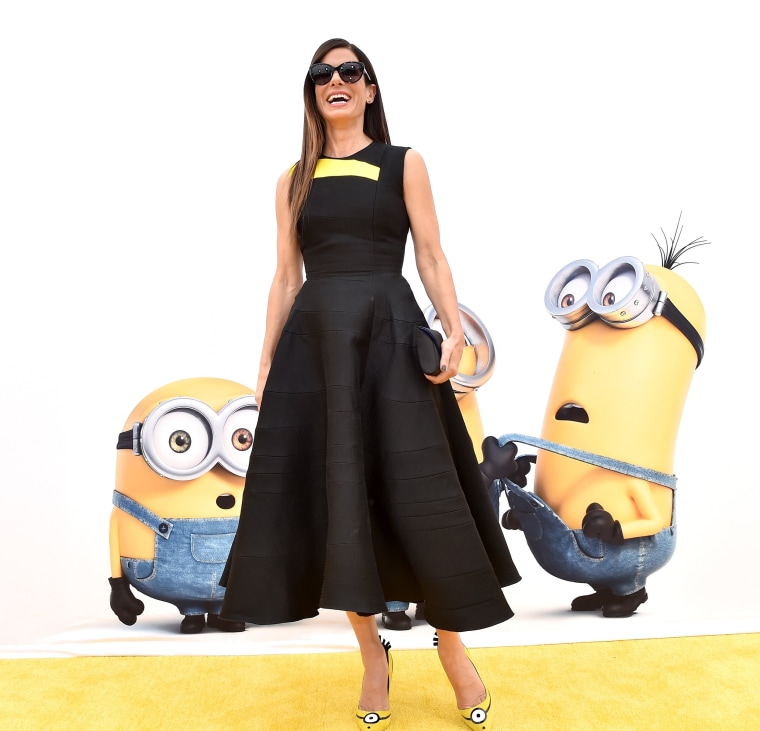 1. She stands up for women
"I feel like it's become open hunting season in how women are attacked and it's not because of who we are as people, it's because of how we look or our age," Bullock said in a recent interview with E! News. "I'm trying to raise a good man who values and appreciates women, and here we have this attack on women in the media that I don't see a stop happening."
2. She has an admirable attitude
"If I die tomorrow, will I have gotten everything in the world I've ever wanted? No. But I will have gotten everything that's made me happiest," Bullock told Glamour in 2009.
3. She has a great "leading man" — her 5-year-old son, Louis
"He's beautiful, and he gives really sweet kisses," the proud mom recently told TODAY. "He's adoring. [And] he's very honest with me about how I look."
4. And their relationship really is the cutest
"Everything he does [makes me cry]," she told Ellen DeGeneres when describing her Mother's Day in May. "He sang me a song that he wrote. He said 'I wrote you a song,' and I didn't have the heart to tell him he plagiarized. But it was, you know, 'Bingo.' You know 'Bingo,' the song."
5. Despite being an Oscar winner, she's remained humble
"Did I really earn this? Or did I just wear y'all down?" the charmingly self-deprecating actress asked upon winning the Academy Award for her role in "The Blind Side" in 2010.
6. Her definition of beauty is perfect
"Real beauty is quiet," Bullock said upon being named People's 2015 World's Most Beautiful Woman. "Especially in this town, it's just so hard not to say, 'Oh, I need to look like that.' No, be a good person, be a good mom, do a good job with the lunch, let someone cut in front of you who looks like they're in a bigger hurry. The people I find most beautiful are the ones who aren't trying."
7. We loved her chemistry with Melissa McCarthy in "The Heat"
Bullock shared some tongue-in-cheek commentary on her onscreen sidekick when she visited TODAY in 2013, telling Matt Lauer, "Do not lump me in with that sailor potty mouth Melissa McCarthy." Bullock added, "She opens her mouth and you have no idea what offensive and hurtful things are going to come out of it about you personally."