It's time to play the music, it's time to light the lights. And if you've got kids, or are a kid at heart, it's time to go see "Muppets Most Wanted." 
Kids will enjoy it, and so will their parents. While the sequel doesn't feel quite as fresh and fun as the 2011 film, it's lively and good-hearted and packed with celeb cameos and jokes that will soar like the Great Gonzo over the heads of many kids. Here's a tip sheet of goodies to look for. (Warning! Spoilers ahead.)

1) Picks up where the previous film left off
If it feels to you like the movie begins in the middle of something, you're right. "Muppets Most Wanted" opens exactly where the first film ended, and the Muppets and crew go about dismantling the set from that film and dismissing the crew. ("Fill out your I-9s!" they're told.) Then they burst into a song about how "the sequel's never quite as good," and we're off and running again. (That bit about the sequel is true — this film doesn't quite live up to the first movie — but a "Muppets" sequel is still better than most.)

2) Look for big names behind bars
There are a zillion cameos by famous humans mingling with felt friends. Among the best: Tom Hiddleston as The Great Escapo, Christoph Waltz waltzing with Muppet giant Sweetums, "Downton Abbey's" Lord Grantham (Hugh Bonneville) as a bribe-taking journalist, and Celine Dion going diva-a-diva in a duet with Miss Piggy. The best cameos come from the Siberian gulag where Kermit the Frog is sent — they include Ray Liotta, Jemaine Clement, pro wrestler and major Muppet fan (and little person) Hornswoggle, and "Machete" star Danny Trejo. He gets the biggest laugh — when warden Tina Fey bids goodnight to her prisoners, "Waltons" style, only Trejo gets called by his actual name, not a character name. Don't miss singer Josh Groban's cameo either — hint: You hear him before you see him.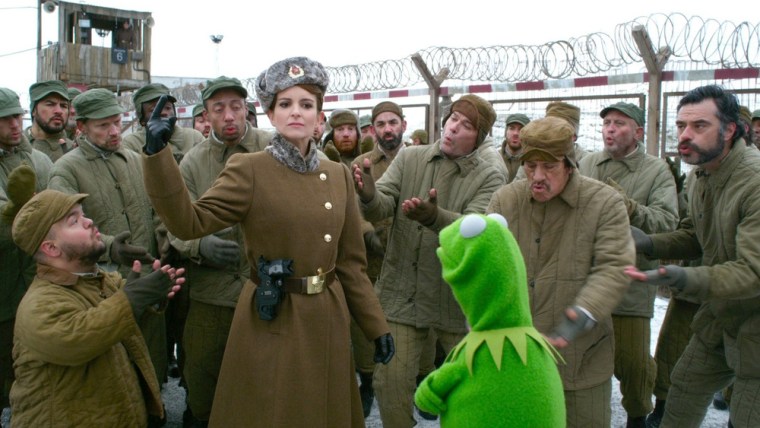 3) Spot the differences between Constantine vs. Kermit
The main plot centers on evil frog Constantine getting lookalike Kermit thrown in the gulag in his place. Constantine slaps a mole on Kermit's face and covers his own facial mole with makeup. But look carefully and you'll spot a few more differences, as detailed by the New York Times. Constantine's neck fringe is shorter with wider spikes, and his eyes and mouth are naturally frowny. Really though, a paper bag painted green could've fooled the rest of the Muppets, who blithely accept that Kermit suddenly has a Russian accent and completely different personality and go on with the indoor Running of the Bulls. ("The bulls are out of control! shrieks Gonzo. "Who could have foreseen this?")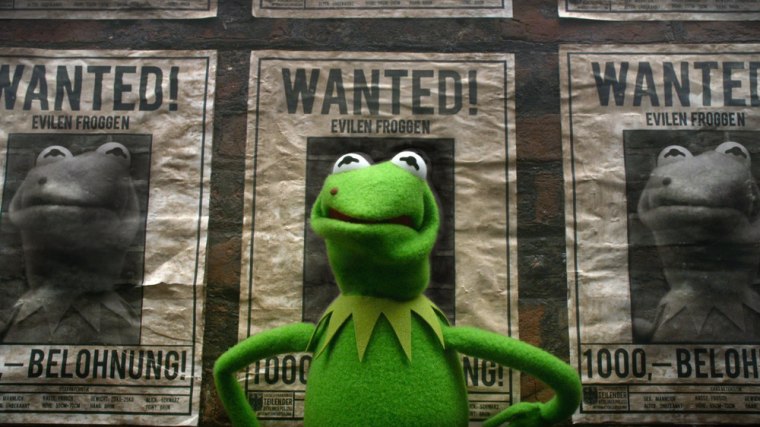 4) 'Muppets' at Shawshank
Plenty of parent-only gags fly through the film, but a classic one is when Kermit is trying to escape the gulag by tunneling out of his cell and hiding the hole behind a poster of Miss Piggy posing as Rita Hayworth. Yep, just like in Stephen King's 1982 novel, and its accompanying 1994 film, "The Shawshank Redemption." Time to get busy livin'.
5) Swedish Chef plays chess with death
Your move! Yes, that's everyone's favorite unintelligible Muppet, the Swedish Chef, playing chess with Death in a spoof of the famed scene from Ingmar Berman's "The Seventh Seal." As the lone Swedish Muppet, he was the obvious choice to parody the Swedish film classic. Bork bork bork, checkmate.
6) Miss Piggy's wedding dress is from a famous designer
Dazzled by Miss Piggy's lovely marshmallow of a wedding gown? It's couture, of course, dahhhling. Vivienne Westwood designed the dress, which is accented by jewels and opera gloves. Miss Piggy also wore a Westwood creation to the L.A. premiere of the movie. "Vivienne Westwood is fabulous — just like moi," Miss Piggy said on Facebook. "When I asked her to design this wedding dress for moi's new movie, Muppets Most Wanted, she was thrilled and I was thrilled. The only one a bit 'iffy' about it was the Frog."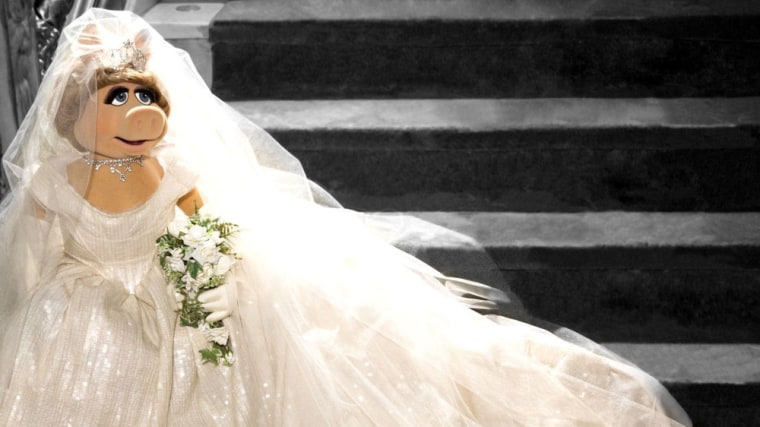 7) International humor
The Muppets' world tour starts in Germany, where their show is advertised with a sign that says "Die Muppets" (die=the in German). Perennial Muppet critics Statler and Waldorf seize on the wording, snorting, "Looks like they put the reviews up early."