Larry David is a comic genius, but some might say it took the rest of the world a while to figure that out.
The man behind both "Seinfeld" and "Curb Your Enthusiasm" sat down with Matt Lauer to discuss his new Broadway play, "Fish in the Dark" on TODAY Monday. David has similarities to George Costanza in "Seinfeld" and "Larry David" (the character, not the actor who plays him) in "Curbed," and his new play features a Larry-David-like character, this time struggling with social norms during the seven-day Jewish mourning ritual of shiva.
Lucky for us, David shared with Lauer some interesting stories about the time before he was "Larry David." Unsurprisingly, many of them have in one way or another made their way into either "Seinfeld" or "Curbed."
1. Larry David was once a bra salesman
Before he was a comedy writer, David attempted to make a career in sales. Bra sales, that is. "I didn't have the slightest idea of what to do," David said. How did he get the job? "[I'm] very good at interviews," he told Lauer. "Very good!"
Interestingly, Costanza interviewed for a job in bra sales in season five of "Seinfeld," and won the job with some convincing answers (even leaving the interviewer saying, Costanza had, "a remarkable passion for brassieres"). While David said he held the job for three months, Costanza lost the job before he even got in the elevator after his interview.
2. David also worked as a cab driver
"This is one of the things that I do very well in life," David said, crediting practice driving in New York City for his skills. "I'm a fantastic driver." When pressed by Lauer about his driving abilities, David said: "I'm going to email my friend in Los Angeles and everyone who drives with me in Los Angeles will attest to what a fantastic driver I am."
One person David might be able to count on is John McEnroe. David's fictional "Larry David" was a former limo driver, who picked up McEnroe in season six. Of course, the two ended up in a fight outside of the Staples Center.
3. David worked for "Saturday Night Live"
David wrote for "SNL" from 1984 to 1985, and only got one sketch on during the season. In true David fashion, the sketch centers on everyday etiquette, featuring an architect and a landlord arguing if an elevator operator should have to sit in a chair while working.
The sketch was also loosely adapted for an episode of "Seinfeld" called "The Maestro," only the elevator operator became a security guard. Of his sketches that didn't make the air, David told Lauer: "They were very funny."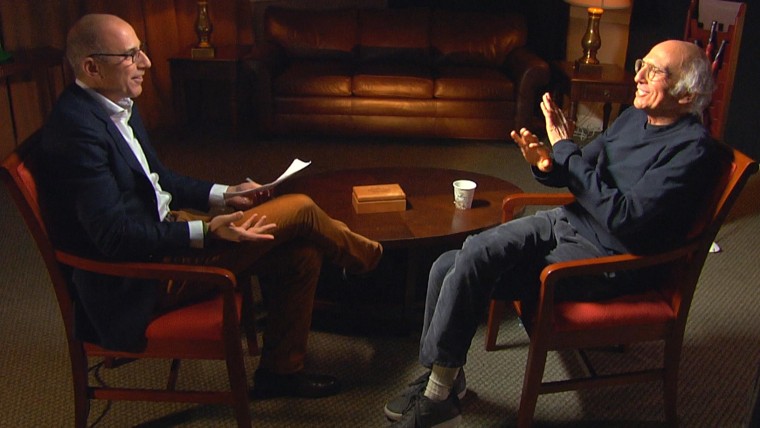 4. He quit "SNL," then changed his mind the next day
Only minutes before "SNL" went on air one Saturday night, David decided he had enough, and he quit. "I said, 'This show stinks ... I'm quitting. Goodbye, good luck,'" David said. Except, then he changed his mind. "I quit on a Saturday night and I came back to work on Monday morning."
As life influences art, "Seinfeld" fans may remember "The Revenge," where Costanza does the same thing, laughing off a colleague who said she thought he quit.
5. He hates holidays (but he's not a Grinch)
Christmas, David said, is, "more about the music and the garbage accumulation." And he doesn't like the Fourth of July either. "Why can't we celebrate without firecrackers?" he asked.
But the holiday that really gets to him is Halloween. "If you're an adult, what's in it for me, you know? I don't see the benefit of it," he told Matt. On "Curbed," "Larry David" is similarly uninterested in Halloween, which got the character into trouble after he turned down two teenage girls from trick-or-treating because they were "too old for Halloween."
6. He knows what Jennifer Lawrence thinks about him
In a Vanity Fair article last year, Lawrence said that she loves Woody Allen but, "I don't feel it below the belt the way I do for Larry David."
"I didn't take that in a sexual way," David said. "I just took it like she is a big fan, you know?"
Pretty good, Larry. Pretty pretty prettaaayy good.
"Fish in the Dark" is currently in previews, and opens officially on March 5.