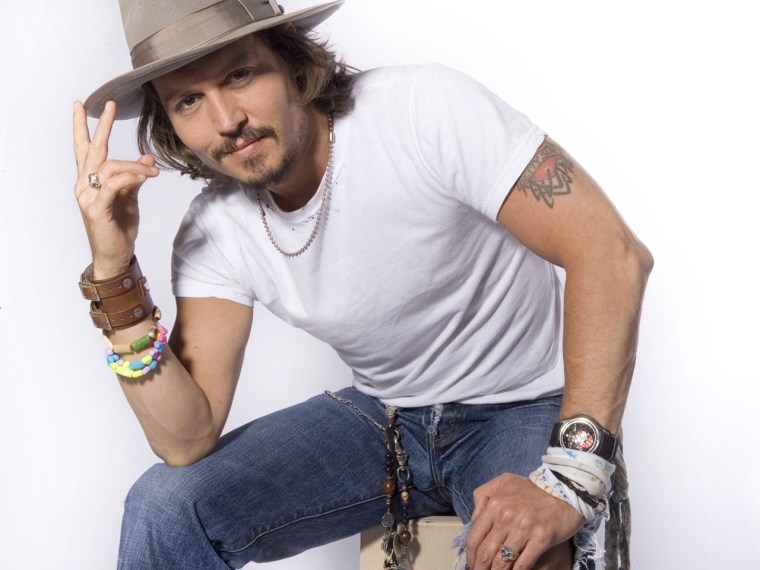 He may not yet have an Oscar, but there's almost nothing else Johnny Depp doesn't have: Charisma, guts, an edgy -- but lovable -- persona, and a killer nickname. The actor who could have probably done all right for himself as a pretty boy found a way to prove he was more than just a set of cheekbones and has become one of those rarest commodities in Hollywood: A totally unique specimen who appeals to men, women and children of all ages. So as he turns 50, brace yourself for 50 reasons why Mr. Depp remains Mr. Cool.
1. Someone's willing to shell out more than $1,000 to attend the premiere of his upcoming movie, "The Lone Ranger."
2. "Pirates of the Caribbean 5," which will be his fifth reprisal of Capt. Jack Sparrow, is a thing. And 1, 2 and 4 were pretty good. We'll forgive him for 3.
3. Publicity stunt? Maybe. But the man joined the Comanche Nation when he was cast as Tonto in "Lone Ranger" and has embraced the role, even riding in the Comanche Fair Parade.
4. He let Hunter S. Thompson, who provided the source material for "Fear and Loathing in Las Vegas," shave his head for the role.
5. The raw range of parts he's taken on -- including an Army private in "Platoon," an undercover cop in "Donnie Brasco" and nutty chocolate factory owner in "Charlie and the Chocolate Factory" -- and made convincing is staggering.
6. Nickname: Mr. Stench. Used for a while as an alias when he stayed in hotels.
7. "21 Jump Street," in which he played another kind of undercover cop in a high school -- and refused to let that goofy role define him.
8. Speaking of which: This photo from his "Jump Street" era.
9.Popping up on HBO's "Life's Too Short" as an unhinged version of himself to get back at Ricky Gervais for comments Gervais made while hosting the Golden Globes. "What is nastier than Ricky Gervais' jokes?" Depp asked. "His teeth."
10. Does a spot-on British accent, wielded in such films as "Sleepy Hollow," "From Hell," "Dark Shadows" and of course all of the "Pirates" films.

11. Was nearly mugged in 2010, but when the mugger recognized the actor, he said, "I ain't stealing from Captain Jack," and stood down. Depp gave him some money anyway.
12. This "Rango" quote: "Now remember, son, stay in school, eat your veggies and burn everything but Shakespeare."

13. When he wrecked his hotel room in 1994 -- it was so noisy The Who's Roger Daltrey, staying next door, complained -- he told the police that an armadillo did it.
14. When asked by a 12-year-old boy who admired his hat, he promised to send it to him later. And then he did.
15.This quote: "When kids hit one year old, it's like hanging out with a miniature drunk. You have to hold onto them. They bump into things. They laugh and cry. They urinate. They vomit."
16. Unafraid of his feminine side. Who else can rock an angora sweater ("Ed Wood") or kewpie-doll lips ("Edward Scissorhands") better?
17. First job after moving to Los Angeles? Ballpoint pen salesman.
18. For his upcoming film "Transcendence" (and reportedly others), he ensured homeless were hired as extras.
19. Having used Keith Richards as inspiration for his "Pirates of the Caribbean" character Capt. Jack Sparrow, became friends with Richards (who ultimately appeared in the film franchise, twice thus far).
20. Started the ongoing debate over whether Gene Wilder or Depp portrayed Willy Wonka the best; there's a whole meme devoted to the discussion.
21. Is an avid collector of Barbie dolls.
22. While filming "Lucky Them" near Seattle earlier this year, broke out the guitar to serenade locals.
23. Has his own publishing imprint, Infinitum Nihil ("Nothing is forever") and is publishing Woody Guthrie's lost novel "House of Earth," among others.
24. Was among the most vocal of celebrities who assisted in getting the "West Memphis Three" sprung from death row, and prison.
25. Last year he made this video with Natalie Portman where the two "sang" Paul McCartney's "My Valentine" using sign language.
26. Based his "Ed Wood" character on a combination of President Ronald Reagan, the Tin Man from "The Wizard of Oz," and DJ Casey Kasem.
27. His leading roles have earned his films, in aggregate, over $6 billion dollars.
28. This reprisal of Edward Scissorhands on "Family Guy" in 2012 ... as an unfortunate night nurse.
29. After buying a house in Cornwall, England, he inspired a group of film students to make a short called "Finding Johnny Depp," for which they won a festival award.
30. His garage band called opened up for Iggy Pop twice; Pop returned the favor by calling him a "little turd."
31. Unsurprisingly, his favorite Muppet is Animal.
32. Will direct an untitled documentary about Keith Richards.
33.Showed up in character and costume as Capt. Jack Sparrow at a British Elementary school wielding a letter from 9-year-old Beatrice Delap, a "budding pirate" and helped her stage a mutiny against their teachers.
34. Donated his pay from "The Imaginarium of Dr. Parnassus," Heath Ledger's final film (he, Jude Law and Colin Farrell were brought in to replace him) to Ledger's daughter Matilda.

35. Has three Oscar nominations: For "Sweeney Todd: The Demon Barber of Fleet Street," "Finding Neverland" and "Pirates of the Caribbean: The Curse of the Black Pearl."
36. Owns a yacht -- and an island to sail it to.
37.Nicolas Cage introduced Depp to an agent, and that led to his first role: In "Nightmare on Elm Street," in 1984.
38. Broke out of the teen idol box by playing a gang leader in John Waters' musical "Cry-Baby."
39. Dated Winona Ryder and was so passionate about her he had "Winona Forever" tattooed on his arm. When the relationship soured, he fixed the tattoo to read "Wino Forever."
40. Played the title character in "What's Eating Gilbert Grape," in which he had to watch out for his impaired brother -- played by a very young Leonardo DiCaprio.
41. Stuck around after finishing all of his scenes in "Once Upon a Time in Mexico," and played an extra small part as a priest, doing a Marlon Brando impersonation.
42. In "Platoon" put his then-fiancee Sherilyn Fenn's name on his helmet.
43. Will do movies clearly for the sheer fun of it: "Dark Shadows" was a campy soap about vampires that had almost no chance of capturing a wide audience -- yet his Barnabas Collins was deliciously wonderful.
44. Regularly gets onstage with actual rock 'n' rollers (here with Aerosmith in 2012) and holds his own quite admirably.
45. Was the co-owner of L.A.'s notorious The Viper Room until 2004; he requested and got Tom Petty and the Heartbreakers to play at the opening night.
46.Financed Hunter S. Thompson's funeral, in which the author asked that his ashes be shot out of a cannon. Which happened.
47. Earned the Kate Moss seal of approval; the pair dated for a time and in 2012 she told Vanity Fair, "There's nobody that's ever really been able to take care of me. Johnny did for a bit."
48. Favorite instrument: The guitar. Here's more than three minutes of almost nothing but that.
49. After learning the one-eyed horse named Goldeneye that he'd ridden in "Sleepy Hollow" was to be put down, he bought the animal.
50. Because he's an outlaw: "Well, outlaws are fun," he told the Belfast Telegraph recently. "They get to do things that we can't, y'know? Yeah, they break the rules. So there is that vicarious thrill."
From the Mad Hatter to Cry-Baby, the sexy star prefers oddballs and outsiders to traditional leading men.