/ Source: The Associated Press
Rapper 50 Cent's tough-guy reputation preceded him to Tuesday night's American Music Awards at the Shrine Auditorium.
"I'm more scared to win than to lose against him," joked former Matchbox Twenty frontman Rob Thomas, who was up against the hip-hop star in the category favorite pop-rock male artist.
As it turned out, Thomas didn't have to worry. Rapper-actor Will Smith snatched the award away from both of them.
The show's host, Cedric the Entertainer, noted that 50 Cent seems to have a hand in just about everything these days, including films, music, his own record label, a line of tennis shoes, even designer sheets and pillow cases.
"50 Cent's a thugged-out Martha Stewart," he joked.
'What did I win?'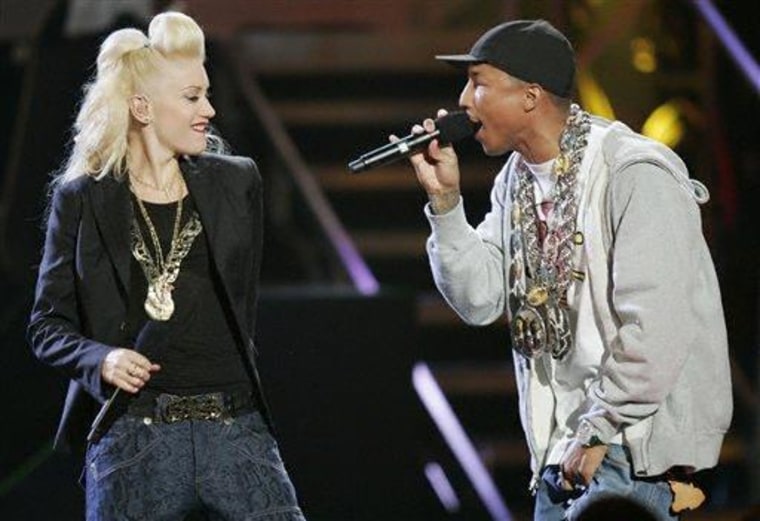 Gwen Stefani had to rush from the stage to the podium so quickly that she didn't have time to find out which award she had won at Tuesday's ceremonies.
As soon as the singer had concluded a sweaty, beat-booming set with rapper Pharrell, her name was called as favorite pop-rock female artist.
"What did I win?" asked the former "No Doubt" singer as she ran up to accept her first American Music Award.
"I guess whatever I won, I just want to say thank you to the fans, especially all my girls," she said.
Two fans collideCyndi Lauper was quick to credit fellow singer Sarah McLachlan for the crowd's rousing response to the duo's soulful acoustic version of Lauper's 1980s hit "Time After Time."
"Sisterhood is a powerful thing. I've seen it my whole life. I think we should support each other," Lauper said backstage after their performance. "I'm a fan of Sarah's, and I think she sings like an angel."
McLachlan was quick to return the compliment to Lauper, who co-wrote the song.
"'Time after Time' is one of the best pop songs ever written, in my opinion. It's an incredible, beautiful, timeless song," she said.
But the TV broadcast of the performance left show host Cedric the Entertainer scratching his head.
"I know that song was classic, but did they have to show it in black-and-white like it was a documentary?" he asked.
That's how Missy rolls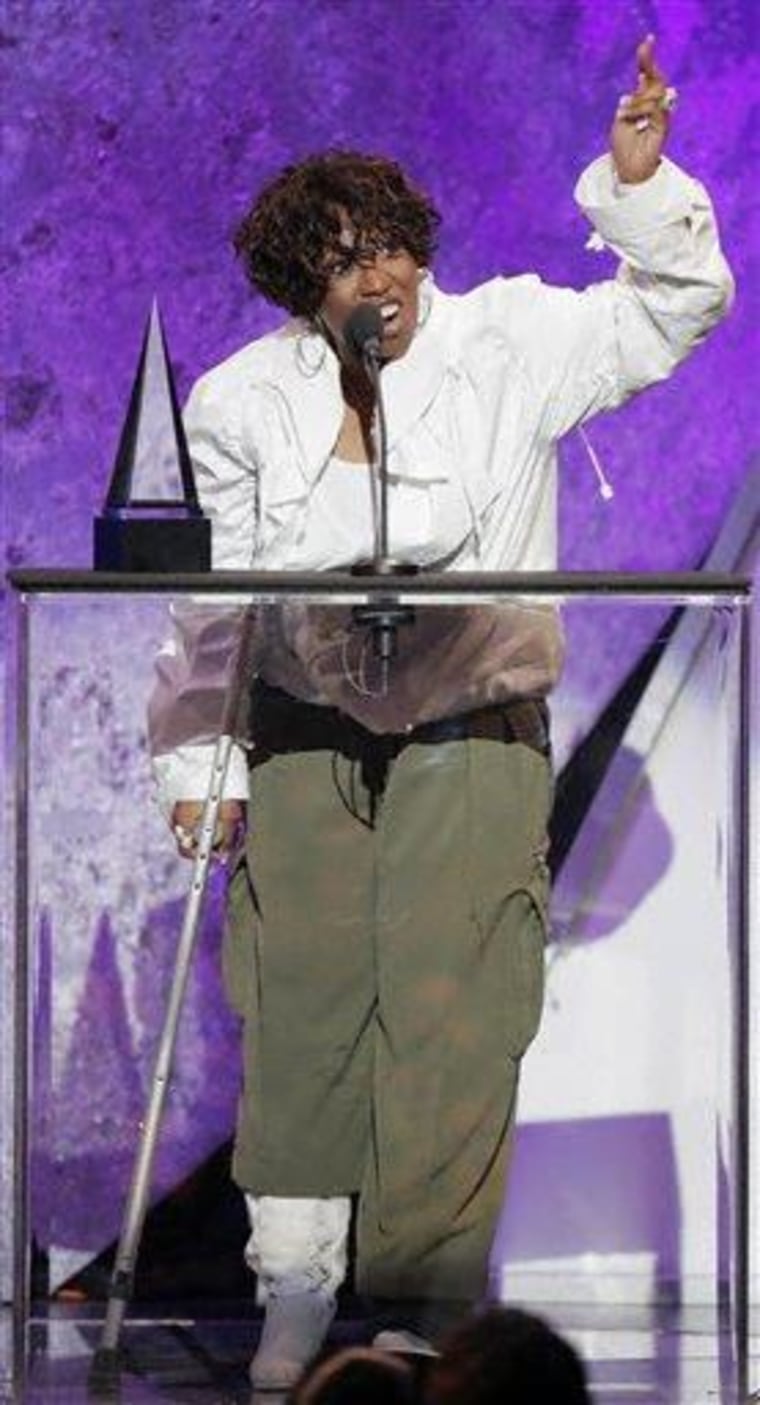 Missy Elliott wasn't going to let a little thing like a torn Achilles tendon keep her from accepting her award for favorite female rap/hip-hop artist — although she did get some doubletakes when she rolled up to the backstage press area in a glittery green wheelchair.
"Ya'll are looking at me like I got a booger on my face," she said, laughing.
Elliott recently had surgery to repair the tendon she tore while dancing.
"Females got to kind of stand up and be strong and keep it going," she said. "It's a male-dominated world. Ya'll know it."
Rauchy prince?Will Smith says it's no more Mr. Nice Guy.
"I'm going raunchy with it," he joked backstage after beating out edgy rapper 50 Cent and accepting the award for favorite pop-rock male artist.
"Girl, you're in trouble tonight," he had said to his wife, actress Jada Smith, as he accepted the award.
Turning serious, Smith heaped praise on 50 Cent and other groundbreaking hip-hop artists.
"Listen to guys at the top of the game — Biggie, Tupac, 50 Cent. Can't get there without some level of truth or hopefulness to the material," Smith said.