The most devoted "Tonight Show" fans know just how integral music is to the show's popularity, whether Jimmy Fallon is slow-jamming the news, offering an interpretation of "Hotline Bling" in the style of Bob Dylan, or performing highly original numbers such as "Two James Taylors on a Seesaw."
So, when Fallon sat down with Ahmir "Questlove" Thompson and Tariq "Black Thought" Trotter of the Roots and "Tonight Show" director Dave Diomedi at the Paley Center Wednesday night for a chat about the show's knack for blending music and comedy, we knew we were in for a treat.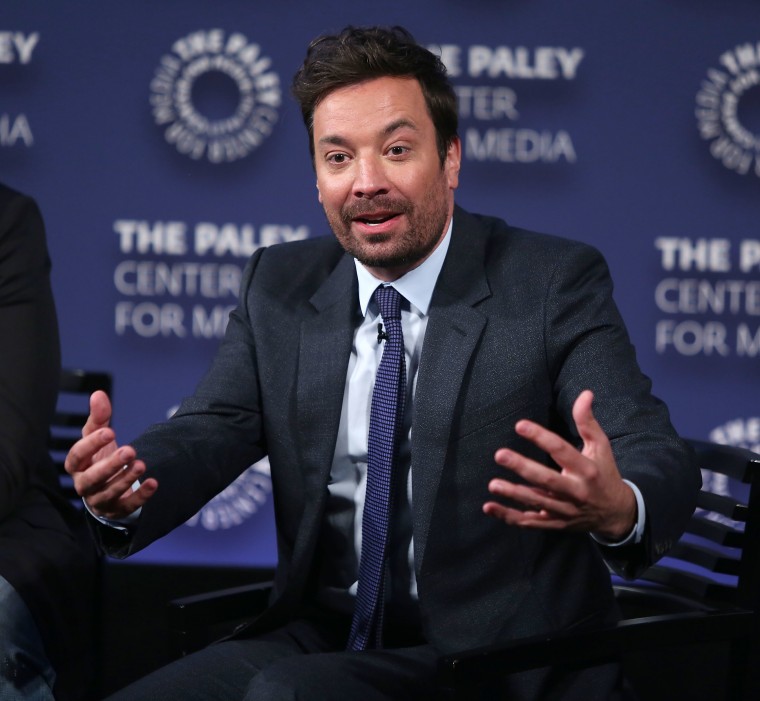 Here are five tidbits they shared.
1. The "Tonight Show" gang loves seeing guests' reactions to their entrance music.
"You never want my input," Fallon joked about the music specially chosen for each star. Questlove revealed, "Once we made a guest almost cry. Mario Cantone came out and we started doing the theme from 'Steampipe Alley' (an '80s kids' show hosted by Cantone) and he stopped and was like, 'How do you know that?'"
They also had fun surprising Goldie Hawn. "The closing credits of 'Wildcats,' where she's trying to rhyme with LL Cool J and Wesley Snipes. We kind of had to do the song in her character, singing about football, and it hit her. Sometimes it'll hit them later," Questlove said, recalling another memorable one: "When Steve Kroft from '60 minutes' came, all we did was: (tick tick tick)."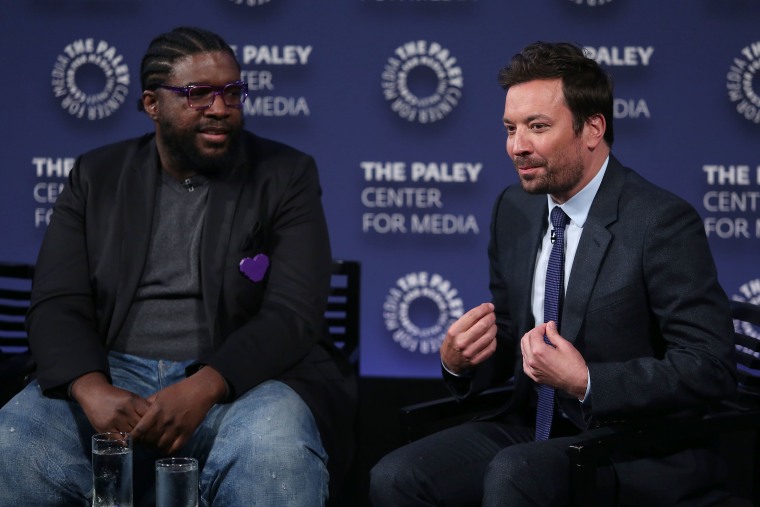 2. They once had to cancel on a dream guest — for a good reason.
"We had Angelina Jolie, and then something happened," Questlove said. "I had a baby," Fallon replied. The dad of two added, "That was a bummer, because I love Angelina Jolie, but I had to have the baby."
3. The theme song we all now know came about by accident.
"Literally, the first song we wrote ended up being the 'Tonight Show' theme, the 'Hey, Hey, Hey, Hey' song, which is weird because when you approached us about coming up with a new 'Tonight Show' theme, we did about 20 other compositions," Questlove told Fallon, explaining that Rich Nichols, the Roots' manager, had put the song at the top of the list by accident. "And you kept saying 'the hey, hey, hey song, that's the song.' And I was like, 'The hey hey hey song? That's not a real song.'" Lorne Michaels also had a helpful suggestion: "You need horns; kings need to be announced."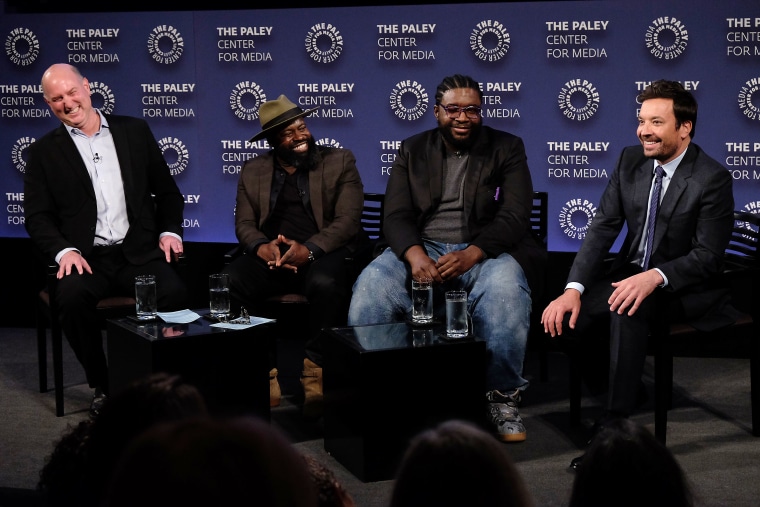 4. Persuading the Roots to be the "Tonight Show" house band took some creativity.
"We were finally at this place where, after years of climbing this mountain, we were making a good living," Questlove said, remembering the Roots' first meeting with Fallon. "I figured maybe at the most, we'll just establish a good rapport with you so that when we release records, we can come on Jimmy Fallon. I knew in the back of my head that we weren't going to accept it."
But when Fallon came to see the band perform at UCLA, the late-night host had other plans. "We did the show and talked to you, and then I went away for just 10 minutes," Questlove told Fallon. "And when I left the trailer with Rich (Nichols), I looked out on the campus and Jimmy had somehow gotten these guys to get in an 'Eight Is Enough' human pyramid for a photo. And so, I looked at it for like 10 seconds and then I looked at Rich, and I was just like, 'We're not getting rid of this guy, are we?' That's when I knew — he managed to disarm us."
5. There's a delightfully quirky story — involving pingpong and a smashed guitar — behind Prince's visit to the show.
"His manager calls and says, 'Prince wants to play pingpong on the show' and I go, OK," Fallon revealed. "And they call back and say, 'You know what? Prince doesn't want to play pingpong on the show.' And they call back and say, 'Prince wants to play pingpong on the show.' Whatever he wants to do, I go 'yeah.' And they call back and go, 'Prince doesn't want to play pingpong on the show. They call back and go, 'He wants to play pingpong with Jimmy, but he wants to do it off camera.' I go, 'What is this obsession with pingpong?' We set up a pingpong table backstage. So he comes on the show and never brings up pingpong, doesn't even talk about it," Fallon continued.
There was another surprise when Prince arrived: He was missing his guitar and needed to borrow a "beautiful white Epiphone" from the Roots' "Captain" Kirk. "Prince plays on the show and shreds and it's the best performance ever," Fallon said. "He finishes, takes the strap off and throws it for someone to catch, and there's no one to catch it. It broke in half. And he just disappeared."
A week later, Fallon was out to dinner in New York and got a text asking him to meet Prince at a local pingpong club. "Prince is standing there in a double-breasted suit holding a pingpong paddle and he goes, 'You ready to do this?'" Fallon said. Prince was beating Fallon by 20-9, but when he hit a "perfect shot" and Fallon scrambled to find the ball, Prince disappeared from the club. Questlove arrived just in time to catch Prince and his bodyguard driving off, recalling, "Grey Poupon-style, he rolled down the window and I said, 'What happened?' And he said, 'Ask your boy.'"