I don't get to spend a lot of time in front of the television, or the reality television, if you will, these days. A young kid, a wife, dinner with the radio on and a desire to breathe fresh air all play a part in this. But for the hour or so of surfing I do most nights before bed, I sure see a lot of bad TV (or five minutes worth of what is most likely 30 minutes or an hour of bad TV.)
I don't have the discipline to just watch the good stuff I know I like, not when my eyes are already closing at the end of the day. I'd rather fall asleep to crap than ruin an episode of "Modern Family" by dozing in and out of it. So here's a quick, unscientific guide to the worst stuff on TV after five minutes.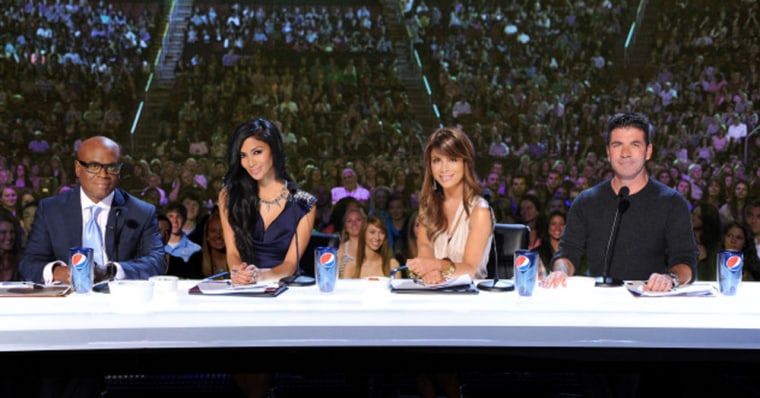 'The X Factor'
Did Simon really need to come back with a show that looks exactly like that other lousy singing show? Oh wait, it's different. They have Pepsi cups in front of the judges instead of Coke. That person is singing; they love her. I'm sure she'll be a huge star someday like that person who won that other singing show that wasn't that one dancing show that I don't watch either. (Oh yeah, and this happened.) Click.
'H8R'
The Internet allows a whole lot of people to hate just about everything there is. Scott Disick is one of those things. It's comforting to dislike someone who appears on "Keeping Up With the Kardashians." I'm teaching my son not to be a "hater," but Mario Lopez is an exception now. Click.
'The Rachel Zoe Project'
I love fashion-minded shows. I can make it through "Project Runway" and "America's Next Top Model" with my eyes completely open. But something about Rachel Zoe and her husband's beard are too much for me. Who talks to people, or their unborn fetus, like that? I'd like to style a photo shoot that involves these two, their butt-kissing hangers-on and a bus with no brakes. Click.
'Picker Sisters'
One of my favorite hobbies when not sitting in front of bad TV is to road trip and search for treasures at out-of-the-way thrift stores. These two ladies in their SUV with their fancy trailer are giving daisy dukes and cowboy boots a bad name as they roll across America taking advantage of rural folk. "How about 10 bucks for that old truck bumper that we'll turn into a coffee table and sell for $2,500 at our Beverly Hills shop?" How about click?
'Storage Wars'
I'd like to take everyone on this show and lock them in a storage unit with a box full of beer cans, a couple pieces of taxidermy, some old newspapers and a Jet Ski that won't start. I'd rather watch professional poker on ESPN than another auction show. How do you pretend to create drama out of sweaty dudes picking through someone else's junk? It's in storage because we forgot about it! Click.
Wanna keep clicking? Go ahead and share your love or hate for these shows and more over on our Facebook page.
More in The Clicker: