Admit it: There was a time when you watched "American Idol." (And you obviously weren't alone.)
At the very least, you probably tuned in for a bit in the '00s, when, as the Nielsen champion, it also was No. 1 for conversation at the office water cooler. After Kelly Clarkson followed up her Season 1 win with chart-topping hits, millions tuned in to see if the next great pop star would emerge based on the voting tendencies of tweens with a little too much access to cellphones. It would be a nation divided by Ruben Studdard versus Clay Aiken, and, to a lesser extent, David Cook versus David Archuleta.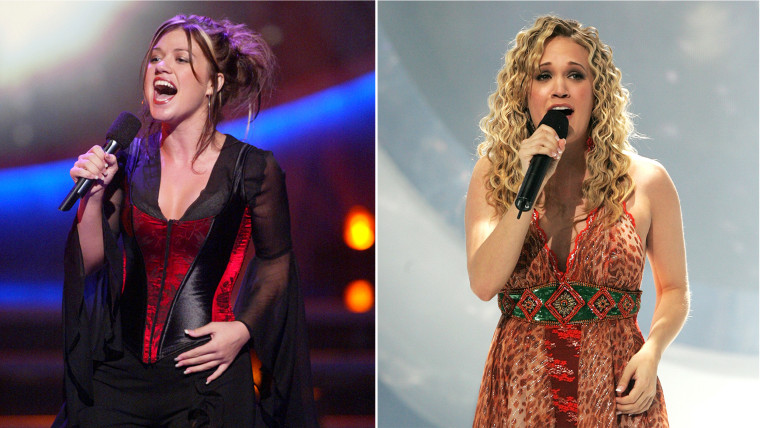 Although the TV titan lost some steam and significant viewership in the years leading up to its last season, there are some redeeming qualities that even former viewers will lament moments after its host utters "Seacrest, out" for the last time.
1. It gave us legit music superstars
If Clarkson had never auditioned with "At Last," the show may never have prospered beyond a couple of seasons, but her legitimate success raised the talent bar. Thankfully, several of her successors didn't disappoint, as Carrie Underwood would become country-music royalty and, more recently, Phillip Phillips has forged a solid career in pop. Jordin Sparks, Fantasia Barrino and Scotty McCreery were among the other champs to chart.
2. Even non-winners launched impressive careers
Singers didn't even have to win to propel themselves into the spotlight. Jennifer Hudson didn't take first place in Season 3, but later would win an Academy Award for her performance in "Dreamgirls." The performances of another finalist, Chris Daughtry, led to a steady rock career for the better part of a decade. And runner-up Adam Lambert landed on his feet as the touring front man for a crazy little band called Queen.
3. Simon Cowell
When performances lacked a little something — perhaps energy or a basic understanding of how notes work — Cowell, who departed as a judge after Season 10, never seemed afraid to say what was on his mind. He almost seemed to feed off the boos. And when other judges limited their constructive criticism to the squeamish delivery of the word "pitchy," Cowell would never leave audiences wondering how he really felt. Was he cruel at times? Yes. Was he inaccurate? Often, in fact. But it didn't matter if you loved him or loved to hate him; you listened when he opened his mouth.
4. "Idol Gives Back"
Even "Idol" haters had to show some love for the way the show raised millions of dollars for charity through special fundraising episodes that aired in 2007, 2008 and 2010. It also created a platform for Underwood's emotional cover of the Pretenders' "I'll Stand By You."
RELATED: 'American Idol' coming to an end with season 15
5. Season finales, at their best, were television events
Announcing the winner, as it turns out, was only part of the fun. From Beyoncé to Mariah Carey, star-studded finales made for some wildly entertaining TV. And whether it was Elliot Yamin and Mary J. Blige teaming up for U2's "One," or Jennifer Sanchez and Jennifer Holliday's spirited take on "And I Am Telling You," finale duets between contestants and established artists kept viewers buzzing long after the credits rolled. True, Season 6 runner-up Blake Lewis might not have been destined for superstardom, but his mindblowing, beat-boxing finale performance with Doug E. Fresh might be the most underrated moment in series history.
Follow TODAY.com writer Chris Serico on Twitter.
This post was originally published on May 12, 2015.