If time passes in the movies at the same rate as it does in real life, the title character in "The 40-Year-Old Virgin" is now 50 (but, spoiler alert, no longer a virgin).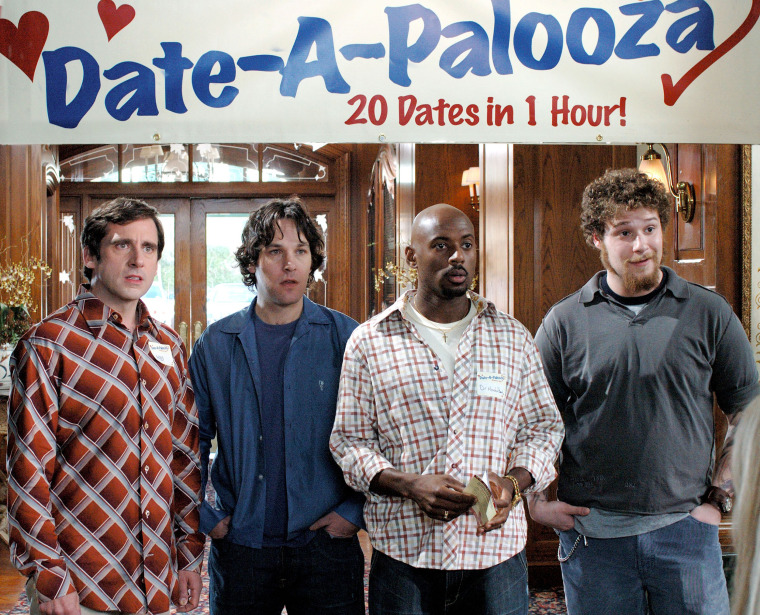 Wednesday marks the 10th anniversary of the film's wide theatrical release, which made almost $110 million domestically. But beyond the box-office success, the film has continued to resonate among comedy fans, and served as a breakthrough movie for its director, Judd Apatow, and his co-writer/star, Steve Carell.
At the time, Carell had been an acclaimed correspondent on "The Daily Show," the biggest scene-stealer in "Anchorman: The Legend of Ron Burgundy" and "Bruce Almighty," and the lead of the fledgling American version of "The Office." But his title role in "The 40-Year-Old Virgin" made him a bona fide movie star and bolstered "The Office," on which he appeared as a regular for seven of its nine seasons.
But what is it about Carell's "40-Year-Old Virgin" performance that took his career and the movie to the next level? In addition to picking six of the movie's funniest sequences — caution: spoilers abound — TODAY.com breaks down why these moments helped propel the eventual Academy Award nominee to superstardom.
1. Carell may have played a hapless character, but he also made him a likable one.
Any actor could have made Andy a pathetic one-dimensional character and gotten a few easy laughs, but Carell not only made him a three-dimensional person, but also a lovable geek that audiences rooted for — despite some "weird" karaoke moves and a spirited euphonium solo for no one in particular.
2. He showcased nuance and transcendence in delivering the phrase, "Ahhhhhh! Kelly Clarkson!"
In addition to admiring the fact that no stunt chest was used during his emphatic ode to the original "American Idol" champ, Carell — as the movie's co-writer — put himself in that position in the name of comedy. And fortunately for everyone involved, as he told the BBC's Graham Norton, Carell was lucky not to lose a nipple in the process.
3. He cares about others — occasionally doing so by only asking questions. (Just ask Elizabeth Banks.)
The greatest comedians are ones who play well with others. In this exchange with bookstore employee Beth (played by Banks), Andy follows the advice of Cal (Seth Rogen) by sticking with the interrogative — and, in the process, showing off some rare swagger.
4. His physical comedy skills are impressive.
While preparing for intimacy with Trish (Catherine Keener), Andy gives himself a crash-course in protection that leads to a montage of hilarious failure. It's all amusing, but no moment in the sequence is funnier than his yelp while attempting to snap on an unnecessarily inflated prophylactic.
5. He's especially fun when he makes things a family affair.
In addition to being a father figure to Trish's daughter Marla (Kat Dennings) at a health clinic, Andy's clinician is played by Carell's real-life wife, Nancy Walls. Their chemistry has been on display for more than a decade, as evidenced by their recent appearance on Jon Stewart's last episode of "The Daily Show."
6. He knows how to break the Fourth Wall.
When Andy finally does have sex, it makes him feel like singing and dancing. And that's exactly what he does with all his buddies, all while entering the "Age of Aquarius" and letting the sun shine as the credits roll.
Follow TODAY.com writer Chris Serico on Twitter.