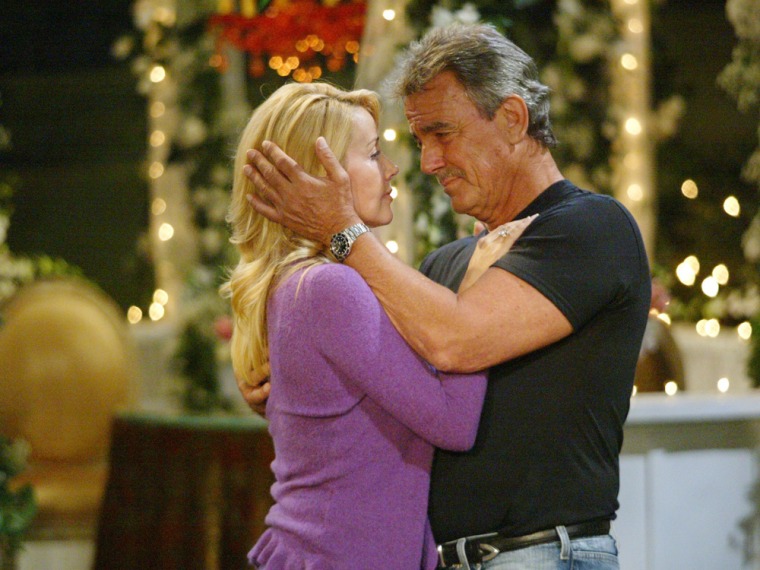 Christmas came a little early to "The Young and the Restless." The soap, which debuted in 1973, just marked it's 1,300th consecutive week — or 25 years — as the No. 1 rated daytime drama according to Nielsen.
"They've kept a lot of the main characters and most of the sets the same over the years," Jess Walton, who plays Jill Abbott, said about the show's successful longevity. 
While there have been many changes to the program since Walton joined it in 1987 (Jill's actually now a member of the Fenmore clan, having found out that she and Lauren share the same dad), she says that the show's different producing and writing regimes have "respected the structure that (series creator) William J. Bell put into place." 
Characters in the forefront when "Y&R" began its winning streak in 1988 include Victor, Nikki, Jack, Jill, Paul, Christine and Lauren. They remain leads today, but along the way there have been all the plots twists and turns befitting a soap. In celebration of a quarter century at the top, here's a look at some of the most notable, by the numbers. 
Times Jack has been paralyzed: 2
Jack might not want to have a third marriage to unstable Patty Williams. His ex-wife has shot him on two different occasions, each time resulting in temporary paralysis.
Villains trash-compacted to death: 1 
David Kimball's numerous crimes caught up with him and, as he hid in a dumpster in an attempt to hide from authorities, the villain accidentally activated the compactor and was crushed to death.
Times Nikki has tied the knot: 11 
Move over Erica Kane: While not all her unions have been legal (or even based in love), Nikki's been married to Greg Foster, Kevin Bancroft, Victor Newman (four times), Dr. Joshua Landers, David Chow, Deacon Sharpe and Jack Abbott (twice). It was clear that her marriage to compulsive gambler David wasn't going to last when she heard the theme from the film "Ice Castles" (which is her and Victor's love song) during the ceremony. 
Famous actors who got their starts in Genoa City: 7 (at least)
It's a slightly subjective call, but there are some big names in acting who went from "Y&R" to pretty substantial careers in Hollywood. David Hasselhoff (Snapper), Tom Selleck (Jed), Shemar Moore (Malcolm), Monica Potter (Sharon), Eva Longoria (Isabella), Victoria Rowell (Dru) and the late Paul Walker (Brandon). 
Actresses who've played Jill Abbott: 6 
Currently played by two-time Emmy-winner Jess Walton, the role of Jill was originated by Brenda Dickson. Others who've worn Jill's pumps (and, depending on the decade, shoulder pads) include Deborah Adair, Judith Chapman, Melinda Fee and also an actress with a real-life soap opera sounding name – Bond Gideon. 
Times Victor has had a vasectomy: 2
He's had two, but they must not have been done correctly because Victor's impregnated women after having the procedures. (They don't call him "The Great Victor Newman" for nothing.)
Adult actors who have played Billy Abbott: 4 
John and Jill's son has been portrayed by David Tom, Ryan Brown, Sean Seymour and Billy Miller. While Miller is exiting the show early next year, the number of "Billies" still holds at four – Tom is coming back in 2014 to reprise the part. 

Prime time crossovers: 3 
"Y&R" characters crossed over to night time shows "Diagnosis Murder" in 1995, "The Nanny" in 1997 and "King of Queens" in 2001. 
Mothers-in-law who went bungee-jumping: 1
Vanessa Prentiss took a leap off a balcony (sans bungee!) in order to frame her daughter-in-law Lorie for her "murder."

Times Nina shot David: 5 
Nina fired five bullets into hubby David's body after finding out he planned to kill her and inherit her millions. A jury not only exonerated Nina, but a Blue Ribbon panel awarded her portrayer, Tricia Cast, a Daytime Emmy.

Number of words in Victor's famous catchphrase: 3
"You got that?"