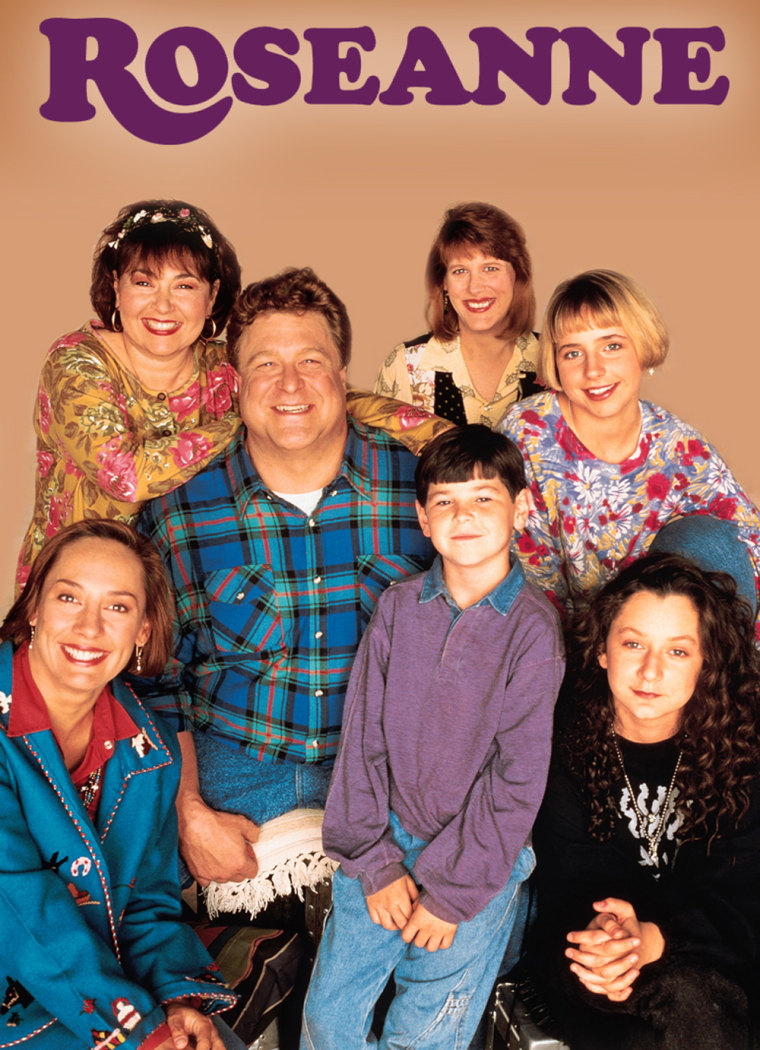 If you spent any quality time with your TV in the late '80s and early '90s, then it's likely you got to know the loud and lovable Conners on "Roseanne." Now, prepare to feel old, because the classic sitcom is celebrating the 25th anniversary of its debut Friday. 
Based on the real life experiences of creator Matt Williams and the "domestic goddess" stand-up comedy routines of its lead, Roseanne Barr, "Roseanne" the sitcom was a far cry from the safe, middle-class comedies of the day. The Conner household was packed with three rowdy kids and the snarky whine of Roseanne, who along with her loving husband, Dan (played by John Goodman), kept it all together — barely.
Looking at the shows that have come since, creator Matt Williams told TODAY in an exclusive interview, "I don't think you would have 'Mike & Molly' without Dan and Roseanne."
The son of two blue-collar parents in Evansville, Ind., Williams said what inspired "Roseanne" was the old adage "Write what you know."  
"That's what I did," he explained. "My father worked on an assembly line in a factory. My mother was a waitress who later became a beautician. Dan is an amalgamation of all my uncles, who were independent contractors."
William "got out" of Indiana and ended up a writer in Los Angeles.
"But a lot of people graduated from high school and didn't go to college," he recalled of those he left behind. "A lot have never left the Midwest, but they aren't stupid people. They are good, hardworking people who worry about paying their bills and taking care of their kids."
Actress Goranson, 39, who played Becky (well, Becky No. 1), told TODAY that looking back, she thinks the biggest impact of the show was "this archetypal family that had story lines around money issues and personal issues and love and ... that was such a mirroring for families in the United States and around the world. I think it really helped people communicate better ... and also not feel isolated."
The intent of the sitcom, Williams added, was "to represent the people I grew up with — without condescending — and basically celebrate this working-class family with a husband and wife who loved each other."
To that end, the creator wanted to keep it real. He had plenty of help from a cast that, in addition to Barr and Goodman, included Steppenwolf Theatre alumnus Laurie Metcalf, and then-newcomers Sara Gilbert, Alicia Goranson and Michael Fishman (Darlene, Becky and D.J., respectively).
"I give all the credit to (casting agents) Risa Bramon and Billy Hopkins," Williams said of the caliber of acting talent assembled. "They went out and found a great cast. I don't know how many kids they auditioned but it was hundreds and hundreds. And then John Goodman walked in the room and it was like he and (Roseanne) had been married for 16 years."
The folks in charge of casting certainly had an eye for talent. In addition to finding talented actors that made the far from perfect nuclear family of "Roseanne" work so well as a unit, they also snagged some then unknowns who turned into A-listers later on. George Clooney had a recurring role as Roseanne's boss Booker, Joseph Gordon-Levitt appeared in various episodes as DJ's little pal, Bob Odenkirk had a cameo as a shoe salesman/health inspector, and more.
The Conner house also had additional touches of reality and familiarity to the show: Williams said that it's based on his grandma's home.
"The whole layout of the mud room and the kitchen is my grandmother's house," Williams revealed. "The afghan on the back of the couch and the louvered windows above the sink and the house we used for transitions was the house. ... From day one, in my grandmother's house, she had an extra-long phone cord."
As for the lasting impact "Roseanne" has had on the TV landscape, Williams simply said, "I don't know. I think it would be a hard sell in today's market. At the time, networks were willing to take the chance, but now everything is so analyzed and fragmented into key demographics. At the time, I didn't even think about any of that stuff. They were real people to me, and I just wanted to write about their experiences."

— Additional reporting by Anna Chan