Oscars host Jimmy Kimmel opened up the telecast on a serious note. Well, mostly serious.
At a time when Hollywood is going through major changes because of the #metoo movement, the late-night host leaned into the subject during a fairly subdued monologue that straddled the line between comedy and gravity.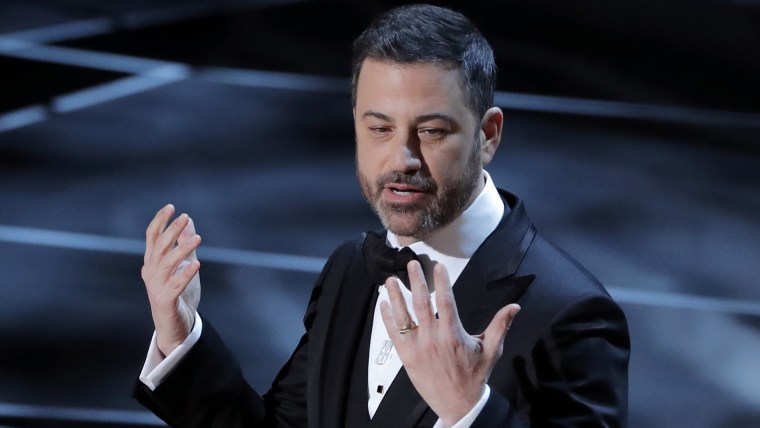 "Oscar is the most beloved and respected man in Hollywood," joked Kimmel. "And there's a very good reason why. Look at him. He keeps his hands where you can see them, never says a rude word, and most importantly has no penis.... That's the kind of men we need more of in this town."
Kimmel didn't pull any punches. He criticized Hollywood for allowing a situation in which Mark Wahlberg could make $1.5 million for reshoots on "All the Money in the World," while his female co-star, Michelle Williams, only earned $80 a day as a per diem. Making it worse, he said, both actors were represented by the same talent agency. "If you can't trust agents, who can you trust," deadpanned Kimmel.
The 90th anniversary edition of the Academy Awards would make history, he promised, pointing to the nomination of cinematographer Rachel Morrison ("Mudbound"), the first woman ever to be honored in that category, as an example. "In fact, if you are a nominee tonight who isn't making history, shame on you," he said.
He also took some shots at the Trump Administration, favorite foils of his on "Jimmy Kimmel Live!"
On the low box office of the critically acclaimed drama "Call Me By Your Name," which featured a graphic gay love sequence, Kimmel quipped: "We don't make films like 'Call Me By Your Name" to make money; we make them to upset Mike Pence."
Kimmel's last foray hosting at the Dolby Theatre didn't exactly go according to script: The 89th Academy Awards ended with biggest mix-up in the history of the ceremony. An error by the accountants in charge of handing the correct winners' envelopes led to presenters Warren Beatty and Faye Dunaway reading out "La La Land" as the best picture of the year. The only problem was the actual award was meant for "Moonlight," leading to an awkward scrum on the stage.
"This year when you hear your name called, don't get up right away," said Kimmel. "Give us a minute. We don't need another 'thing.'"
The host added that producers asked last year if he wanted to do comedy with accountants, to which he said no. "Then the accountants went ahead and did comedy on their own," quipped Kimmel.