While Ross, Rachel, Monica, Chandler, Phoebe and Joey were the focus of "Friends," the six pals were joined by many famous faces throughout the beloved sitcom's 10-season run.
Here are some of our favorites.
George Clooney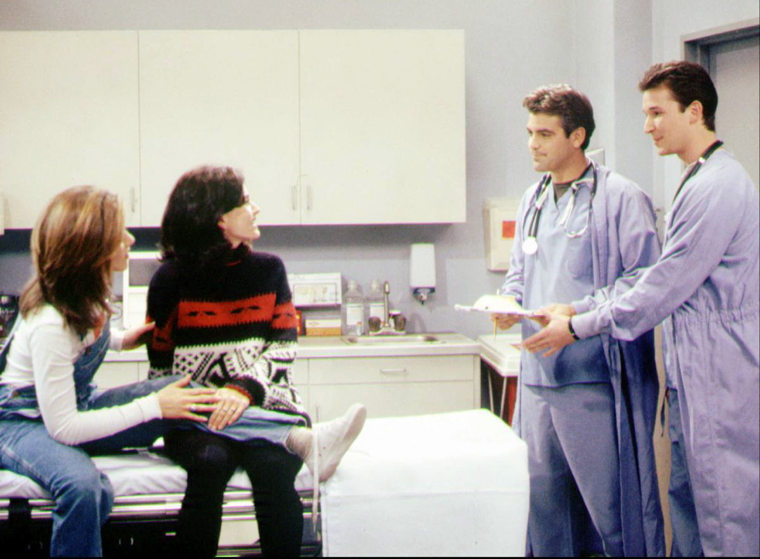 Clooney and his "E.R." co-star Noah Wyle play a pair of dashing doctors who score dates with Monica and Rachel in "The One With Two Parts" (Season 1). The only problem? After swapping identities so that Rachel can use Monica's health insurance, the two roommates are forced to keep up the charade throughout the romantic evening.
Brooke Shields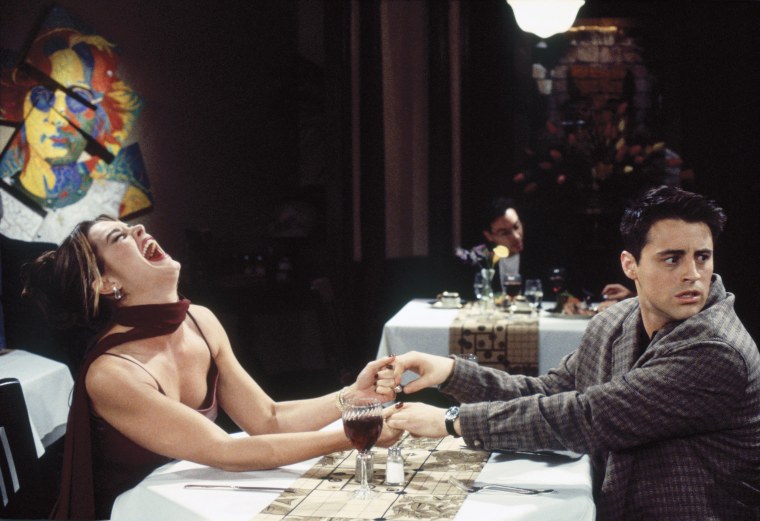 Joey's stalker Erica (Shields) has a maniacal laugh, licks his hand during their lunch date and, perhaps most disturbingly, actually believes he's his "Days of Our Lives" character, Dr. Drake Ramoray. But Joey gives her a chance anyway because of her model looks. "You remember Kathy Bates in 'Misery'? Well, she looks the exact opposite of that," Chandler quips ("The One After the Superbowl," Season 2).
Julia Roberts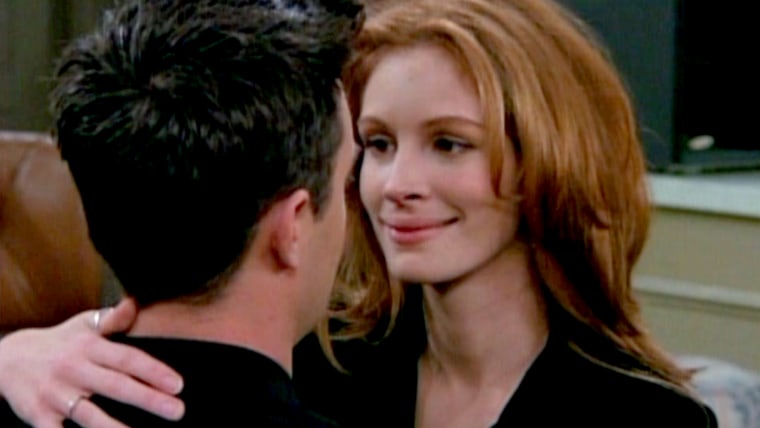 Chandler is excited to reconnect with an attractive childhood classmate (Roberts), but it turns out her flirtation is merely a scheme to seek revenge for a humiliating prank he pulled in fourth grade ("The One After the Superbowl," Season 2).
Tom Selleck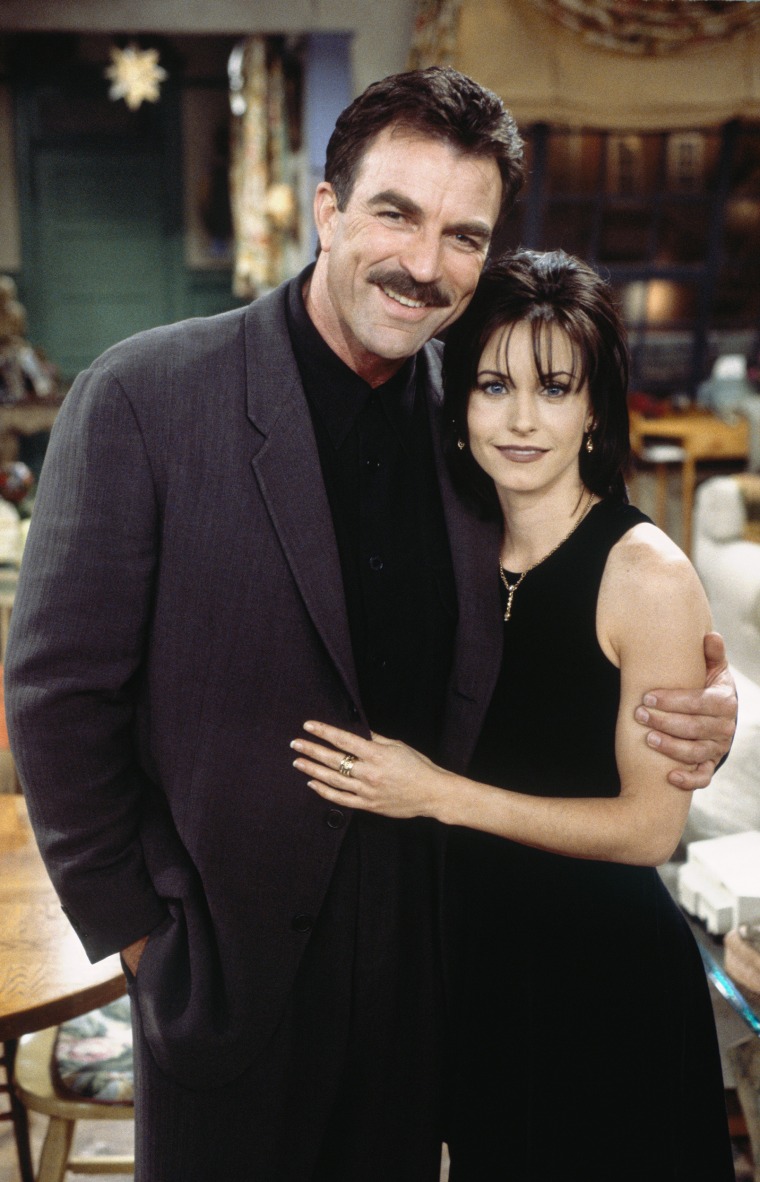 Monica is charmed by divorced ophthamologist Dr. Richard Burke (Selleck), a friend of her dad who makes his debut in Season 2. But the pair's sizable age gap doesn't go over so well with her parents when they learn Richard's rumored "twinkie in the city" is their own daughter.
RELATED: 'Friends' flashback! Watch cast open up about working together in 1994
Robin Williams and Billy Crystal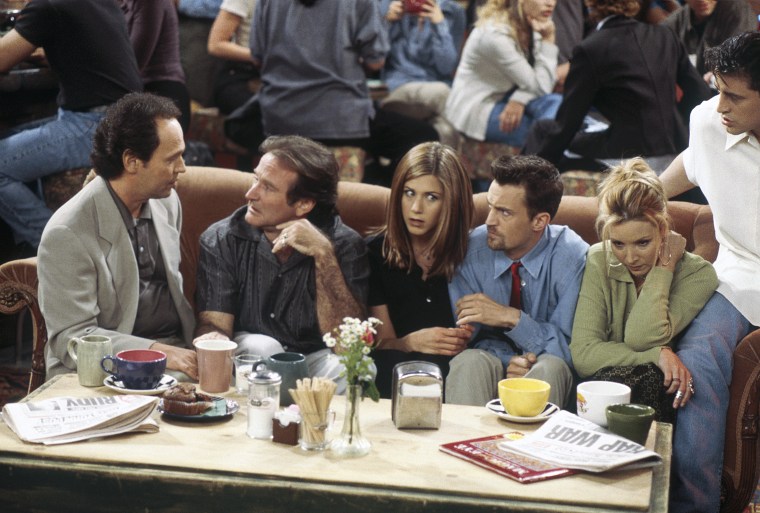 Just as Monica is about to spill details on her latest date, the two comedy legends turn up at Central Perk and ask the gang to make room on the orange couch. After the hilariously over-the-top exchange that follows — Williams suspects his wife is cheating and Crystal confesses it's with him — the friends are too distracted to continue their conversation (The One With the Ultimate Fighting Champion," Season 3).
Ben Stiller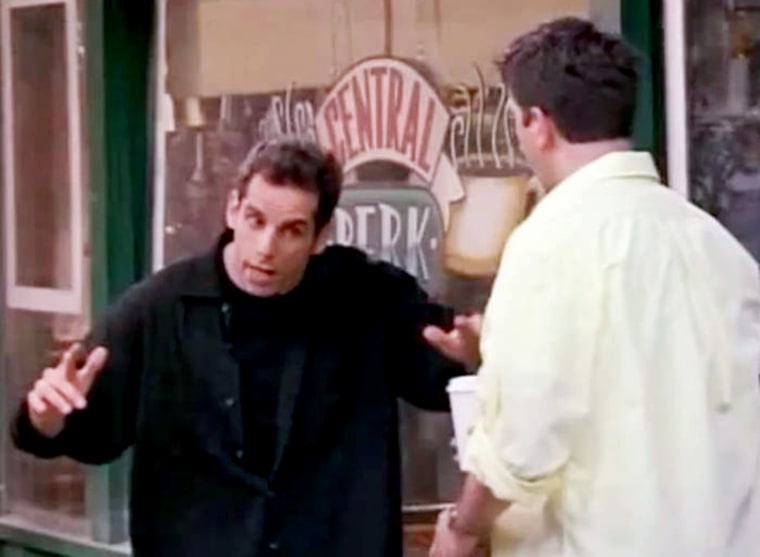 Rachel's date Tommy (Stiller) has a proclivity for yelling at strangers — but Ross is the only one who sees his anger-management problem. Eventually, the others witness Tommy's true character when he unleashes his rage on Joey and Chandler's pet chick and duck ("The One With the Screamer," Season 3).
Reese Witherspoon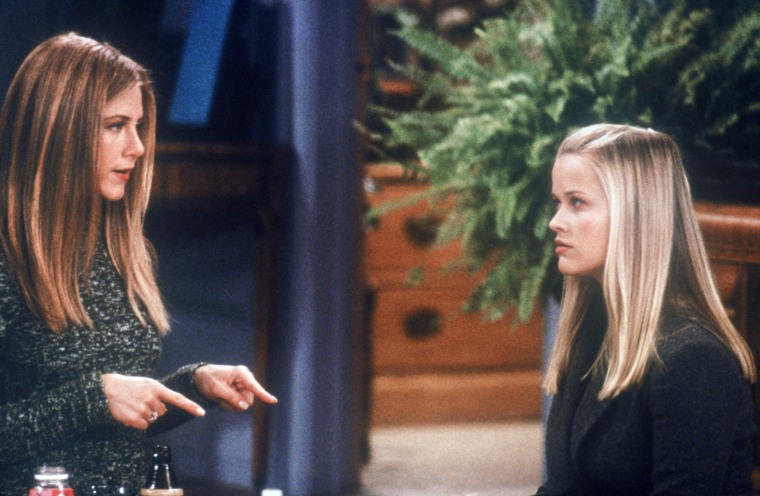 Rachel's spoiled sister Jill leaves home to make it on her own financially, yet continues to charge lavish clothing purchases to their father's credit card. But her worst offense? Going out with Rachel's ex Ross. Rachel worries about what's going on behind closed curtains during the date, but is later reassured when Ross explains he simply shut the drapes "to show her slides of my favorite fossils ("The One With Rachel's Sister," Season 6).
Bruce Willis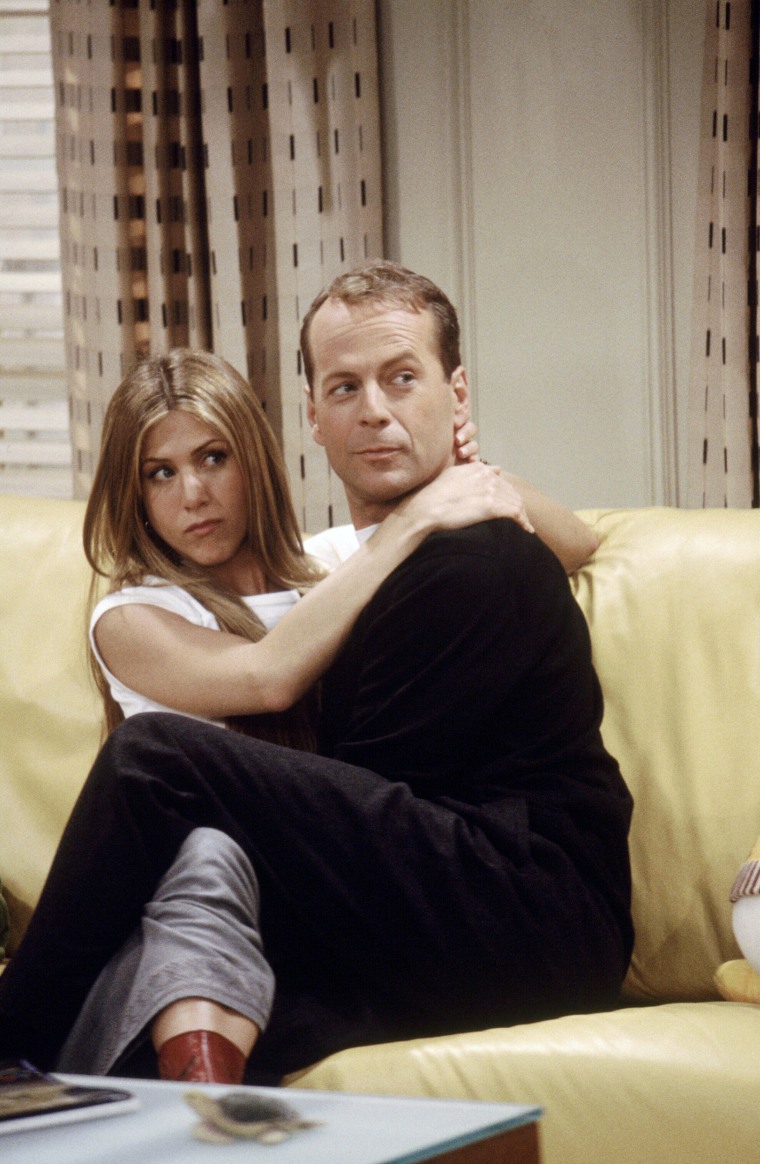 Ross tries to win over Paul (Willis), the intimidating dad of his much younger girlfriend Elizabeth. But the situation only becomes more complicated when Paul begins dating Rachel, leading to an unforgettably disastrous double date ("The One Where Ross Meets Elizabeth's Dad," Season 6).
Susan Sarandon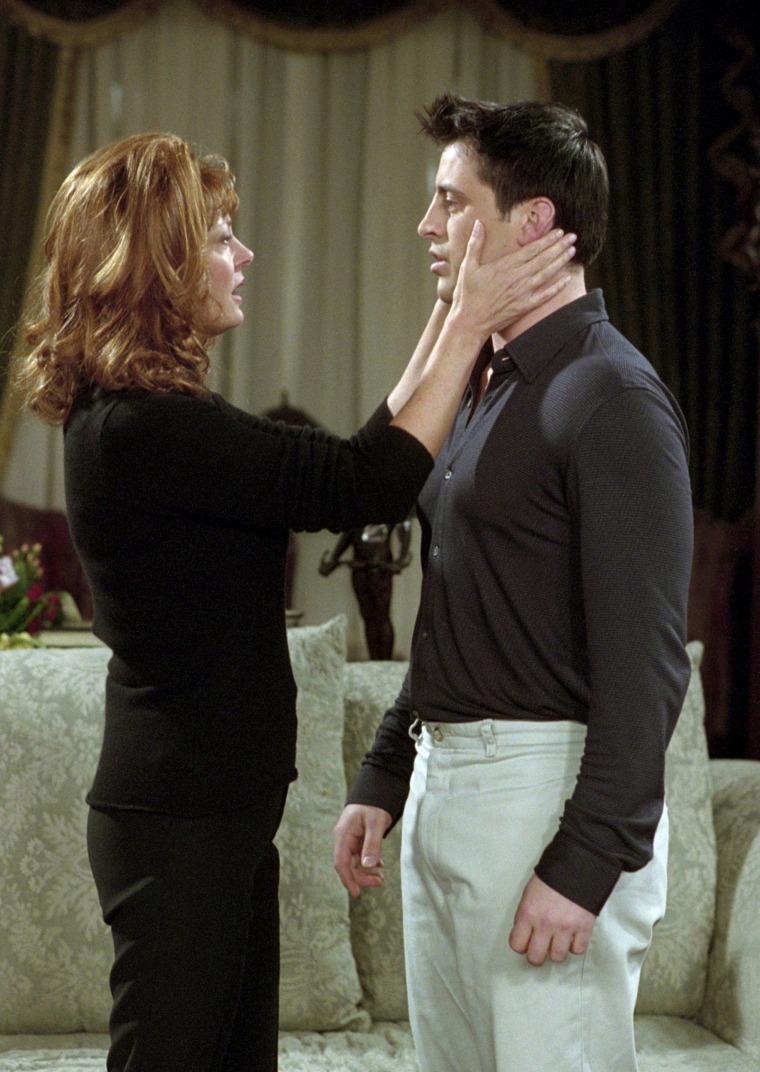 Joey's "Days of Our Lives" character is written back into the show at the expense of drink-flinging soap diva Cecilia Monroe (Sarandon), whose character is killed off in order for Dr. Ramoray to receive a brain transplant. Joey comforts Cecilia and the two get cozy — but ultimately she leaves for a new acting gig in Mexico ("The One With Joey's New Brain," Season 7).
Winona Ryder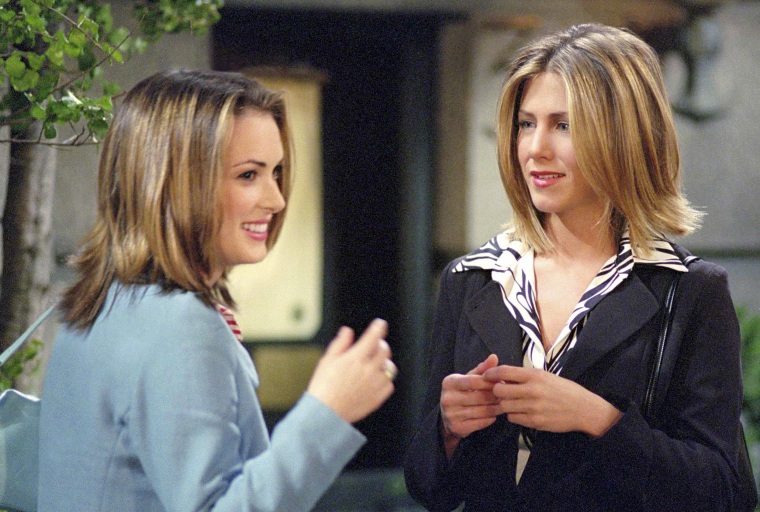 Rachel runs into former sorority sister Melissa (Ryder), whom she claims to have once kissed at a college party. When Phoebe doesn't believe the story — and Melissa later denies the incident ever happened — Rachel re-creates the lip-lock, eliciting a very unexpected reaction from her old acquaintance ("The One With Rachel's Big Kiss," Season 7).
Kathleen Turner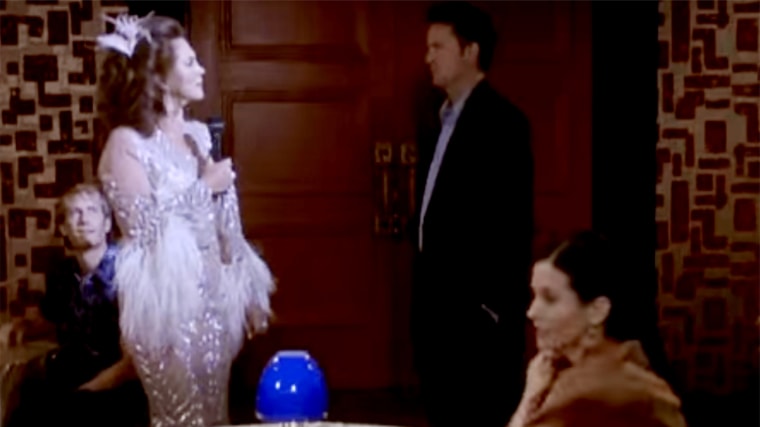 Chandler reunites with his estranged father (Turner), who stars in a Vegas drag show, just in time for his dad (now known as Helena Handbasket) to walk him down the aisle at his wedding to Monica ("The One With Chandler's Dad," Season 7).
Brad Pitt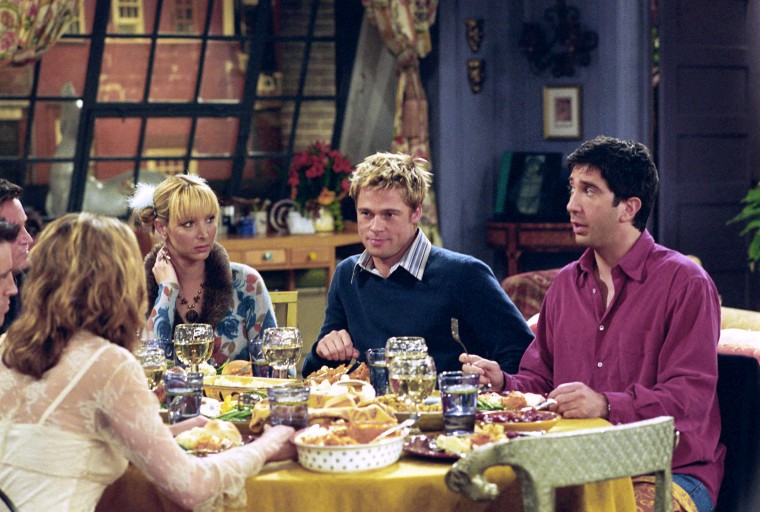 Pitt (married to Aniston at the time) plays Monica's once-overweight friend Will whose dramatic physical transformation prompts Ross to exclaim "hot stuff!" upon seeing him. However, tensions arise during Thanksgiving dinner when Will reveals that he and Ross co-founded an "I hate Rachel club" in high school, even starting a rumor that Rachel was a hermaphrodite ("The One With The Rumor," Season 8).
RELATED: 15 actresses you may have forgotten played Jerry's girlfriend on 'Seinfeld'
Alec Baldwin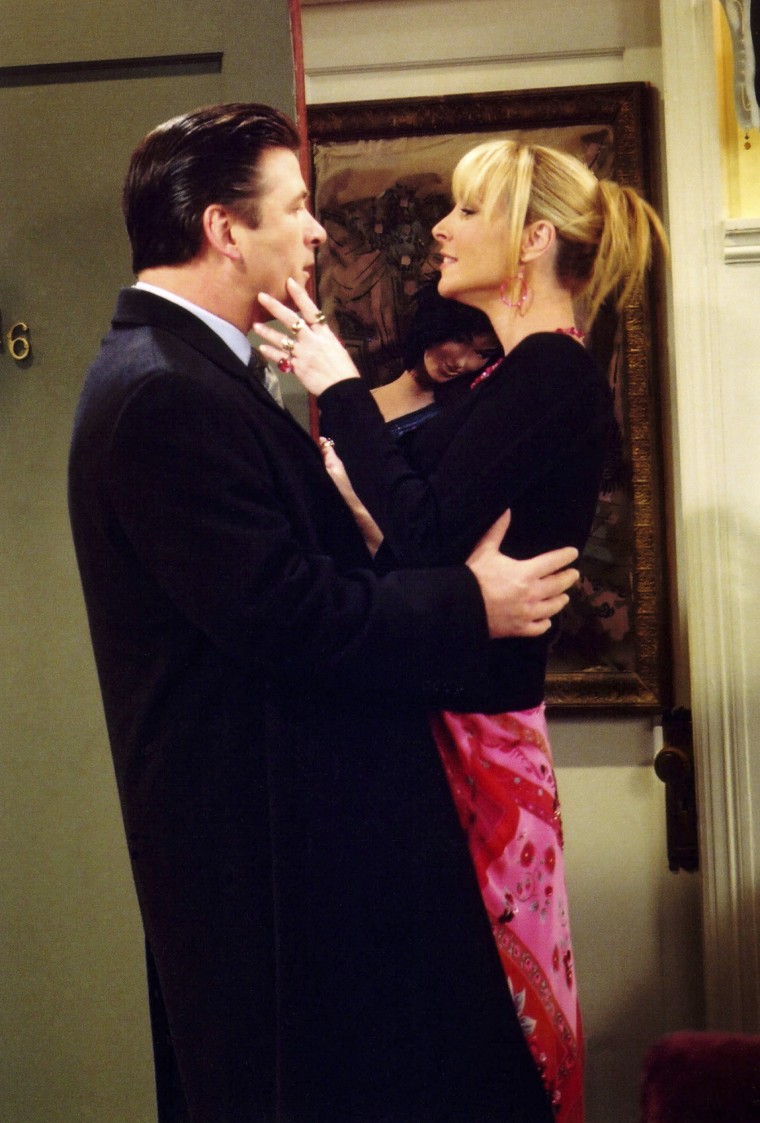 The gang finds Phoebe's overly excitable new beau (Baldwin) grating, and after one too many overzealous compliments at an anniversary party for Ross and Monica's parents, Phoebe begins to tire of his positivity. "You are like Santa Claus on Prozac!" she complains ("The One in Massapequa," Season 8).
Paul Rudd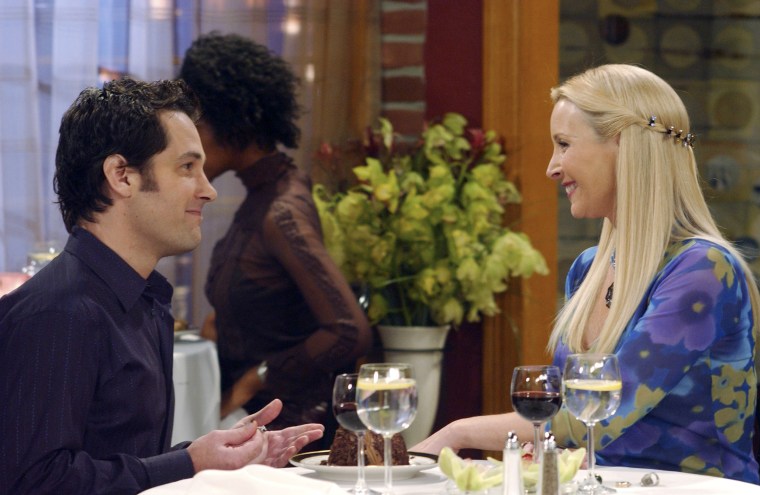 Joey promises to set up Phoebe on a blind date, and then after failing to find someone, plucks Mike (Rudd) from Central Perk at the last minute and passes him off as a longtime pal ("The One with the Pediatrician," Season 9). Despite the sham, Phoebe and Mike end up tying the knot in Season 10.
Christina Applegate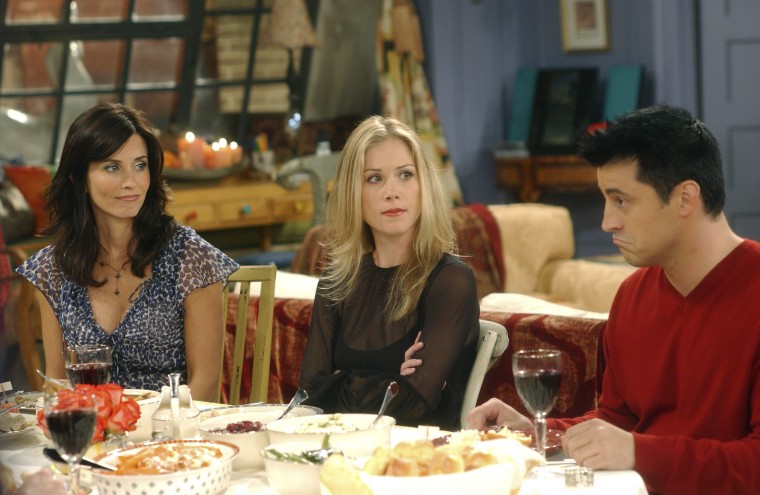 Rachel's other sister Amy arrives unexpectedly on Thanksgiving, and her barrage of insults — and Rachel's revelation that in the event of their deaths, she and Ross would want Chandler and Monica rather than Amy to raise baby Emma — lead to a brawl at the dinner table ("The One With Rachel's Other Sister," Season 9).
John Stamos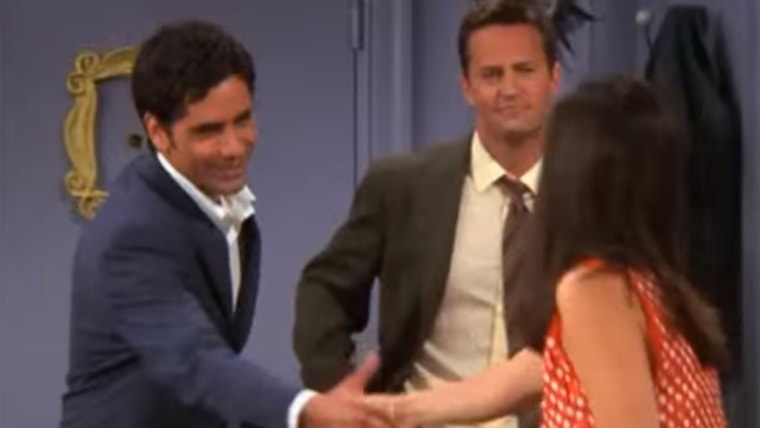 Having trouble conceiving, Chandler and Monica consider using a sperm donor — and Chandler brings home co-worker Zack as a possible candidate. Unaware of their motive, Zack becomes increasingly uncomfortable as the couple grills him with personal questions about his family's medical history ("The One With The Donor," Season 9).
Anna Faris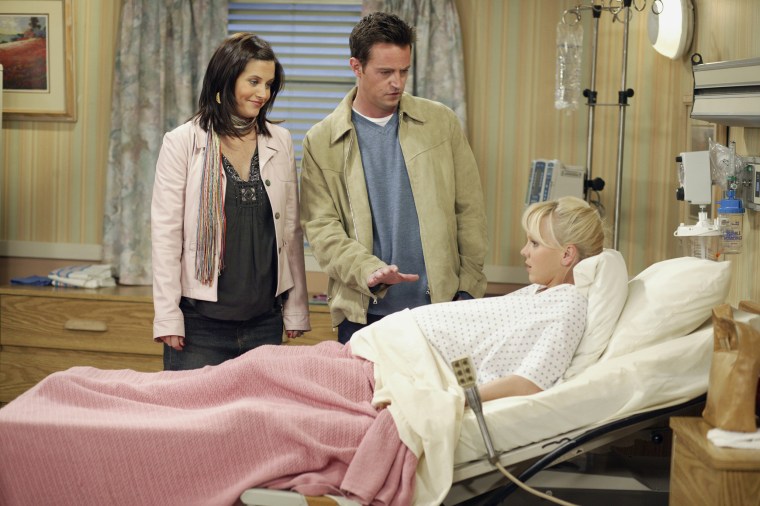 Faris appears in five episodes of the show's final season as Erica, the young birth mother of Chandler and Monica's twins.