Your favorite TV couples might be that way for a reason: Sometimes when cameras stop rolling, they're still an item.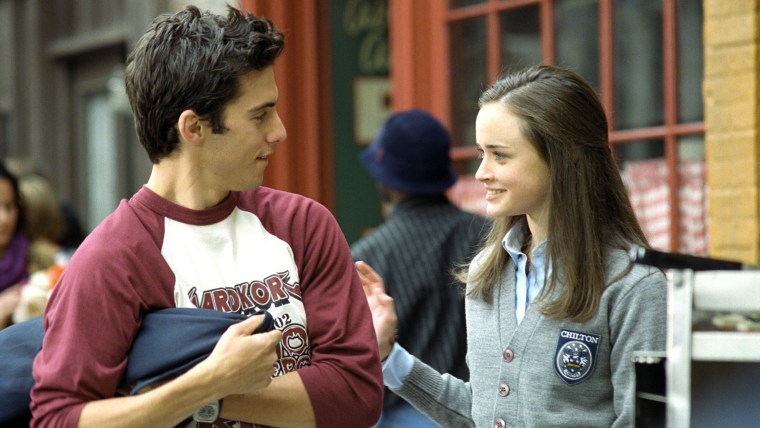 Take "Gilmore Girls," for example. Playing Rory Gilmore and Jess Mariano, respectively, Alexis Bledel and Milo Ventimiglia were each other's love interests on and off the set for a stretch.
RELATED: These 9 celebrity couples shared on-screen romance in films
Their real-life 2006 breakup, however, may require them to keep things professional should Ventimiglia return for the show's Netflix limited revival, because Bledel wound up marrying another on-screen beau. (More about that in a moment.)
The following list of 11 resilient TV couples — still together as of press time, as far as we know — isn't comprehensive, as Melissa Benoist and Blake Jenner ("Glee"); Amanda Abbington and Martin Freeman ("Sherlock"); and Mary Elizabeth Ellis and Charlie Day ("It's Always Sunny in Philadelphia") can attest. But they are a reminder that, at least for now, Hollywood love stories are still possible after the director shouts "Cut!" Warning: mild spoilers ahead.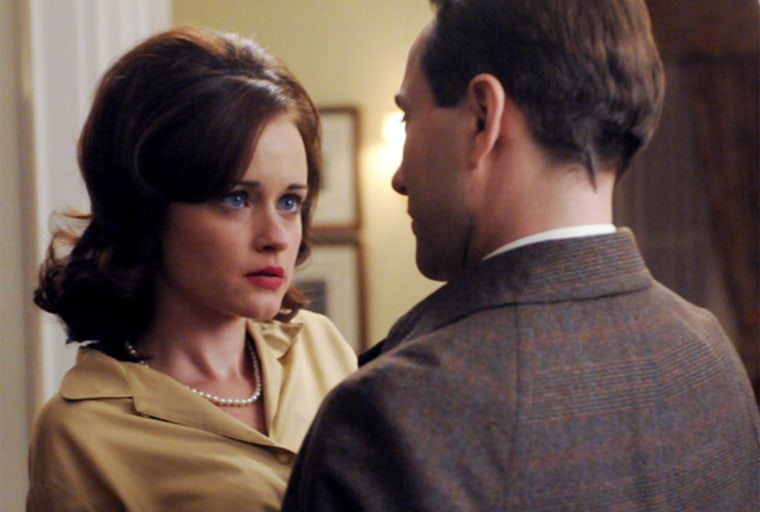 Alexis Bledel and Vincent Kartheiser ("Mad Men")
On the show: Kartheiser's flawed Pete Campbell is married, but can't resist the charms of Beth Dawes (Bledel), who has troubles of her own.
In real life: With a courtship that began around the time Bledel showed up on the "Mad Men" set in 2012, the couple married in June 2014.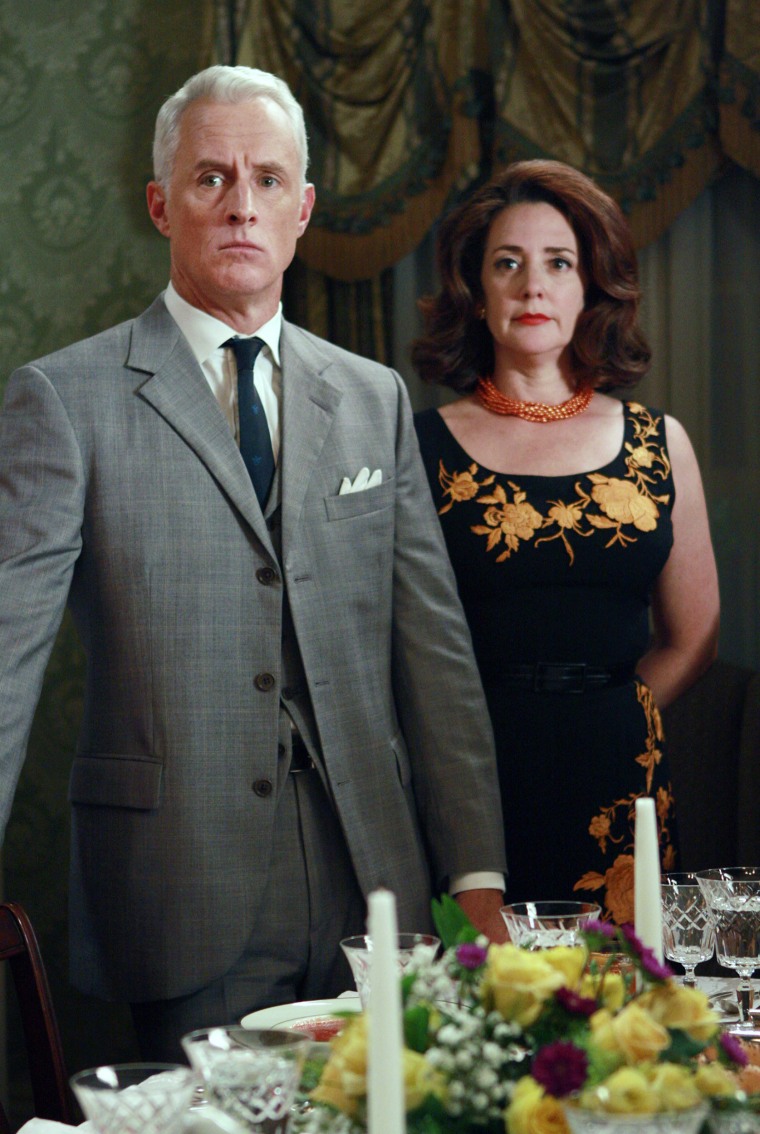 Talia Balsam and John Slattery ("Mad Men")
On the show: Roger Sterling's wife Mona became his understandably exasperated ex-wife, but they did their best to keep things civil in times of trouble.
In real life: The "Mad Men" set seems particularly conducive to relationships. Slattery and Balsam were married in 1998 and, despite their characters' conflicts, seem anything but "Mad" off-camera.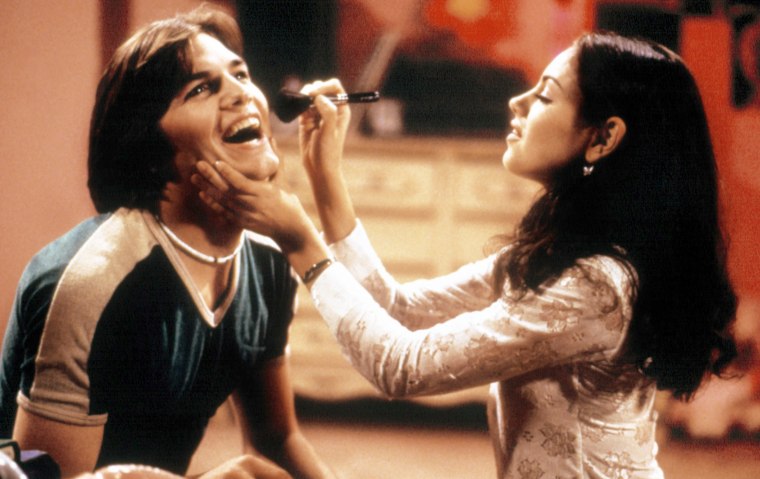 Mila Kunis and Ashton Kutcher ("That '70s Show")
On the show: Kunis' Jackie Burkhart and Kutcher's Michael Kelso shared a natural chemistry on the sitcom.
In real life: That may be the reason they started dating six years after "That '70s Show" wrapped in 2006; they put a ring on it in July.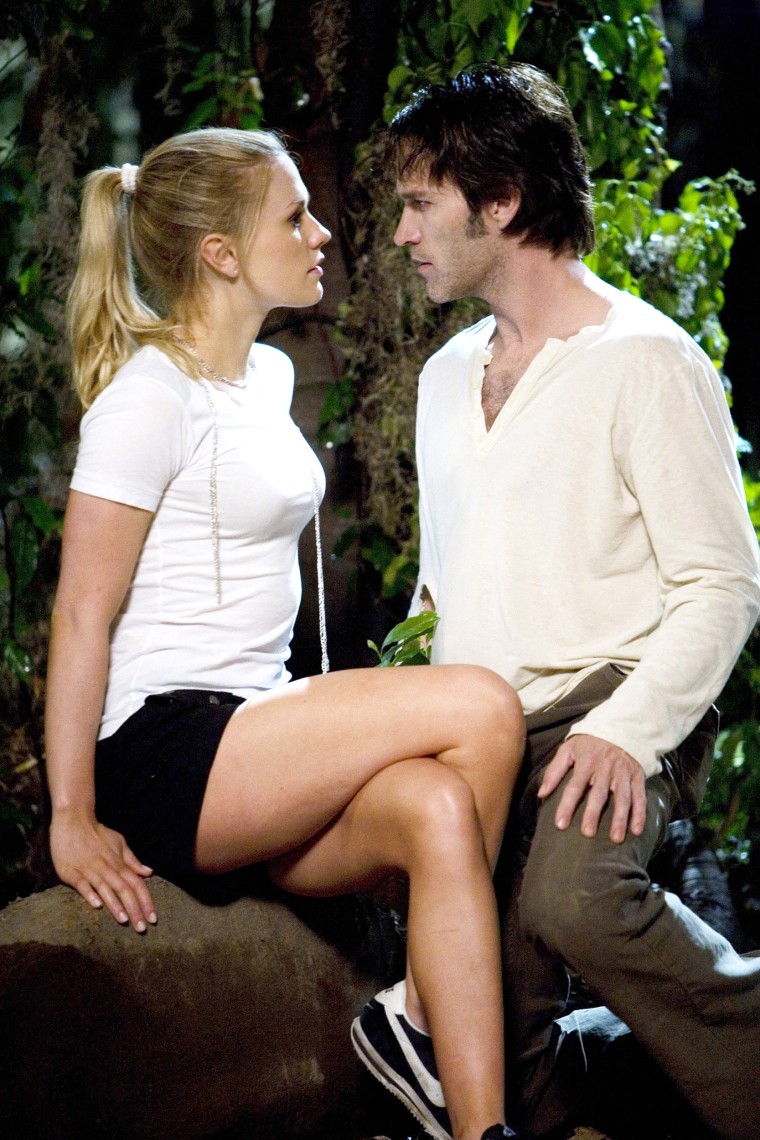 Anna Paquin and Stephen Moyer ("True Blood")
On the show: Paquin's Sookie Stackhouse and Moyer's Bill Compton vamped it up in the fictional southwest-Louisiana town of Bon Temps.
In real life: Beginning their relationship in 2007, the couple promised to be "True" at a 2010 wedding.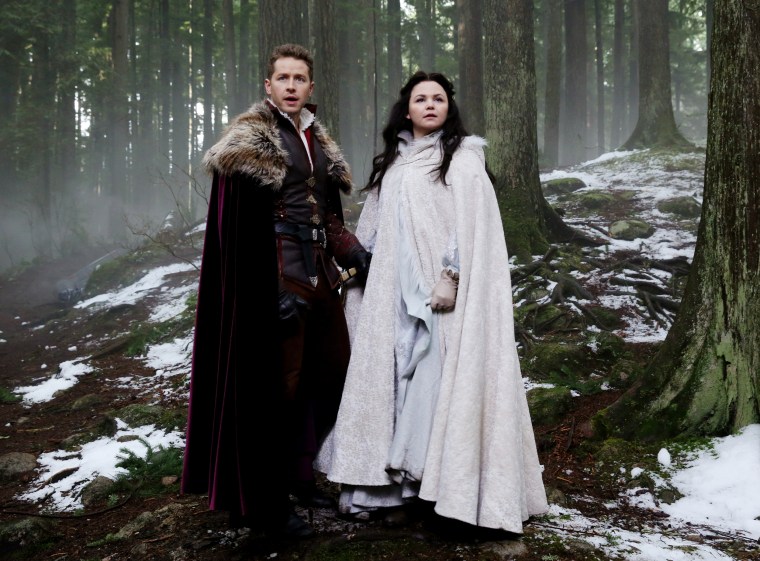 Ginnifer Goodwin and Josh Dallas ("Once Upon a Time")
On the show: Snow White and Prince Charming's storybook romance was pretty much a given.
In real life: So why should real life be any different? Goodwin and Dallas began their relationship in 2011, married in April 2014, and welcomed a son the next month.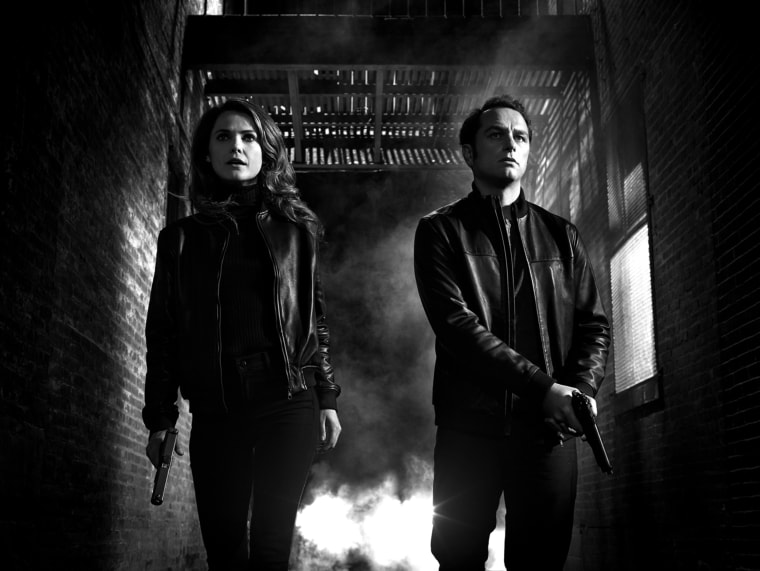 Keri Russell and Matthew Rhys ("The Americans")
On the show: They're married KGB agents with multiple identities.
In real life: They've been in a relationship for about two years, but like their characters' professional lives, they try not to draw additional attention to it.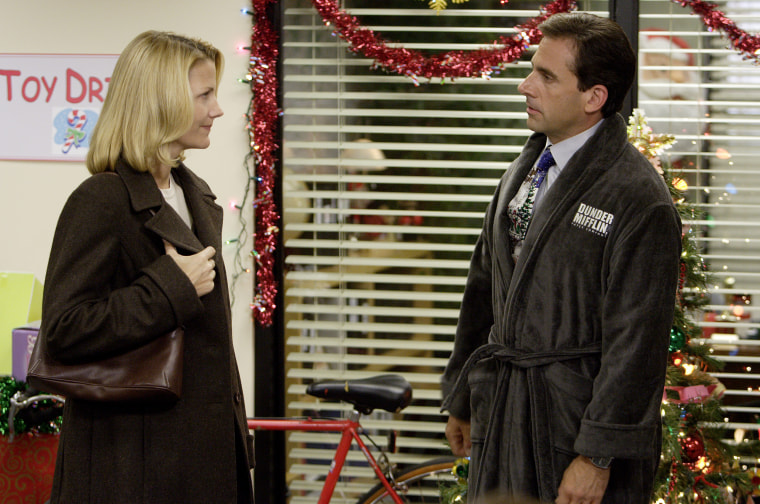 Nancy Carell and Steve Carell ("The Office")
On the show: Carole Stills and Michael Scott had only gone on a few dates when he popped the question; she declined.
In real life: Nancy Carell (née Walls) and the "Crazy, Stupid, Love" star are celebrating their 20th wedding anniversary this year.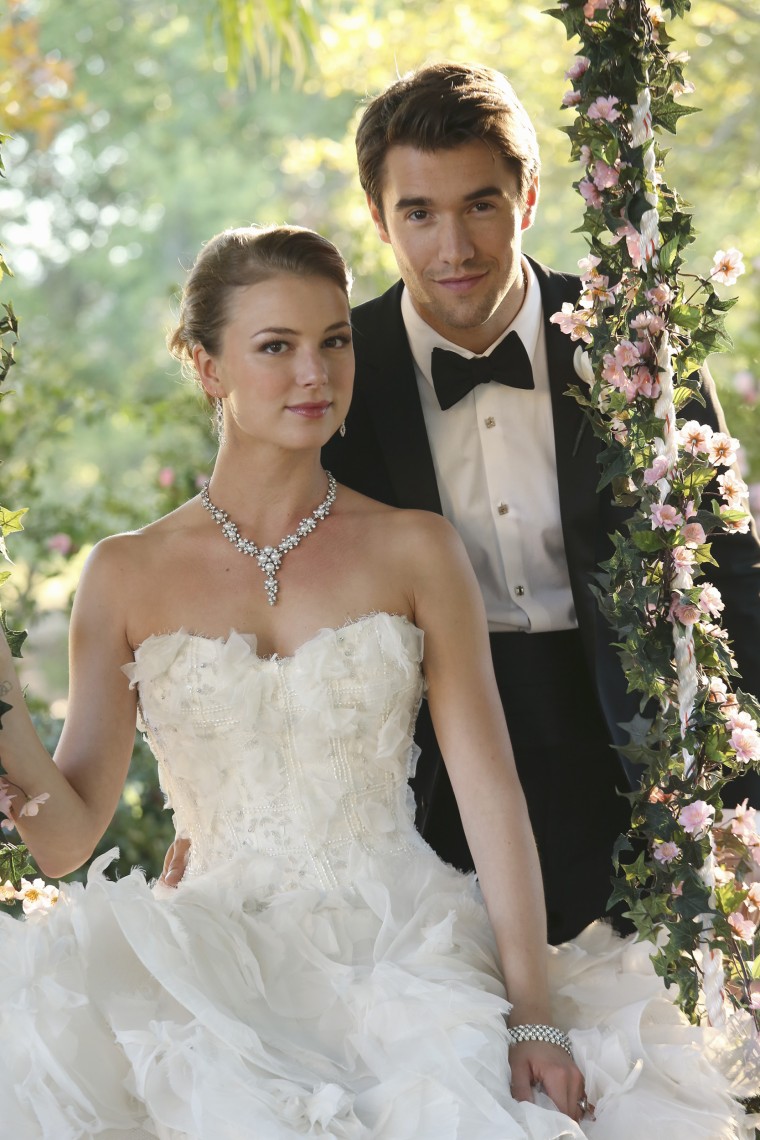 Emily VanCamp and Josh Bowman ("Revenge")
On the show: Emily Thorne and Daniel Greyson got engaged, but that's as far as it got before all kinds of drama went down.
In real life: VanCamp and Bowman have been dating since 2011.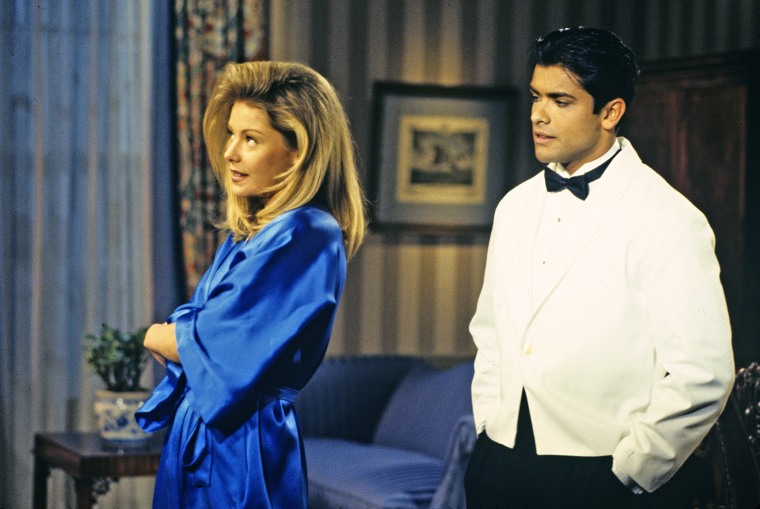 Kelly Ripa and Mark Consuelos ("All My Children")
On the show: Hayley Vaughan Santos and Mateo Santos Sr. heated up the small screen soon after his 1995 arrival in Pine Valley, Pennsylvania.
In real life: Married for almost two decades, their love appears to have all of the soap-opera passion and little of the drama.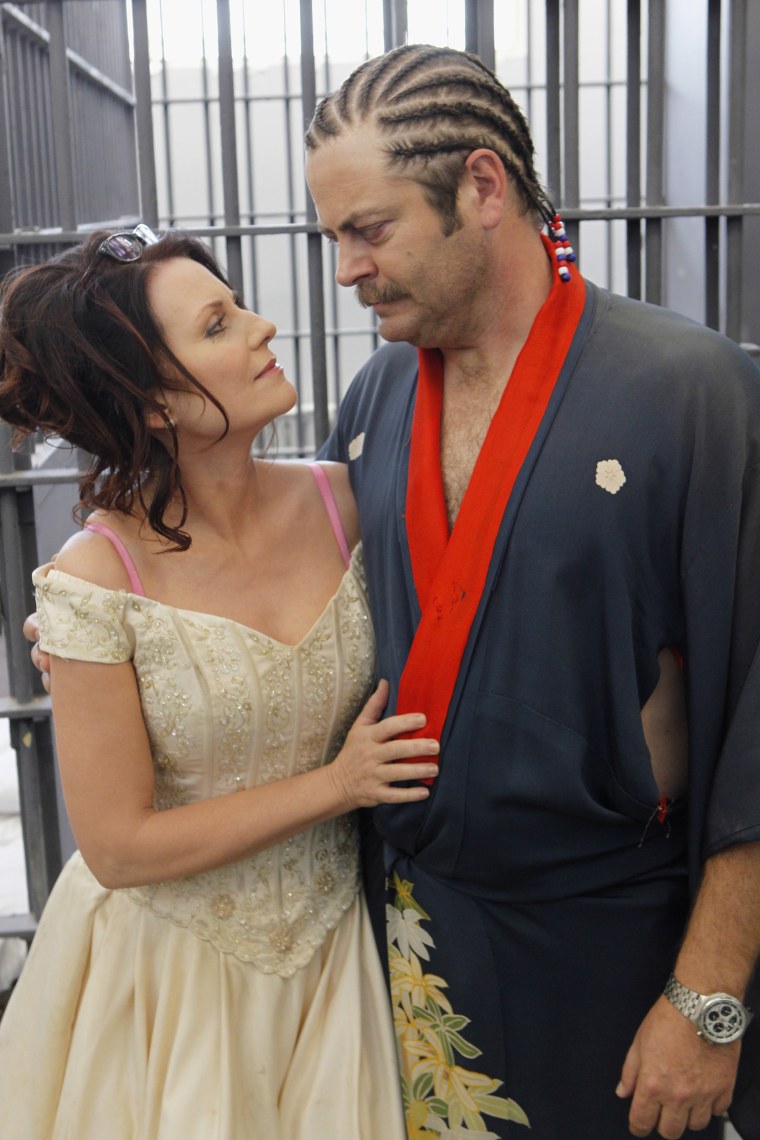 Megan Mullally and Nick Offerman ("Parks and Recreation")
On the show: Tammy Two earned that moniker for being Ron Swanson's second consecutive ex-wife named Tammy. Their dysfunctional relationship was frequently toxic, occasionally torrid and always hilarious.
In real life: Married since 2003, the duo showed off their real-life chemistry when they visited "Late Night with Seth Meyers" last year.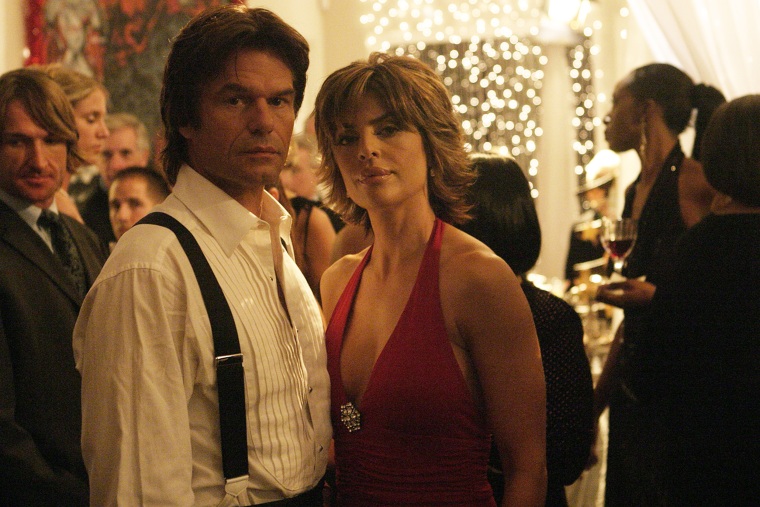 Lisa Rinna and Harry Hamlin ("Veronica Mars")
On the show: Movie stars Lynn and Aaron Echolls appeared to be the perfect Hollywood power couple, but in truth, they were anything but.
In real life: Their relationship is no mystery: They've been married since 1997.
Follow TODAY.com writer Chris Serico on Twitter.