Hola, Tannerinos!
"Fuller House" has finally arrived, and we missed the Tanner family more than we realized.
The much-anticipated "Full House" reboot, which hit Netflix Friday, features a familiar premise: D.J. Tanner (Candace Cameron Bure) is a widowed mom of three sons, and sister Stephanie (Jodie Sweetin) and best friend Kimmy Gibbler (Andrea Barber) move in to help — just as Uncle Jesse (John Stamos) and pal Joey (Dave Coulier) pitched in for single dad Danny (Bob Saget) when the first series premiered in 1987.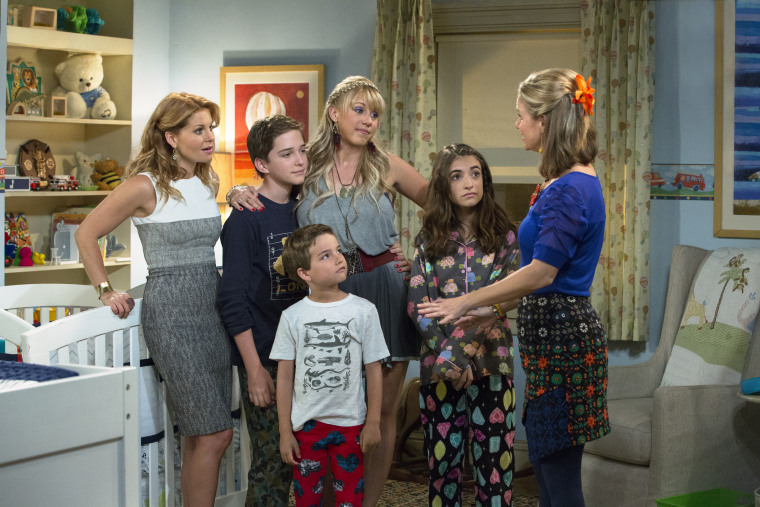 Of course, that's not where the similarities end; "Fuller House" contains more '90s references, delightfully corny catchphrases and winky nods to the original than we can count … but we'll try.
Here are 11 moments from the first six episodes that brought us back.
1. Jesse points out the obvious
Upon sitting down for breakfast, Jesse proclaims, "Before we eat, I have something very important to say … Damn, we all still look good!" Of course, we can't say we disagree — seeing the cast, many of whom have barely aged since the "Full House" finale, together again made us feel as though we time-traveled back to the early '90s. Jesse also makes a valid point: "You guys teased me about the hair cream and all the moisturizer I used to use, but look at my face. It's like a baby's butt, and I've got a beautiful mane."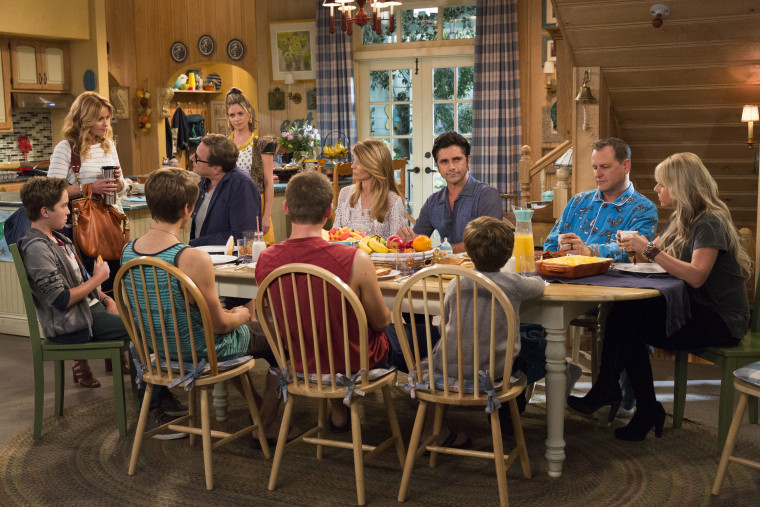 2. Stephanie utters 'how rude'
We'd expected to hear various "Full House" catchphrases, but wondered who would be the first one to prompt Sweetin's irritated retort. Unsurprisingly, it was Kimmy Gibbler, who elicited disgusted looks from all the Tanners when she plopped her bare foot on the kitchen table.
3. The throwbacks in the opening credits
We knew Carly Rae Jepsen's cover of "Everywhere You Look" would serve as the "Fuller House" theme song, but the accompanying side-by-side images of the characters then and now really gave us the feels.
RELATED: First 'Fuller House' photos show Tanners reunited in Netflix reboot
4. Steve tries to woo D.J.
Scott Weinger, also beloved to '90s kids as the voice of "Aladdin," reprises his role as D.J.'s longtime beau. Now a divorced podiatrist, Steve expresses regret that he didn't propose to D.J. at the prom and reminds her that they're both single again. D.J. is quick to friend-zone her high school boyfriend, but admits, "Aww, he is still pretty adorable."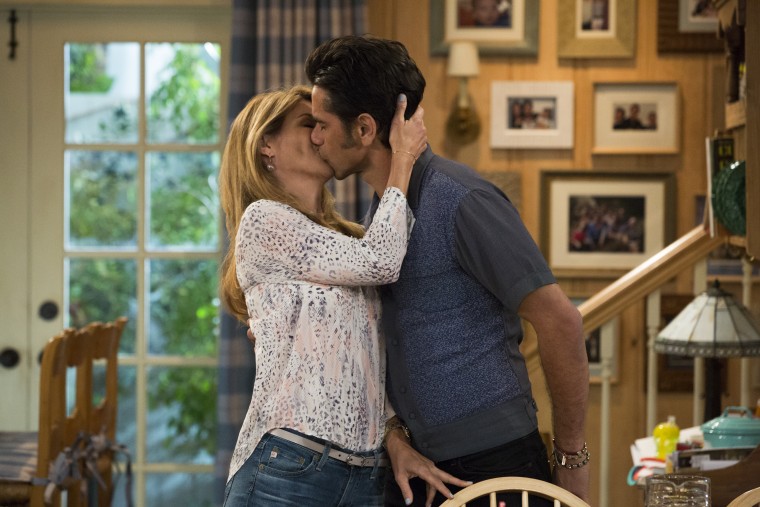 5. Jesse sings 'Forever'
"I've been singing 'Forever' forever," he complains when the gang begs him to sing Jesse and Becky's wedding song, before launching into a serenade. Have mercy!
6. Danny and Kimmy hug
After years of treating Kimmy like an intruder (Jimmy Fallon's Donald Trump even proposed building a wall to ban her from the house in last week's hilarious "Fuller House" spoof), Danny and Kimmy finally embraced, and it was strangely satisfying. "I've been waiting 20 years to hug the king of all huggers," she exclaims.
RELATED: 'Full House' cast reunites to cheer up Donald Trump on 'The Tonight Show'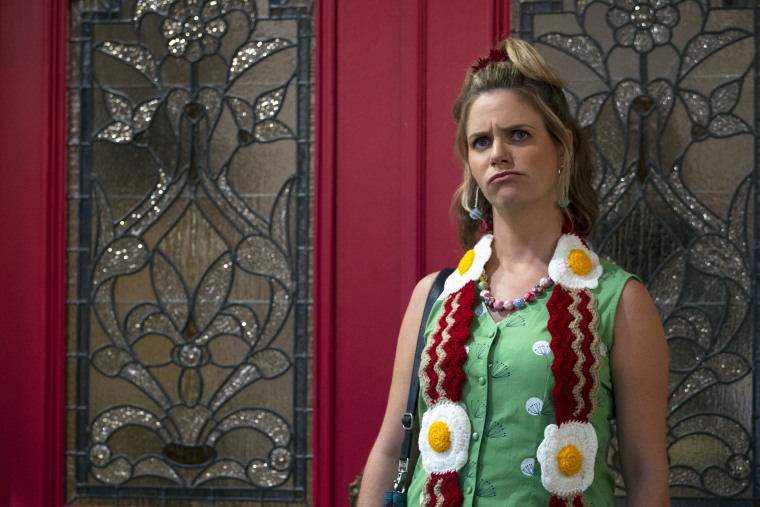 7. They re-create the 'Flintstones' lullaby
When D.J.'s youngest son won't stop crying, the family takes a cue from the 1987 "Full House" pilot and calms him with a spirited sing-along of the "Flintstones" theme song — calling for more split-screen shots of the current and '80s-era Tanners.
8. Joey does his comedic impressions
Not only does Mr. Woodchuck make appearances, but Joey also busts out his Bullwinkle voice while teasing Jesse for his Elvis obsession. Cut. It. Out.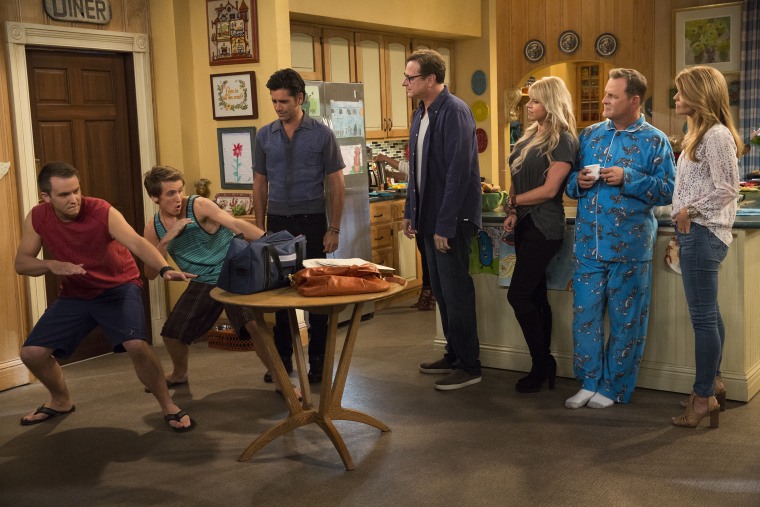 9. Jesse calls out that sentimental music
The sappy background music during the heartfelt learning moments that ended each episode was a major "Full House" hallmark. Jesse explains to D.J.'s oldest son, "We used to hug it out every day in the '80s; sometimes it was so sweet, you could hear violin music."
RELATED: Bob Saget on losing his sister to scleroderma and using comedy to find a cure
10. The Olsen twins get shoutouts
"I changed so many of Michelle's diapers, I felt like there were two of her," Stephanie tells Kimmy during one of multiple references to Mary-Kate and Ashley Olsen, who opted not to return for the reboot. In another scene, everyone looks disappointedly at the camera after Michelle's absence is explained (much like her real-life counterparts, the youngest Tanner sister is "busy in New York running her fashion empire").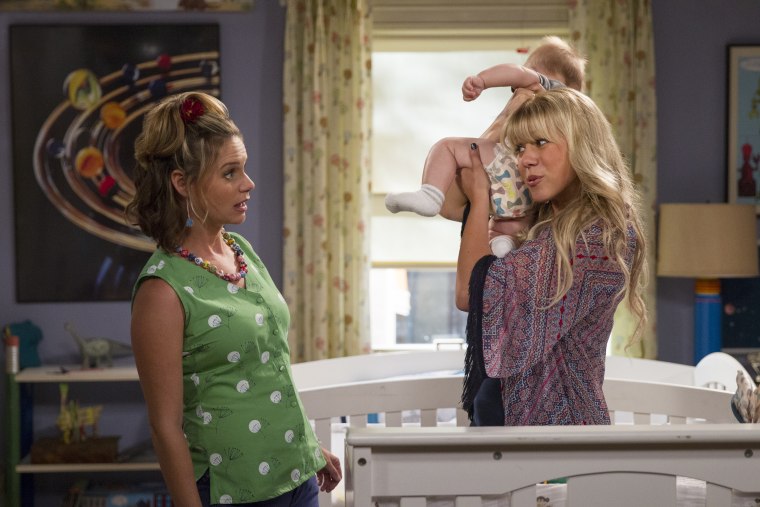 RELATED: How well do you remember 'Full House'? Test your Tanner trivia with this quiz
11. Retro dance moves galore
In the first episode, the gang busts a move to New Kids on the Block, while a later one sees Kimmy offering her take on the running man, the Carlton and the MC Hammer dance. But our favorite? D.J. and Kimmy have the time of their lives winning a dance competition after reenacting a "Dirty Dancing" routine from their fourth-grade talent show.