/ Source: Entertainment Weekly
The Who take the field when the teams catch a breather on Sunday; see past MVPs on the NFL's big stage, from Prince to Bruce to Britney.
Prince (2007)Naturally, Prince doesn't do anything unless it's utterly dramatic, and his Super Bowl debut was no different. In this case, he performed a medley including Queen's ''We Will Rock You''; his hits ''Let's Go Crazy'' and ''Baby, I'm a Star''; Creedence Clearwater Revival's ''Proud Mary''; Bob Dylan's ''All Along the Watchtower''; and, oddly enough, Foo Fighters' ''Best of You.'' It all crescendoed into a downpour on his logo-shaped stage and a spirited rendition of ''Purple Rain,'' which included the now-infamous shadow projection that had Prince's guitar protruding suggestively from his hip.
Bruce Springsteen & The E Street Band (2009)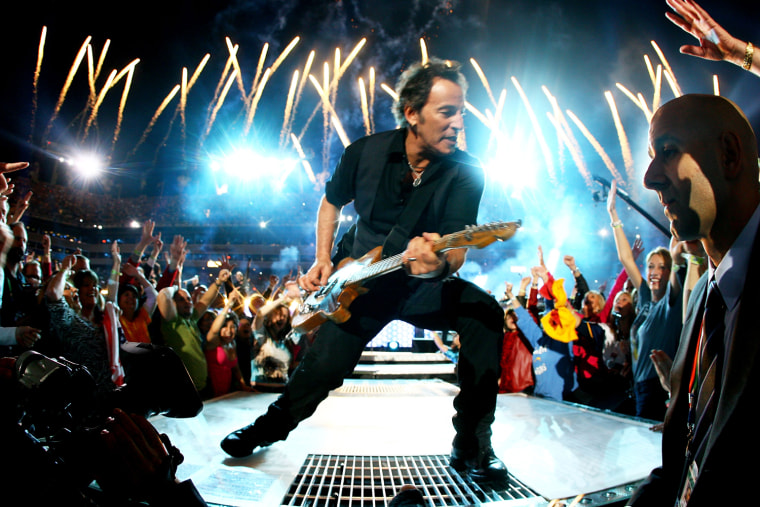 The older the better: That seems to be the mantra of late when it comes to selecting the Super Bowl's halftime entertainment. (Tom Petty? Paul McCartney?) But The Boss proved last year that he's still born to run — and rock — with a rollicking 12-minute set of some of the band's biggest hits, including ''Tenth Avenue Freeze-Out'' and ''Glory Days.'' He even executed his signature move (sliding across the stage on his knees) without injury. He may have been 59, but Springsteen still had all the right moves.
Michael Jackson (1993)Doubles of the King of Pop entered the stadium from each corner before the real Michael Jackson stood up and performed a medley of his hits: ''Jam,'' ''Billie Jean,'' and ''Black or White.'' The truly big production, though, came in the finale when he sang his do-gooder single ''Heal the World,'' complete with the audience holding cards that created images of children from across the globe; a video montage of his various humanitarian efforts around the world; and a choir of 3,500 local L.A. children.
Janet Jackson/Justin Timberlake (2004)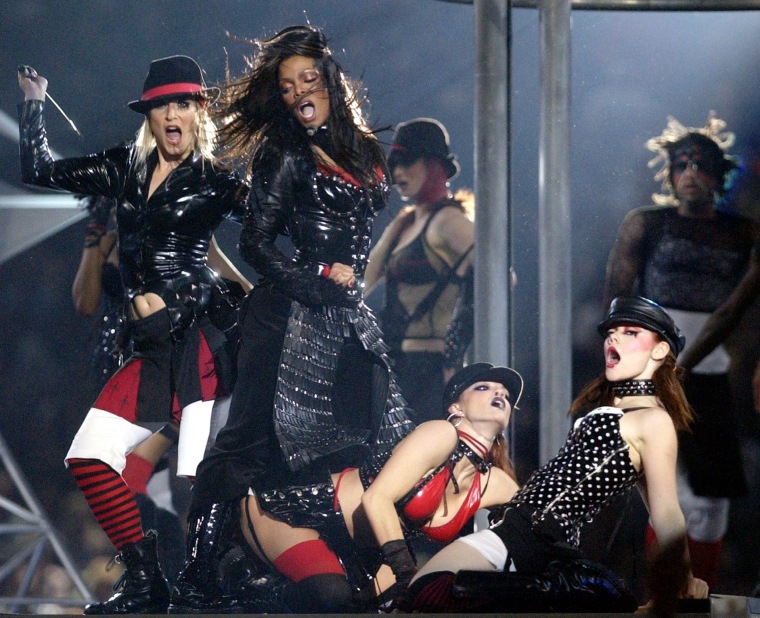 The halftime show started modestly enough — Jessica Simpson, a couple of college marching bands, Janet Jackson, P. Diddy, Nelly, and Kid Rock all took the stage. But when Jackson returned for an encore, Justin Timberlake appeared for a duet of his hit ''Rock Your Body.'' Before most viewers knew what was happening, the former boy-bander ripped away her bustier, revealing her breast for a mere second. The most entertaining part of this performance may just have come after it was all over, as the media firestorm around the indecent exposure raged on for months.
U2 (2002)
In probably the most moving Super Bowl halftime performance to date, Irish rockers U2 first performed ''Beautiful Day'' and ''MLK'' before launching into a touching rendition of ''Where the Streets Have No Name'' that featured backdrops scrolling the names of the 9/11 attack victims into the sky. In another spirited move during a time when the nation so needed it, Bono opened his jacket to reveal — we'll pardon the fashion faux pas — an American flag sewn into the lining.
The Rolling Stones (2006)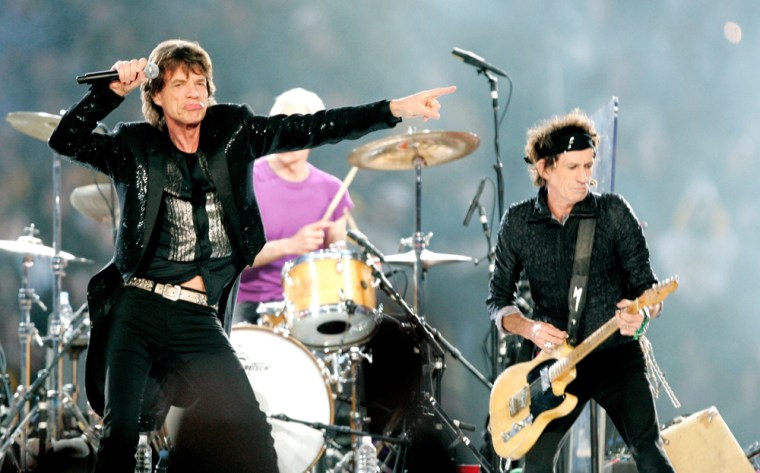 On a stage shaped like their iconic tongue logo, the Stones rocked out to ''Start Me Up,'' ''Rough Justice,'' and ''(I Can't Get No) Satisfaction.'' Despite the censorship of some of their lyrics (this was a post-Janet/Justin world!) and a five-second delay, Mick and Co. still managed to delight audiences.
New Kids on the Block (1991)
Consider this the lost Super Bowl halftime performance. Because ABC News cut in with a report anchored by Peter Jennings on the progress of the Gulf War at the game's break, New Kids on the Block's harmonies (the show was titled ''A Small World Salute to 25 Years of the Super Bowl'') were moved to postgame. Unfortunately for the Kids, lots of ABC affiliates ran the first episode of Davis Rules instead.
Britney Spears/Aerosmith (2001)The height of the pop boom saw old school (Aerosmith, Mary J. Blige, Tremors featuring the Earthquake Horns) meet new ('N Sync, Britney Spears, Nelly). A back-and-forth medley between Aerosmith and 'N Sync — including ''Jaded,'' ''I Don't Wanna Miss a Thing,'' ''Bye Bye Bye,'' and ''It's Gonna Be Me'' — was outshone only by a finale performance of Aerosmith's ''Walk This Way,'' which featured all the singers.
Patti Labelle (1995)It was a Disney-tastic show, titled ''Indiana Jones and the Temple of the Forbidden Eye,'' all meant to promote the latest Disneyland attraction. Most of it was cheesy, sure, but diva Patti LaBelle saved it with a rousing, screaming, melisma-laced rendition of her hit ''New Attitude'' and by leading an everybody-now finale of ''Can You Feel the Love Tonight'' from The Lion King. And she did it all while looking like a crazy princess from the Indiana Jones movies.
Up With People (1986)Can you believe Up With People were Super Bowl halftime entertainment for four years in the '70s and '80s? This, their last halftime performance, was titled ''Beat of the Future'' and featured dancers portraying various scenes of the — you guessed it! — future. Of course, they were as campy and (yes, I'll say it) ridiculous as ever.