After you decide who gets what in your inner circle of family and friends, it's time to hunt down gifts for distant relatives, newfound pals and business acquaintances. You've set a price range, $25 or less, but you're tired of buying the same old stuff-scented candles, hand lotion and mittens no one wears. So this year, consider something practical, something sweet or perhaps, something warm that's really neat.
Coffee, tea and table conversationsA few months back, I left my trusty stainless steel OXO travel mug on the subway on the way to work. What I liked about the OXO thermos was it didn't leak and the coffee stayed warm until the early afternoon.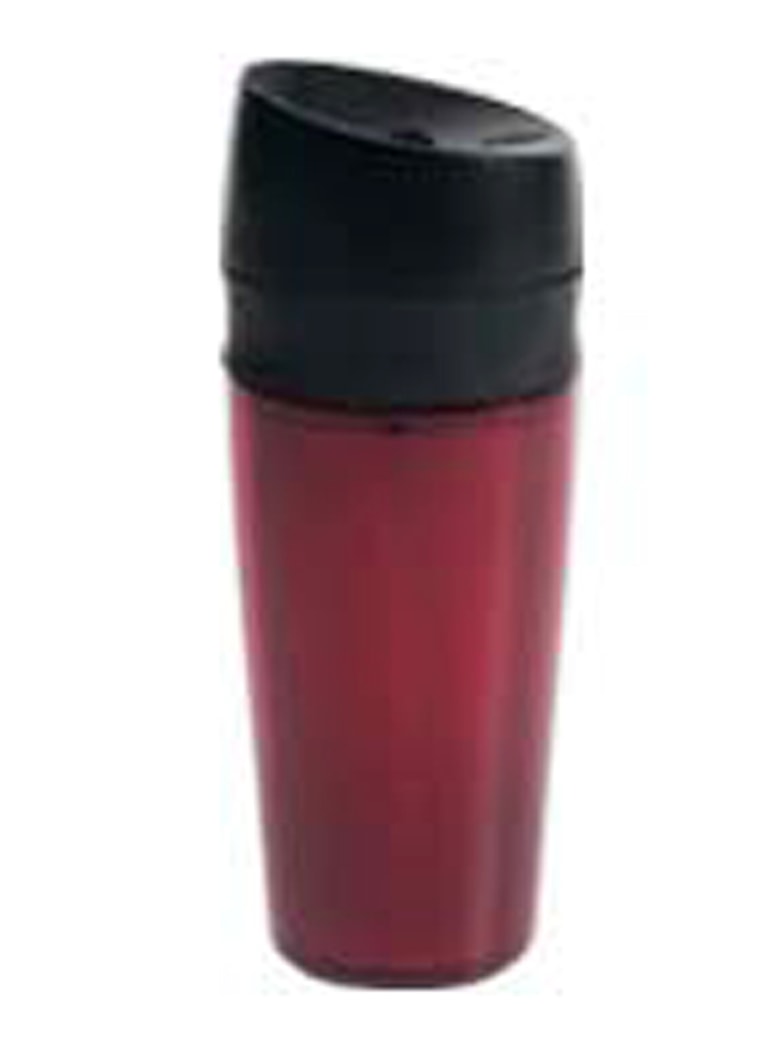 In fairness to other mug-making companies out there, I felt compelled, however, to check out a different brand when I replaced it. The day after I lost my mug, I eyed and couldn't resist a super-shiny fluorescent orange container on sale at Starbucks for about $9.99. The coffee didn't stay warm for more than an hour, if that.
I then bought what I thought was the cream de la crème of mugs — the Nissan stainless steel Thermos travel tumbler for about $19.99. The very first day I used the container, it leaked all over the contents of my briefcase.
In the end, I bought another OXO mug. The three silicone seals ensure no spills and the double wall plastic construction keeps liquids hot for up to seven hours.
This holiday season, those seeking travel tumblers can take joy in the new OXO travel mug, which comes in four festive colors-red, green, blue or gray.
The mug cost $9.99-half the price of the original stainless steel variety-and is sold online at OXO and other household goods shops online, such as Lowe's, Bed, Bath and Beyond and Cooking.com.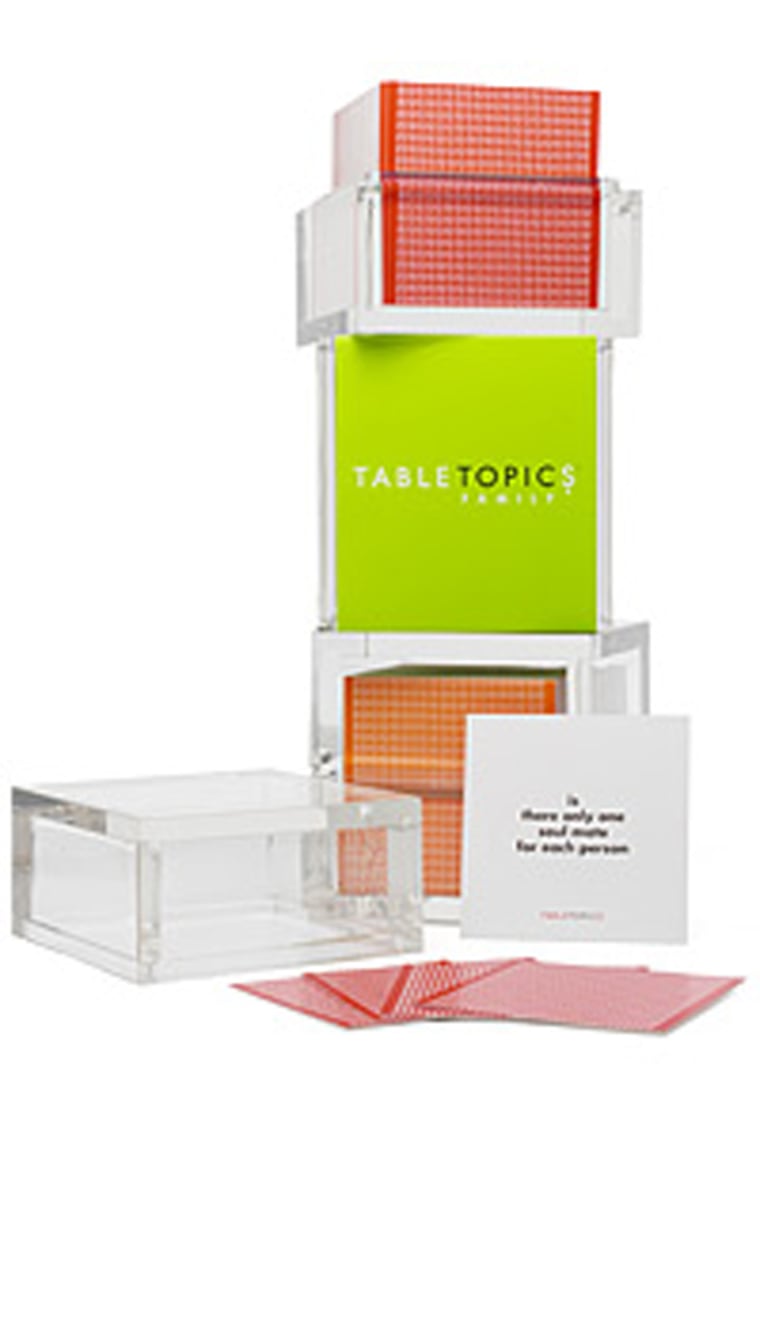 Oddly enough the more information available to us the less we seem to know or are able to converse about-hence, the popularity of board and card games, such as Table Topics. Packaged in a 4-by-4 inch clear Lucite box, each Table Topics holds a deck of 138 cards with statements or questions designed to spark lively conversation. Available in three editions —original, teen and family-most queries air on the serious side, such as "Should generosity come from self-interest or obligation?" or "What one thing would you like to change about the world?"
Even if the cards can't jump start lackluster conversations, Table Topics is worth the $24 just for the Lucite box, which after you tire of the cards, can be used to store jewelry, office supplies and other small baubles.
The conversation starter cards are available at the company's cyber store, specialty stores nationwide and online shops, such as UncommonGoods and Shop Intuition.
Stowaway totes, muffs and more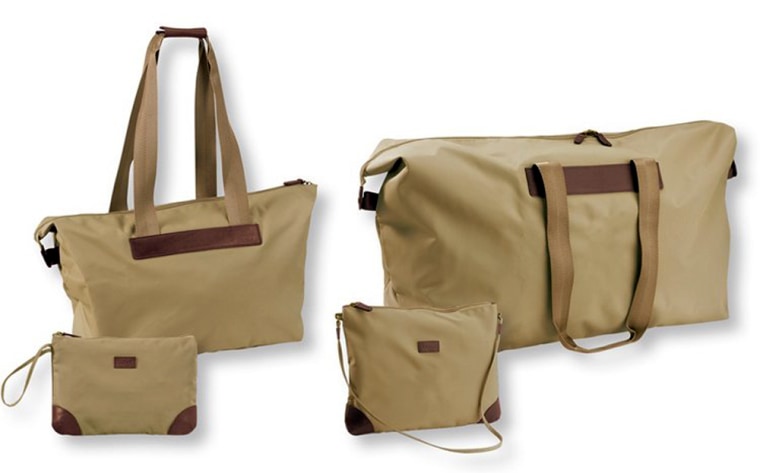 Despite its reputation as an outdoor shop for yuppies, in the age of designer wares and luxury goods, L.L. Bean is still about value. And this season, with free shipping through Dec. 22, it's hard not to find at least one gift worthy item at the Freeport, Maine-based shop.
I settled on the stowaway tote, a fold-up tote within a zippered bag. And yes one can't have too many bags but it's more than that. The quality is remarkable for the price. The bags are not only made of sturdy nylon twill but also are reinforced with a leather trim. The price for the quality can't be beat — $19 for small, $24 for large. Totes come in six colors: black, dark loden, navy, tan, purple and red.
Ear muffs that wrap around the back of one's head are everything this season, from the classic 180s for as low as $19.99 at Campmor.com to wraparound muffs for less than $25 at the Gap. But some guys just can't give up that baseball cap, no matter the season. The solution: the ball cap ear band, a fleece band that features a special slit for the cap's bill. The ear band, which costs $19.95, is available at Plow and Hearth.
Carbs to Chardonnay brittle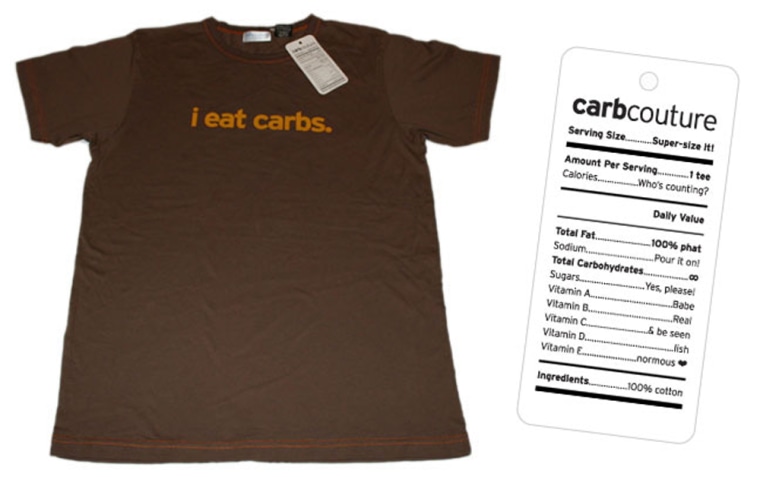 Despite some headway advertisers have made by featuring "real" women in their commercials, anorexia-looking women still dominant in magazine and television ads, and carbs remain high on Americans' hit list. In the spirit of some fat is good, I found and feature here a T-shirt that boasts "i eat carbs." The brown T-shirt with orange stitching is available at Alternative Outfitters, a cyber-only shop that stocks non-leather and cruelty-free products. Priced at $22, the T-shirt only comes in medium and large. Sorry, no small.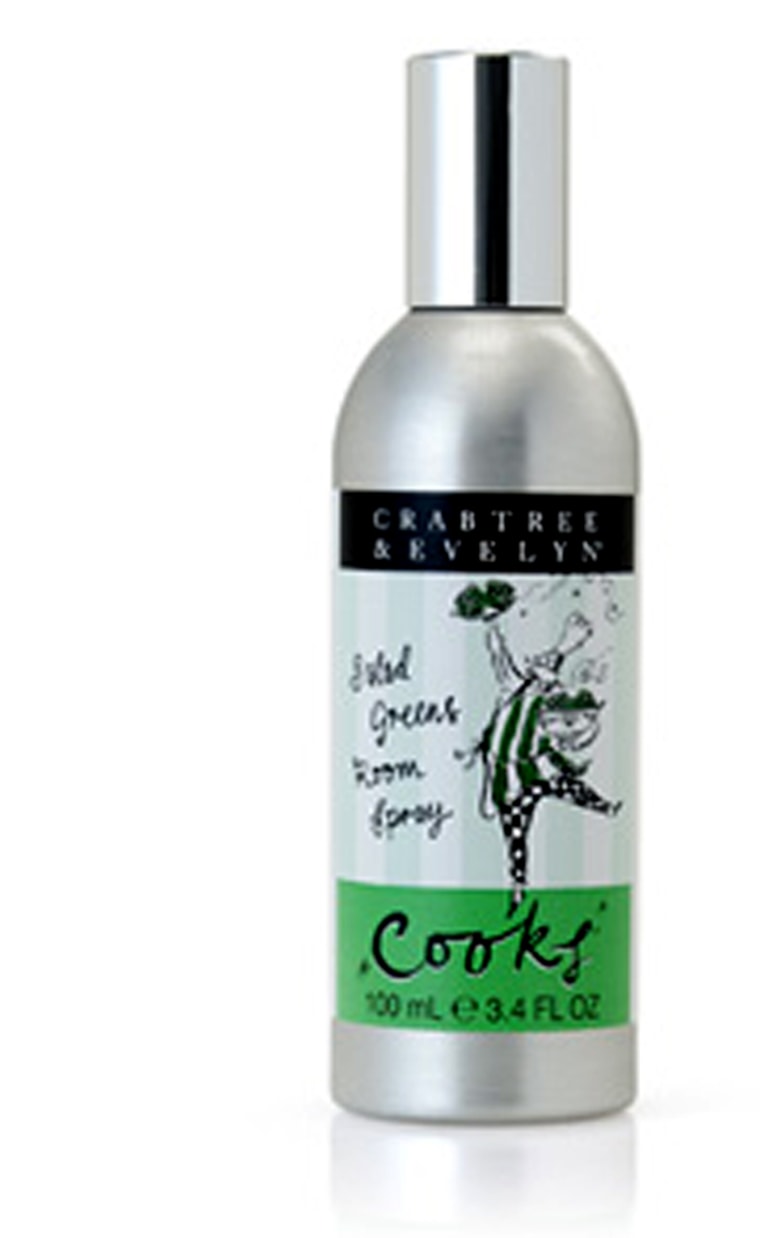 Forget cinnamon and spice and everything nice. In lieu of cheap scented candles this season, check out the room sprays courtesy of Crabtree & Evelyn's. The room sprays come in four delightful food-scented fragrances: salad greens contains the aroma of dill and cucumber; citrus combines the soft scents of pink grapefruit, orange and lemon; gingered orange airs on the traditional side; and mulling spice brings us back to everything nice.
Perfect for the foodie on your list, each 3.4 fluid-ounce container sells for $15 for at Crabtree & Evelyn stores nationwide and online at crabtree-evelyn.com.
What's the holiday season without something edible to give or simply to indulge in? It's hard to top peppermint bark when it comes to holiday treats at Williams Sonoma but Brent's Chardonnay Wine Brittle may outrank the peppermint sweet this season. The rich butter treat, filled with fresh peanuts, is a delight to the palate that favors a salty-sugary taste in one bite. Each batch is made by hand at a small Napa Valley, Calif.-based shop. The 12-ounce box costs $15. There's also a beer brittle for those who prefer a slightly heartier brittle.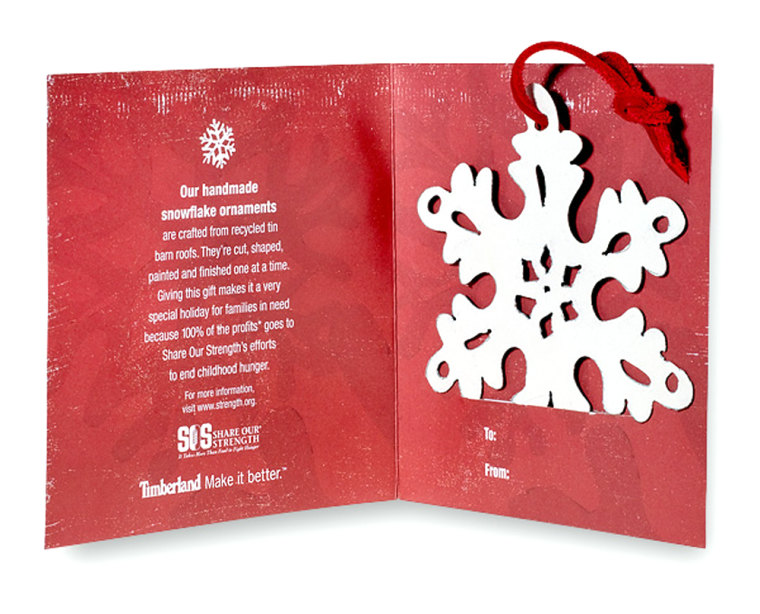 Roof-top snowflakes, sunflowers, sturdy stockings I've heard it said no two snowflakes are alike. In the same fashion, each snowflake ornament at Timberland this season is unique. Better yet 100 percent of the profit ($1 from each $5 ornament) is donated to Share Our Strength, a Washington-based group engaged in the fight against hunger and poverty. The 5-inch diameter ornaments, made from recycled tin barn roofs, make great stuffers.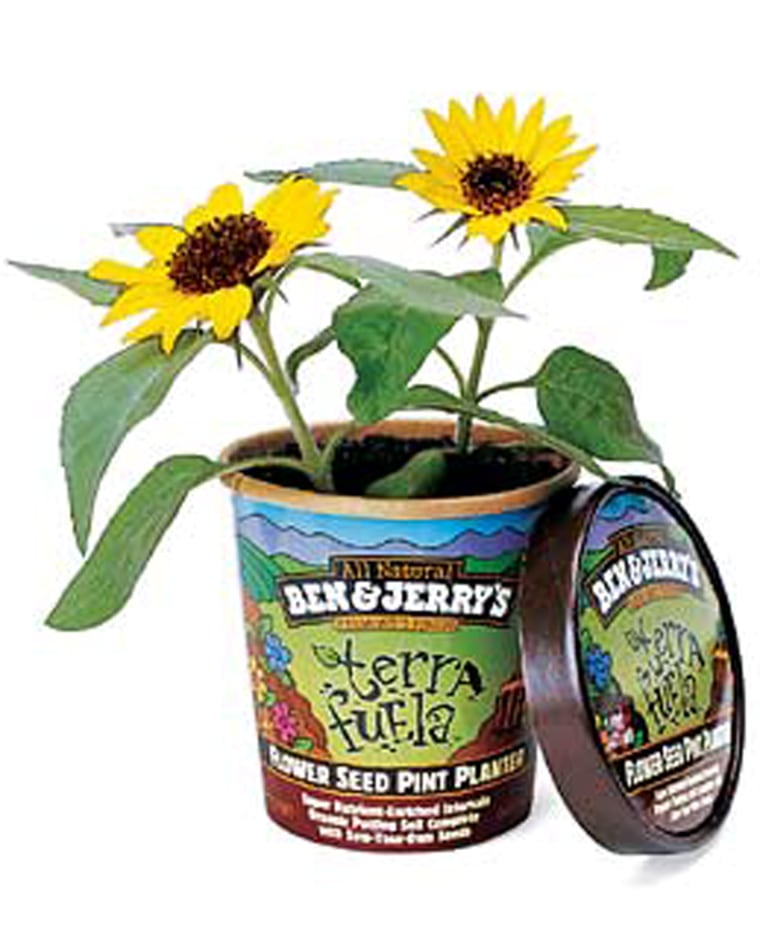 Tree in a box, house plants, even cactus garden-all nice but been there, done that? This holiday season, how about a sunflower kit in a Ben & Jerry's planter, a.k.a. an ice cream container? The kit, called Terra Fuela, which comes with seeds and organic compost, only costs $5 at Gardener's Supply Company. Hmm, maybe next year you can hang the snowflake ornament from the sunflower.
There has to be at least one stuffer on the stuffer list that is a stuffer itself. Once again, Duluth Trading came up with a creative idea — an industrial strength stocking. Made of "near-bulletproof 12-ounce Fire Hose cotton canvas," the stocking is supported by bright red suspenders. It also has a few outside pockets for little stuffers, such as candy canes or diamond rings. The 11-by-19-inch stocking costs $19.50 and is unlikely to wear out before you do. Stuff it well.