/ Source: msnbc.com news services
Andy Warhol's very first self-portrait injected the energy that been missing back into spring art sales Wednesday when it soared to $38.44 million at Christie's post-war and contemporary art auction.
The sale totaled $301.68 million, beating the high pre-sale estimate, and set records for several artists. Only three of the 65 works on offer failed to sell, for an extraordinarily high sell-through rate of 95 percent.
The total was Christie's highest since May 2008, just before the financial crisis sent prices into a steep decline.
The auction was dominated by eight Warhols, which took in a total of $91 million.
Bidding war
But the star was "Self-Portrait," a four-panel acrylic silk-screen from 1963-64 in hues of blue depicting the pop artist wearing a trench coat and sunglasses.
It was sold by the family of Detroit collector Florence Barron, who commissioned the work for $1,600 nearly half a century ago, making payments on an installment plan.
Two determined bidders competed in a protracted, 16-minute bidding war, with a private European collector prevailing.
"I really believe my mother-in-law would have been ecstatic," Nora Barron said after the sale.
"She loved the picture, she loved Andy and I truly believe she would have loved tonight," she told Reuters.
The $38.44 million sale price was the highest ever for a Warhol portrait.
'Conservative estimates'
Christie's officials were elated with the results, which came after a series of mostly flaccid sales at the auction powerhouses over the past two weeks.
Laura Paulson, Christie's senior international director, said that while the art market "hasn't yet fully returned to what it once was," the sale spoke to "the depth of energy and interest if the quality is there."
Brett Gorvy, international co-head of contemporary and post-war art, said the strong prices were "indicative of a market where estimates are considered, and fair.
"We approached this sale with conservative estimates," he added.
A 1986 Andy Warhol self-portrait that was among the last of his paintings exhibited while he was alive also sold for $27.5 million.
The stark red-on-black "Self-Portrait," measuring almost 9 square feet, is considered a landmark work by the American Pop artist. Created toward the end of his life, it shows the artist, with hair spiked, looking directly at the viewer. It had been estimated to bring up to $40 million.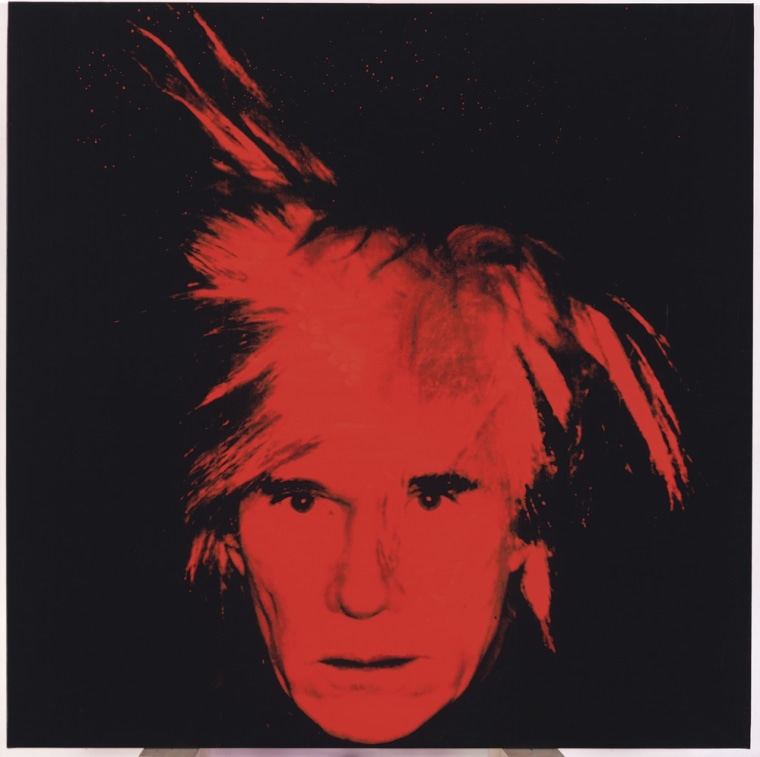 The acrylic and silkscreen on canvas was one of two red-on-black self-portraits that were first exhibited in London, at the Anthony d'Offay Gallery, in 1986, just six months before Warhol's death. The other one is at the Guggenheim Museum in New York, donated by Ann and Anthony d'Offay in 1992.
The painting is among seven monumental self-portraits that Warhol painted in 1986. The rest are in museums or in foundations.
The auction record for a Warhol is $71.7 million, for "Green Car Crash."
Warhol died in February 1987 at age 58 from complications following surgery.
Other highlights included an untitled Mark Rothko from 1961 which fetched $33.7 million, soaring far past the high estimate of $22 million.
Records were set for Cy Twombly, whose untitled 1967 work sold for $15.2 million; and Cindy Sherman, whose 1981 untitled color print fetched $3.89 million, breaking the record for any photograph at auction.
Richard Diebenkorn and Urs Fischer also set new records.
Francis Bacon's triptych, "Three Studies for Self-Portrait" sold for $25.3 million, right around the estimated price.
While Christie's said the sale saw strong U.S. bidding, who made up 61 percent of the buyers, four of the six top-priced lots were bought by European collectors.
The sales wrap up Thursday at Phillips de Pury's contemporary art sale, led by Warhol's "Liz #5," which is estimated at $20 million to $30 million.