Dexter's marriage fizzled shortly after the wedding, but it's OK. Really. He's in a good place.
That's because Dexter is a cocker spaniel. And, like most dogs, cocker spaniels are masters of living in the moment and sniffing out new adventures.
"He's moved on and he's with a blonde now," said a chuckling Carol Bryant, Dexter's human mom and a veteran pet blogger who arranged Dexter's dog wedding for charity. "His marriage sure was good while it lasted, though."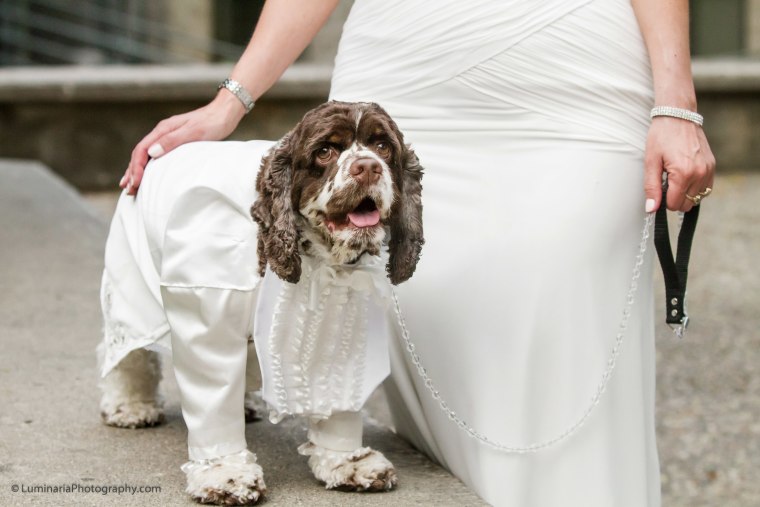 Bryant said Dexter's "pawnuptials" were a blast — far less drama-infused than many human weddings, in fact. And the blissful memories from that day just keep on giving: Dexter is one of dozens of dogs who won a photo contest and got tapped to make cameo appearances during the opening credits of "The Dog Wedding."
The movie — playing in New York now and opening in Los Angeles on Friday — chronicles the quirky saga of two bulldogs, Prince and Queenie, who hit it off at a dog park and irresistibly dash toward a dog wedding of their own. In the process, their human parents — a stressed-out German businesswoman tasked by her father with wringing efficiencies out of a pickle empire, and a burly, tattooed American wrestler grieving the death of his mother — fall in love.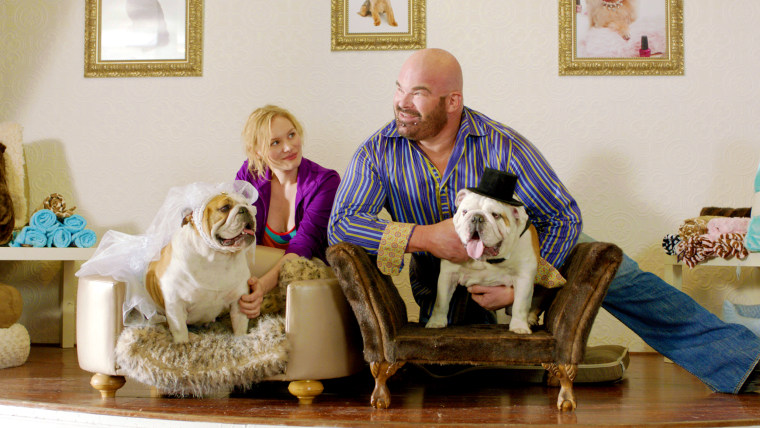 Although "The Dog Wedding" is fictional, the movie's existence confirms that dog weddings are most definitely a thing.
See some of the adorable winning entries from "The Dog Wedding" movie's photo contest.
"Dogs are family," Dena Simons, wedding coordinator for "The Dog Wedding," told TODAY. "People across the world are giving them — and themselves! — their special day."
But … why?
Lots of reasons, but one tends to rise above the rest: Charity. Bryant has attended four dog weddings, and she said many of the events double as effective fundraisers for animal rescue groups and shelters. Dexter's 2013 "Wigglebutt Wedding," for one, raised money for Oldies But Goodies Cocker Rescue.
"The face of pet rescue has changed, and these are the things you need to do to get people's attention," Bryant said. "And people love it! They love to see their pets dressed up, and they love to do things with their pets. They don't want to leave them at home all the time."
The most lavish dog wedding ever thrown (with an estimated price tag of more than $270,000, it garnered a Guinness World Record) also raised money and awareness for charity. The brainchild of lifestyle expert and animal advocate Wendy Diamond, the 2012 union of Baby Hope Diamond (a Coton de Tulear) and Chilly Pasternak (a Virginia poodle) benefited the Humane Society of New York — and blew people's minds.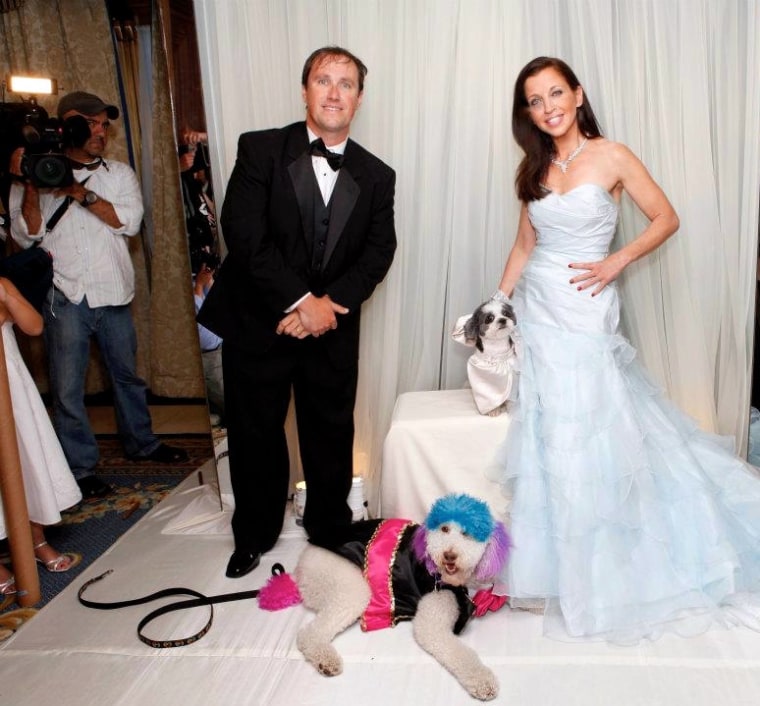 The philanthropic fete raised enough money to pay for a critical care wing at the Humane Society in honor of Lucky Diamond, another of Diamond's rescue dogs, who died of spleen cancer.
"Chilly and Baby Hope's wedding is a perfect marriage," Diamond said. "They don't live or sleep together — they just promote animal welfare together!"
Other dog weddings have been making headlines in recent years for their size, scope and star appeal. When John Legend and Chrissy Teigen's dogs Puddy and Pippa got hitched for charity last year, Legend serenaded them with his hit song "All of Me."
Rescue "ambassadogs" Titus and Hailey made people swoon when they united in holy muttrimony in 2013.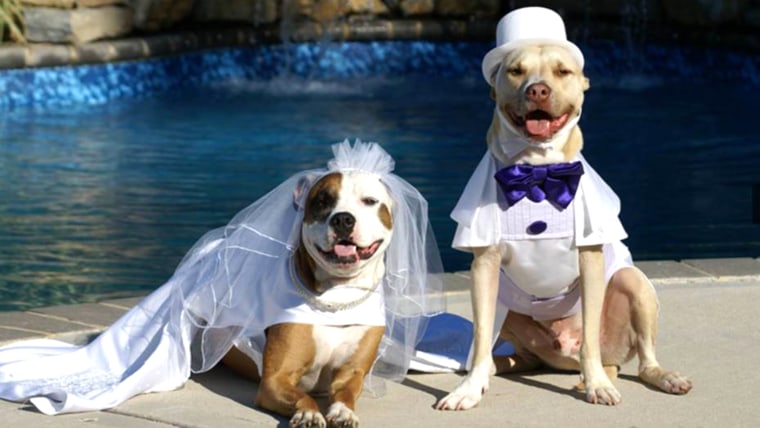 Likewise, Instagram celebrities and puppy mill survivors Toast and Finn nearly broke the Internet earlier this year with wedding vows that included zingers like "Speak now, or forever hold your pee."
Events like these aren't limited to the United States, either. Just this month, 5,000 people attended a dog wedding in India.
Not all dog weddings are as attention-grabbing. Bryant, 47, of Pennsylvania, said many are arranged by dog-loving folks who just want to have a howling good time, and many take place in backyards. (After all, dog-friendly wedding-reception venues can be hard to find.)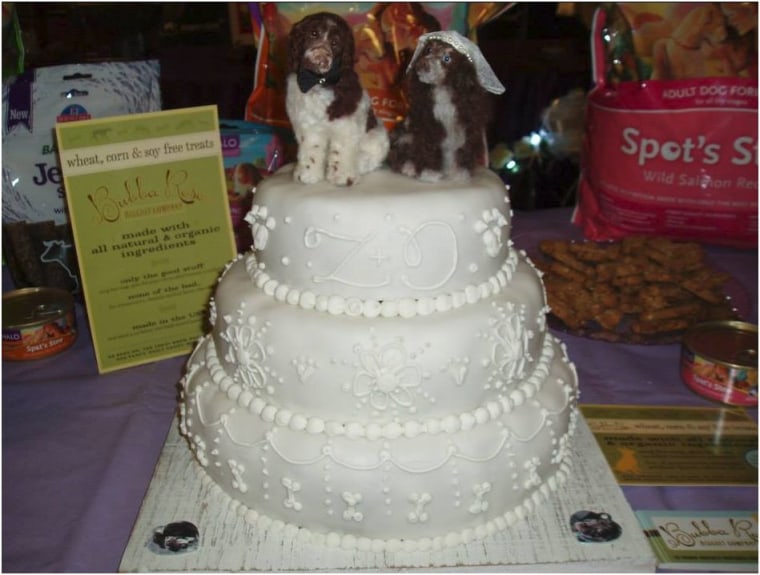 "A lot of us don't have kids or don't want kids, or our kids are grown and gone, and some people don't get married themselves," Bryant said. "This can be a way to live vicariously through your dog.
"If you're a dog person, you don't feel odd when you attend one of these. You're around other people like you. It's fun!"
The wedding Bryant planned for Dexter included a decked-out doggie bridal party with a maid of honor, a best man, four bridesmaids and four groomsmen. The bride and groom exchanged dog tags instead of rings, and the groom was invited to "sniff the bride."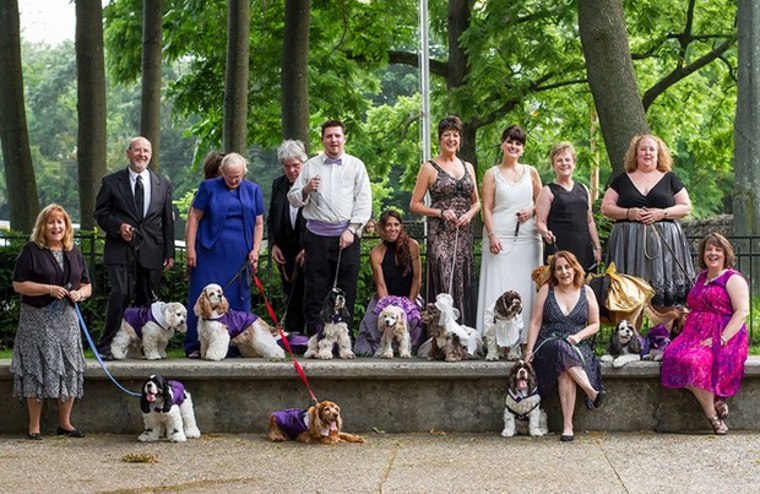 At one point Dexter stepped on his new wife Zoe's train — and her entire dress fell off.
"People thought it was planned," Bryant said. "But you couldn't plan that!"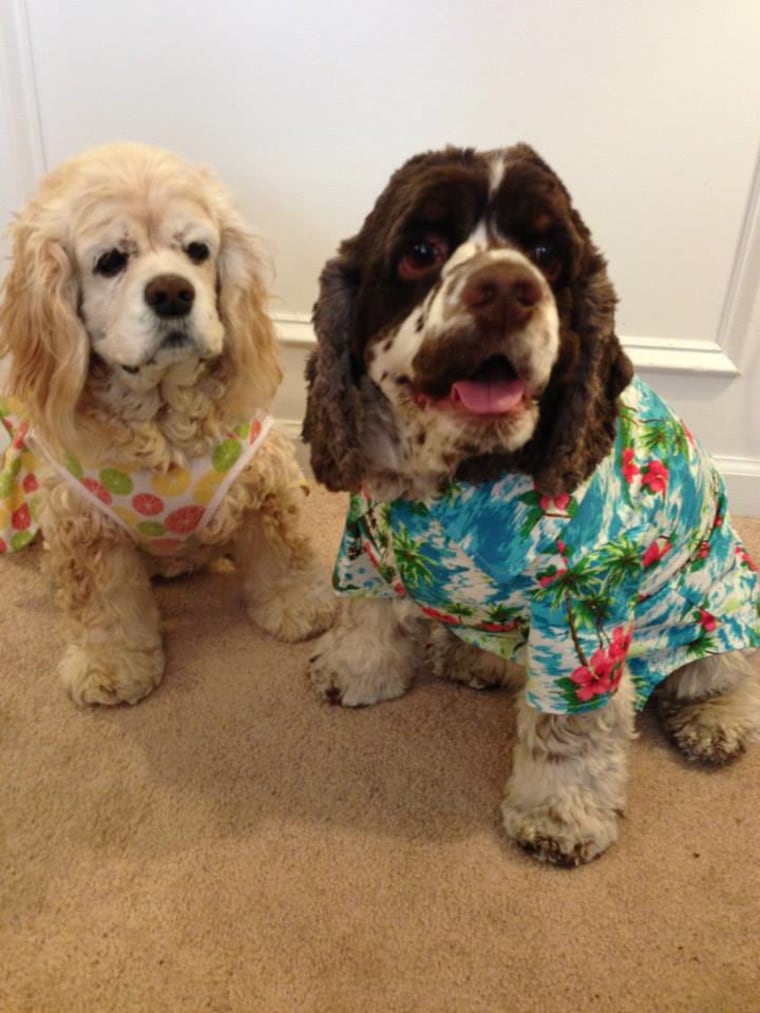 Simons of "The Dog Wedding" movie said even the most low-key dog weddings tend to draw smiling, photo-snapping crowds.
"The most important thing to know about dog weddings you learn from the beaming smiles on the faces of the pet parents, guests and passersby," Simons said. "Participants enjoy it as a way to celebrate their love for their best friends."
To find out where to see "The Dog Wedding" in New York and Los Angeles, visit TheDogWedding.com. The movie also is available on demand on iTunes, FiOS and Dish Network. Portions of proceeds are being donated to dog charities, including Long Island Bulldog Rescue, Canine Companions for Independence and MSPCA-Angell.
TODAY.com writer and editor Laura T. Coffey is the author of "My Old Dog: Rescued Pets with Remarkable Second Acts." Connect with Laura on Facebook, Twitter and Google+ and at MyOldDogBook.com.